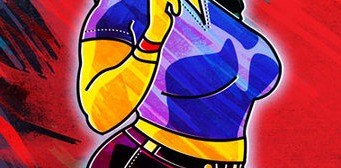 The Life of a Thick Girl
|
What exactly does it mean when you're called 'thick'? Apparently, a woman who is not slim, and not fat, but is curvy in all the right places.
While others think it's another term for calling you 'fat', being thick shouldn't even be an issue in the West Indies.
Most West Indian men love their women with curves. In fact, I've dated gentlemen who have been quite upset that I've taken up the 'bad habit' of running as a sport. Afraid that I might lose my curves or something, they have begged me to stop on a number of occasions.
'Most West Indian men love their women with curves'
But this is not another "I am woman hear me roar" article. I want to be honest about my life as a 'thick' girl.
I love being curvy, but I hate how people perceive curvy women. So I run. I exercise. I try to lose as much weight as possible, so I can hear someone describe me as the 'slim chick', instead of the 'thick girl'.
Teased by relatives, and being called 'fatty-fatty' as an eight-year-old didn't help my body image growing up. My older sister would pinch my legs or at least try to. My thighs were so firm, you couldn't hold the skin long enough to give me a pinch, so she called me 'buffalo skin' for a while. I felt like something was wrong with me. Why was everyone else praised for being handsome or pretty, and I got the "she's getting so big" remarks?
I grew up feeling more comfortable as a tomboy. I refused to wear dresses or skirts unless I had no choice, like for First Communion. It just felt better to be seen as 'one of the boys' than to stand out as the 'big girl' of the group.
Boys were mean sometimes. I've gotten called 'mampee' or heard comments such as "got milk?" It was humiliating sometimes, but I tried to brush it off, and pretend that the words didn't hurt.
At 19, I was 155 pounds, a size 8-10 at 5'7″. I thought I was huge, but by the time I graduated from college, I weighed 213 pounds – size 18. For about a year after that, I was in a tailspin of depression. All my thin friends remained thin, and I gained more weight. I felt like I had failed some test or competition. What I would give for that size 8-10 body now. I eventually took control of my weight, and lost 40 pounds in eight months returning to my teen size.
'I grew up feeling more comfortable as a tomboy'
I was a thick girl who was dying for a skinny girl's life. I wanted to throw on a pair of shorts, run to the nearby grocery, and not worry if my thighs rubbed together. I'd kill for the cute dress in the popular high-end store, but I don't want to look like the 'delusional fat girl' who wandered into the wrong store.
I get giddy when I buy something and it fits. No one who is slim sees what we struggle with.
The stereotypes are annoying. For instance, as a thick girl, my chest is prominent and I get attention from everyone. From the wealthy businessman to the vagrant on the street, I get stares and comments of all kinds.
I'm their sexual fantasy woman, with my small waist, big hips, thighs and breasts for days. I look like I want sex 24 hours a day. And so I am approached in such a disrespectful manner.
Another stereotype is that I am not very bright. How one's body type makes them smarter or dumber is beyond me. I once went to church in a dress that showed no cleavage, and reached mid-calf, and the cut was simply fitted to my body. A fellow sister asked me not to wear it again because it revealed too much of my shape. So unless I wear a dashiki or a moo-moo, I'm too sexy for church?
I just feel judged at all times. Being thick means I am too sexy, too tall, too conspicuous, too attention grabbing.
So yes, while I love my curves, I will admit that sometimes I want to be seen more for my work, heart, and personality than for my body.
'I want to be seen more for my work, heart, and personality than for my body'
Okay. So now you know that I'm human. I hurt like anybody else.
Still, there are things I love about being a thick girl. While a slim or average sized girl can buy an outfit and just wear it, I am almost forced to become creative with my outfits. I've gone from funky New York Gothic girl to Punk Rock meets Marilyn Monroe. I play with tops that have tons of Lycra to play up my curves and I layer my look with colour and texture. I simply won't wait for the fashion world to catch up to me, so I create my own look.
When I embraced my inner thick girl, I began to love the attention I got. Men would simply praise me as I walked down the street. I have even been proposed to! It's amazing sometimes to see how different the reactions can be.
I think that the attention I hated as a child will always exist, but I just didn't know how to use it to my advantage. Now, I appreciate my God-given curves and work it. I eat well, and exercise, not to look skinny, but to be healthy, and keep my body in shape -the shape God intended me to be, thick.
Author bio: Karen 'Phoenix' Francisco is many things – a writer, singer, songwriter, actress, filmmaker, image consultant, and motivational speaker. Back in Trinidad since leaving New York City where she earned her Bachelors Degree in Film Production and Screenwriting at Brooklyn College, you can always find her at any popular karaoke/open mic, singing her butt off.
Illustration by James Hackett. Read more about him here and check out more of his work at www.shizzies.com