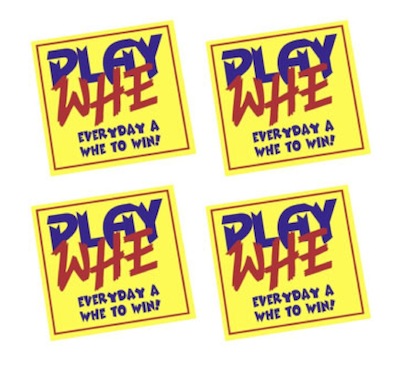 The Life of a Play Whe Jumbie: Hitting the Mark every Time
|
Anniversary of your husband's death? Play dead man, 4. And if he liked to drink? Try 29. You dream a woman holding a knife? Play centipede, 1, and play 16 for the woman if she look like a jammette. You say it had a big snake in the yard? Man that is 35!
So it goes; it never stops. This Play Whe thing has some people seemingly possessed, feverishly debating what mark going to buss, already buss or should have really buss – like my neighbour Janice*, with her stories that go, "Girl I won with 19 (horse), and I catch them again this weekend with 29. Yes I won $1,200! I dream that there were plenty of people in my house, and then one of them said that they wanted a haircut – that is 19 and well you know I like 29… something just told me to play it".
For her, every dream contains a mark or two, and in her words, "if you want to win big you can't be playing two-dollar marks", so she never plays for less than fifty dollars. It's as if she has some uncanny insight into the future, the way she can target and hit the mark for weeks. When she's on a wining streak, she literally glows. She goes on spending sprees, buying the things she thinks she ought to have – items that would have probably taken months of serious saving to attain – like the new air condition unit or wine chiller that makes her life more comfortable and complete.

Now, at first I thought that a Play Whe jumbie relied solely on his or her bloodhound instinct for interpreting dreams Not Janice. My lady also has a Play Whe chart – a spreadsheet of numbers that have played over the last several months. I remember visiting her and being a bit startled, because she wore this intense look of an accountant mulling over some intriguing figures. I laughed.
"Sometimes when you look back there are patterns… It's a science!"
"You think this funny," she said. "Sometimes when you look back there are patterns… It's a science!"
As a non-player, who am I to question her? She has been playing for years; it's now a part of who she is. It's an activity that is as essential as waking up and going to work, and why not? She's good at it. The game allows her the extra cash needed to enjoy life – as so many of us would like. A vice, some would say, but who doesn't have one or two? Although she plays hard and wins hard, she is no stranger to losing, and knows her limits. When she sees the tide turning, she gracefully bows out.
"They're playing sh*t! I'm giving it a rest for now, can't afford to be losing money these days…"
I have to give her credit for knowing when to cut her losses. Unfortunately, some do not have this resolve and are consumed by the game, playing several marks twice per day, with money that perhaps should have gone towards groceries, rent and other essential expenses. I am talking, sadly, about those who have become so addicted that they refuse to stop even when their losses are high.
"She is so well known in at least two Play Whe places that she can call it in."
Maybe that's why I've never played. I have often been chastised for not playing, but I have my reservations. "All you have to do is start, take a $20 and bet on some numbers, starting is the key, and before you know it you'll be dreaming the mark". Janice even gave me a book called "Play Whe Diary of Dreams, Caprices and Charts". The book gives a run down on the history of the game, and the different methods used by players to procure marks – a series of numbers from 1-36 each with its own designated meaning or name.
However, I just don't think I possess the fearlessness and confidence of a warrior with money to spend, and the spirit of a seer woman to make sure I don't lose it, to really get into this game. Then again, sometime ago I dreamt someone telling me that something was going to happen on the 26th. It was quite clear and eerie. It haunted me all day until I reached in front of a Play Whe machine, thought again, and then walked away. Well guess what number play? When I told Janice, Miss Play Whe jumbie herself, about it, she was so upset with me, because when it comes to getting the mark straight, "that doesn't always happen in dreams". Guess I lost out there.
A Play Whe jumbie knows how it feels to lose their money. However, when you've been marking a number for a while and it plays, and you miss that? Is pressha! Last week, Janice told me she liked 26 (fowl). It hadn't played in a while, but she'd been marking it. Then out of the blue, the number called, and she forgot to play it, even though she'd gone to the Play Whe machine and played other numbers. I didn't even bother to ask how much money went down the drain. However, that's the thing; whenever she loses, she just shrugs it off.
Win or lose, though, Janice, like any Play Whe jumbie worth their salt, makes time to play a mark, regardless of whether it's before work, lunchtime or any free chance that comes his or her way. Once there are numbers swirling in his or her head, he or she makes the time to play (or send someone to play for them). In Janice's case, if she can't go personally, she is so well known in at least two Play Whe places that she can call it in. When liming, it's the norm for her friends or family to give her time to find a Play Whe machine, so she can play her mark. It also doesn't hurt that almost everywhere you go, there's a Play Whe machine. Remember, we're talking about the chance to win real, fast money here.
And when you see Play Whe jumbies together, it's like a church congregation. When they get together, they're always sharing experiences, offering advice, listening to each other, and gathering new techniques. You could find a dozen of them at quarter to one, waiting to call out a sheet of marks.
I can see how the thought of winning, not to mention a series of winnings, could get you hooked on playing a mark. But to me, you've got to have the instinct, the 'science', the know how to really reap the benefits of Play When jumbiehood, and a community of fellow jumbies to keep you going. Janice hasn't given up on me yet, so you never know… I might dream straight again and turn into a Play Whe jumbie!
* Name changed to protect identity.
Check out the rest of this week's issue (04/04/11; Issue 51):
Look out for a new issue of Outlish.com every Monday.