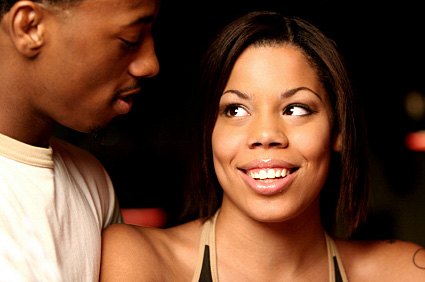 The Anatomy of a Trini Man and the Way to his Heart
|
"They're vain, womanizing, lying, cheating, narcissistic, misogynistic, pigs."
You name it. I've heard it all.
"Trini men no good girl, go get yuhself a German or some Nigerian doctor. They go treat you real, real nice!"
But wait, hold up – my Trini fellas can't all be that bad. In fact, after living in the States for as long as I have, you learn to have a new appreciation for the Trinidadian man. I missed the warmth in their tone, the energy in their smile, and the rhythm in how they move to music.
The classic Trini man is undeniably charismatic, and it's no wonder that women try to figure him out, and just how the heck do you get to his heart  (And no, it isn't always through his stomach!).
Looking at the complex specimen that we have – the Trinidadian male – we can only hope to break the surface of this multi-faceted creature.
Let us start with our subject as a young, seven-year-old-boy, where innocence is usually still intact. Still interested in their toys and getting dirty, this group is genuinely confused when young girls hit them, knock them down on the playground, try to kiss them or just plain annoy them. The boys have no idea that this is actually flirting (I know it sounds strange, but it's true. I personally still "punch" a guy in the shoulder on a date, it's my way of saying, "I like you").
We get to the stage of teen years. Ah, the teen years… full of raging hormones, sweat glands, and misplaced emotion. As a wise chantwell once sang: "We doh watch face, only waist", and for some, this is quite true. What teenaged boy out there doesn't like a woman who could throw waist? Now, is what I am saying seem to be based purely on the superficial? Yes. But let's face it – no woman puts on her bubbly laugh, and slips on a pair of sexy personality 'jus so'. We use hair, makeup and accessories to attract the opposite sex, and yes, men see the hair, the face, the breasts, the legs, and the waist. Whether you agree with me or not, the physical is priority in a teenaged, Trinidadian boy's life, and it can't be easy to be objective, when you live in a party island, surrounded by beautiful women.
"I'm not saying in order to gain the attention of a man, one must strut around damn near naked"
I'm not saying in order to gain the attention of a man, one must strut around damn near naked. While all of us can think of at least one lady in our lives who does this, the attention she gets usually remains superficial and short-lived. At this stage, few can truly win his heart, as he is just plain superficial himself. He is only just beginning to explore other areas of himself – physically, mentally and spiritually (well, at least some boys are).
And then the boy becomes a man. At this point, I've noticed men stand at a crossroads. They choose to continue being attracted to the superficial, wanting the hottest chick, the latest car, or weight lifting like there's no tomorrow (I've seen some of them in the gym at 10 p.m. on a Saturday night! Clearly, they have no social life! Of course, the fact that I am there at that time suggests that I don't either…). or they choose to mature in their thinking. They look more towards their future and ponder on whether they want to settle down, and perhaps find that special woman to start a family with, or they make that decision to remain a confirmed bachelor. Then there are those who straddle both sides of the fence, trying 'to have they cake and eat it too'. They want to settle down and think they can do so with the hot chick or they settle down with 'wifey', but their eye wanders and they keep flirting with 'hot chick' – constantly putting their marriage in danger.
I decided to talk to some Trini men to get their feedback as to what attracts them to women, who ultimately win their hearts. All my male friends have said they are attracted to a confident woman.
One said: "A smart, confident woman will win me over every time".
"What really attracts me [to] a woman is confidence… a woman must be confident in her own skin; even if she's not the 'model type' confidence is what attracts me most", said another.
"If you are not exuding confidence… the attention won't last."
If you are not exuding confidence (I don't care if you look like Angelina Jolie) the attention won't last. Many of the guys I spoke to also talk about loving a woman's personality. For them you have to come to the table with something to say. The whole 'shy girl act' can be cute, but ladies 'come wit it!' Have something to say. Talk about things of substance. It doesn't have to be calculus or groundbreaking politics (I for one have no interest in either subject matter). To me, having personality is simply knowing yourself.
Simple things also matter to some men. You love cooking; he loves eating, so take that opportunity to invite him for dinner (please don't do like me, and invite the man for some cooking and you don't know how to cook! I still hesitating on confirming that date!).
If you're a diva singer and he adores you – take that guy to open mic and sing a love song for him. Dare to dream. Start a business. Cut all your hair off; maybe learn to surf. Bottom-line is this: interesting women meet interesting men. All the men I've talked to want a woman who is adventurous. I'm not saying they want you to curse at the police, but just remember, standing up for yourself, trying something new, and being comfortable with who you are is very attractive. And apparently, Trini guys are into that.  The Trini man, it seems, wants a complete woman, as a companion, and finding your way to his heart happens right when you find yourself.