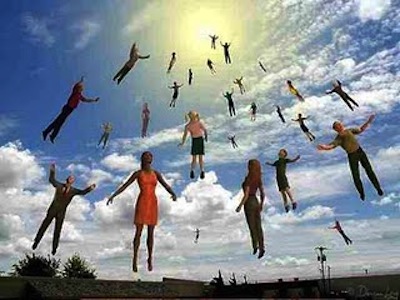 Surviving the Rapture: Reflections on Christianity
|
To all the folks who believed Saturday was the rapture, and who were rapidly attempting to make their paths straight with God, hoping that He would either not know of their secret sins and dark thoughts, or would turn a blind eye in favour of their fervent prayer and public posturing, I say nuff respect.
The same goes for the people who sat up anxiously waiting on the world to end in 1994, and on December 31, 1999 expecting that, as the world moved into Y2K, everything would come to a crashing halt, and mankind would cease to breathe.
While I was pretty skeptical about the idea that last Saturday was Judgement Day, I am not about to pour criticism on anyone's personal beliefs. Though I was often cautious to ask others for fear of antagonising someone, I've always been confused about what it takes to live the Christian life. Perhaps, in the wake of Harold Camping's failed prediction – AGAIN – which caused quite a flurry amongst Christians and non-believers alike around the world, now is the time for a healthy discussion on the topic.

At this point, I am not going to attempt to say that I understand what it takes to live the Christian life, because I would be lying only to myself. See, I am yet to properly understand Christianity.
I was born into an Anglican family, though during my growing years my parents practised Rastafarianism, and then my mother attended a Baptist church before settling into the Full Gospel (more popularly known as Pentecostal) faith.
I attended a Roman Catholic Primary school, and for some time, I was fascinated by the Roman Catholic faith – buying prayer beads, learning about the different saints, and even attending worship at a Catholic church, with my peers. Then, I attended a Presbyterian secondary school, and was exposed to many of their doctrines for seven years.
During my teen years, my mother and aunt were very strict about my spiritual upbringing, so that I was forced to attend church every Friday evening and Sunday morning and twice on public holidays, even if it meant braving the hot sun, pouring rain, blinding sun and life-threatening hail.
Of course, all of those rules ended when I became an adult, and demonstrated a determination to make my own decisions.
Today, as an adult, I attend church irregularly. I curse on occasion (until I met my husband, I cursed worse than a sailor). I am prone to fits of short temper; my tolerance level is extremely low. I am extremely poor at forgiving and forgetting (that seventy times seven thing never stuck with me), and I cannot stand some people. If I have decided that I can't tolerate you, a gold-encrusted Bible would not make me change my mind, and Lord knows I love my gossip. I have more faults than I care to discuss… so honestly, though I attend church from time to time, though I know the Bible pretty well, and though I can sing some of the more popular hymns, as vigorously as the most devout Christian, I cannot truthfully say I am living the Christian life.
See, it is my belief that attending a church and learning specific doctrines does not a Christian make. That does not mean that a Christian should be perfect. I simply think that a Christian should reflect Christ-like behaviour as a way to teach and encourage non-believers to also join the church.
During the month of Ramadhan, there is usually a programme aired on Trinidad and Tobago television that either begins or ends with the song, "Islam is a way of life". I daresay Christianity is the same (a way of life), though many people take it for granted. To me, Christianity abides in the heart, and it is reflected in every word and deed, and not just words and deeds when we are decked to the nines in our church clothes and standing before the pastor on a Sunday. I am all too aware of that fact in my life, so in the past, whenever I've ticked 'Christian' on a form, or tell anyone who asks about my religion that I am a Christian, I feel like a politician – selling a story to buy a vote. Each time I do so, I imagine that God would be sitting above and shaking his head and saying, "She lies again". Now, I just sign "other" or write "N/A" (not applicable).
I say it openly. I have not yet been able to master the Christian life.
For most of the things I believe Christianity represents, I find myself guilty.
To me, Christians should be helping others, rather than criticising and condemning them. (Guilty)
Christians should not be using religion for personal gain, fleecing poor churchgoers for fancy cars, huge parcels of land or advertising family interests on highway billboards.
Christians should not claim to reflect Christ and bear unforgiving hearts. (Guilty)
Christians should not gossip/ 'bad talk' and stereotype others according to racial, social and religious groups within and without the Church. (Guilty)
Christians should not believe that it only takes three dips under water, and an up-to-date punctuality score at church to guarantee entrance into heaven.
Christians should not forget that they each led a life of sin too.
Christians should not draw down others, rather than uplift them.
Of course, those are my subjective views, and last time I checked, I was entitled to have those. For these, and other reasons, I feel pretty guilty to say to anyone that I am Christian, for to do so I would be Christian in name only, simply for the purposes of filling a form. Since God sees and knows all, including the secret thoughts of my heart, to declare Christianity in hopes of securing a passport to heaven, I would only be fooling myself. So instead, I reserve the option to sit out until I clean up my own act and turn my life around enough, so that I can be a proper reflection of Christ to others.
But for my Christian brothers and sisters, you tell me… what does it take to reflect Christianity?
Image credit: conversations.blackvoices.com
Check out the rest of this week's issue (23/05/11; Issue 58):
Look out for a new issue of Outlish.com every Monday!