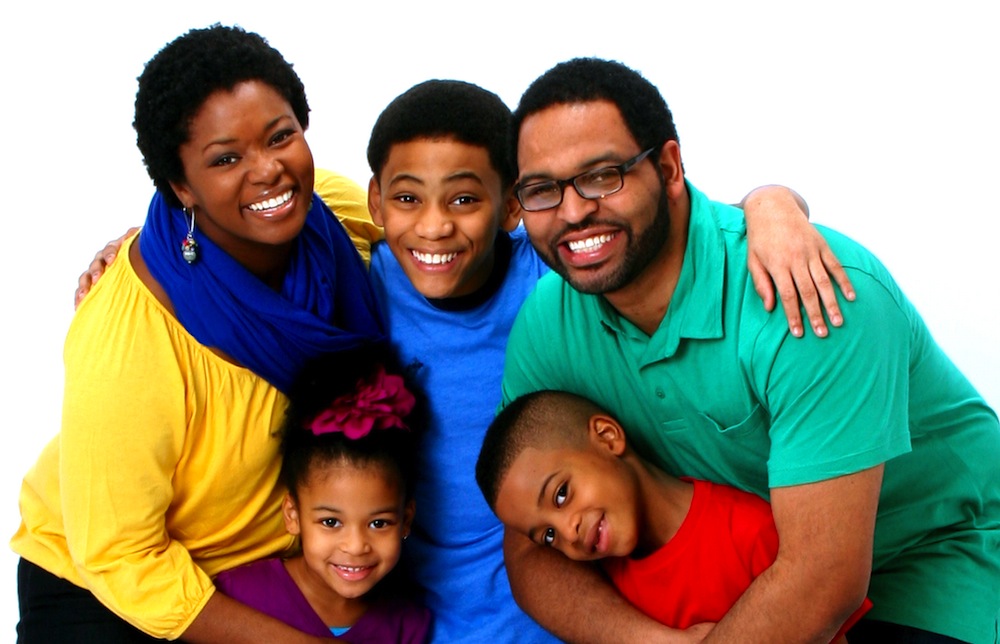 SocaMom: Blogging Caribbean Parenting to the World
|
Playing Cupid online has its pluses – at least for Eva Greene-Wilson, creator and blogger of SocaMom.com, a Caribbean-American parenting site. Back in 2003, she was just another Internet surfer, using mouse clicks as new-age love arrows. Today, she's the winner of the "Best Parenting Blog" and "Best New Blog" in the highly respected Black Weblog Awards in the US.
How did she get here? Let's return to her childhood. Born in the US, and raised by Trinidadian parents, she was surrounded by Soca music and sumptuous Caribbean dishes. She was using words that she realised none of her American friends used, and soon it hit her – "I'm different". Fully embracing her Caribbean heritage, Greene-Wilson grew into an adult, earning her Bachelor's degree in Marketing from North Carolina A&T State University, and, later on, became a single mother.
A self-described geek, she was into programming and design. Along the way, she met another geek (her words), who eventually became her supportive husband, and co-parent to two more children. Love wasn't the only thing he brought into her world. He taught her the power of PHP and content management systems, and she started designing websites for people. All the while, she was still Caribbean to the core.
Pairing her passion for technology, with her love for Caribbean culture, she decided to explore how her heritage had shaped her personality, and bought the domain name, Socamom.com. But with three children – including two toddlers – who had time to blog? It took her two years and some months to launch the site.
SocaMom.com made its debut in June 2011 – during Caribbean American Heritage Month. And one year later, Greene-Wilson is in a good place, having won two, prestigious Black Weblog Awards, writing about children's activities, Caribbean culture, fashion, her life, travel, technology and her other interests, and expanding her online and offline communities.
Outlish chatted with this Washington-based Soca mom to find out what she has in store for 2013, and how – as a mother and blogger – she's passing on Caribbean culture with technology.
Outlish: How does it feel to be the winner of the "Best Parenting Blog" and "Best New Blog" in the 2012 Black Weblog Awards?
SocaMom: I was kinda confused at first. I had no expectations of even making the finals in the best new blog category, because there were so many great blogs with large audiences. I figured I at least had a shot in the parenting category, but never in a million years did I think I'd win for "Best New Blog". It was pretty exciting. Winning both is still unbelievable to me, but I am really happy about the outcome.
Outlish: How did you get into blogging?
SocaMom:
I started many years back, when I created a blog to get my brother married.
 It was in the early days of reality games, so I created an online one where ladies competed for my brother. It was all in good fun, and he's married now – no thanks to me! The idea for this one just kind of hit me one day, and I sat on the domain name for over a year. A friend of mine who blogs was going to a blogging conference in Miami, so she used it as an excuse to meet another one of our friends for a girl's weekend. She converted the both of us into bloggers, and I launched SocaMom.com last year.
Outlish: You build websites, and you're a self-described geek, as is your husband. Did you build Socamom.com?
SocaMom: I did. Anything that is custom coded and complicated, my husband does when he has time. He makes sure that I have whatever software I need to do what I need to do. He may not be happy about supporting my shoe habit, but my technology habit, he is happy to support. Being able to do a lot of the work myself is a blessing. It keeps my investment low, and my ability to make changes and implement new features quickly, high.
Outlish: Why did you decide to focus the blog on helping parents keep their children connected to Caribbean culture?
SocaMom: Growing up, other kids could just go across the street or across town to see relatives. We didn't have that luxury. I grew up feeling like my family was different – special – but isolated. My parents kept us connected through food, music, and stories, but there was no Internet like there is today for us to really be able to see and hear what was happening up to the minute. I also grew up in the southern US where Caribbean culture was much harder to access, unlike in [Washington] DC, Maryland, New York, and Florida.
Greeks, Italians, and Hispanic people in America have that connection – first, second, third, fourth generation.
Once I was able to really experience Caribbean culture, it changed me, gave me a sense of belonging. I want other children, mine included, to experience that feeling. Greeks, Italians, and Hispanic people in America have that connection – first, second, third, fourth generation – they stay connected on purpose. So that is what I want to do with SocaMom.com – give parents the tools to start conversations about culture that they may not have even considered having with their kids.
Outlish: You grew up in in America, and both of your parents are from Trinidad and Tobago. What was your childhood like in terms of how much your parents exposed you to Caribbean culture?
SocaMom: My dad had us listening to Calypso on his old reel-to-reel tapes, cassette tapes, and records. My mom made mostly Caribbean foods for dinner, and my dad made bake and saltfish for breakfast. It was like stepping out of America and into our version of a Trinidadian home, when we walked through the door. There were words used in our home that I never heard anywhere else. I listen to tapes of myself when I was small that my dad used to make, and I had an accent until I was about four.
The first time they sent me to Trinidad with my grandmother, I was two. I visited a few times after that, but not as often as I would have liked. Family came to visit us fairly regularly. When I got older, I went to Caribbean carnivals here in America. Sometimes it was confusing, because no one else I knew had a home like mine, but I wouldn't change a single thing about it.
Outlish: How do you help your children stay connected to Caribbean culture?
SocaMom: My mom started it. She would stay with us for months at a time, and the first songs my oldest learned were songs from her many Soca cassettes and CDs. She continued that with all three of them. I could easily come home and find her and the kids in the kitchen dancing to Soca and steelpan music, while she makes dumplings. Right now, the boys play steel pan, and get plenty of Trinidadian food from the family that lives in the area.
SocaMom: Other expats and immigrant communities in America, Canada, and the UK keep their kids connected through their schools, churches, and community centres, and that gives the kids a sense of being a part of a larger community that is bigger than the town they live in. There's something powerful about knowing where you come from. In a child, it makes them feel more responsible for who they are and what they will become, based on them knowing that they are the ambassadors of the culture and countries of their parents, grandparents, and great grandparents. They represent their home countries to the world.
When I saw how many American people of Caribbean descent, who may have never set foot in their home country, representing the country of their parents or grandparents, it let me know that it wasn't just in my head. Staying connected is important, and there are Caribbean families outside of the West Indies that feel like it is a priority.
Outlish: You do some pretty good stuff, like worksheets, quizzes, colouring sheets, crossword puzzles, and other activities for parents to add Caribbean culture to their children's education. Do you create these yourself?
SocaMom: Yes, I homeschool my three children, so I enjoy creating educational content for my kids. I expanded it to creating content for other parents and teachers who may benefit from it.
Outlish: What sort of key topics do you base the content around?
SocaMom: My kids like games, puzzles, and colouring – as do most kids, so the first content we are uploading are activity and colouring sheets that help the kids learn facts about the countries in the Caribbean such as flag colours, national birds and plants, as well as governmental structure and history.
Outlish: These activities are available only for exclusive members of Socamom.com. How does one become an exclusive member of Socamom.com?
SocaMom: You can log in using Facebook or Twitter, or complete a short registration form to join. Joining is free.
Outlish: SocaMom sponsors offline groups for Caribbean parents in Washington DC and Brooklyn, New York. What motivated you to do this and what are some of the types of groups/activities you support?
SocaMom: Online communities are fantastic, but you know Caribbean people are experts in the art of the lime, and there's only so much of that that can be done online. You have to see faces, hear the laughter, and experience the music to really make a genuine connection with one another, and that's what I aim to do with the offline groups. In the beginning, I organized a lot of Mom's Night Out type events, but in 2013, we want to focus on more family-oriented outings and activities.
Outlish: SocaMom.com is looking for volunteer community ambassadors, who will help with leading local meetup groups, planning local events, and helping more Caribbean moms connect on and offline. How is that coming along?
SocaMom: People who are interested will be able to sign up online in January. Several people have expressed interest, and so far the programme is looking like it will be a lot of fun for parents, friends, and children.
Outlish: Blogging is a huge commitment, and you blog basically every day. How do you balance it with work and family life?
SocaMom: I write first thing in the morning, before the kids get up, and after they go to bed. Work and homeschool go in the middle. Some stuff like housework can fall behind, but as long as the kids have a good quality of life, are educated, and fed, I feel like the scales are tipped in our favour.
Outlish: The entertainment and gossip blogs Lava Lizard and Jayblessed – also run by Trinis in the US – were also nominated for "Best New Blog" award. And we've seen how successful Afrobella.com – from Patrice Grell-Yursik who's from Trinidad, but based in Chicago – has been. How much potential is there for Caribbean blogs to make their mark in the very packed US blogosphere or media space?
SocaMom: I think there is always going to be room for anyone in any industry whose focus is on being innovative, creative, and hard working. Caribbean people are known for being all three, so I feel like there will always be room for Caribbean bloggers with good content in the US and abroad.
Outlish: What are some Caribbean/Caribbean-American blogs that you follow?
SocaMom: One of my favourite faith-based bloggers is Alison Hector from St. Kitts and Nevis. Her blog is LearntoEmbracetheStruggle.com. I also follow Elle from CleverlyChanging.com. She was nominated for "Best Parenting Blog" in the Black Weblog Awards as well. I like to read Bee at '83 to Infinity, who is Jamaican and Canadian. She was up for "Best Writing in a Blog" in the Black Weblog Awards. A lot of times, I find out that bloggers I have been reading are from the Caribbean after I have become a fan – I guess there's something about people from Caribbean that just draws us to one another. So many Caribbean people have been able to be successful bloggers and entrepreneurs – it is a beautiful thing to be able to witness and be a part of.
Outlish: In your first year, you've won two awards, undergone two redesigns, hosted an event, set up two offline support groups, and added the educational component with the activity sheets for kids. What's on the agenda for SocaMom in 2013?
SocaMom: There's so much! We plan to host the Anancy! Anansi! event again this year in June, relaunch the forum, add a SocaMom.com store, and a whole lot more. I can't even go into it all, but I am very excited about the upcoming year. The project plan is complete as of last month, and although it is aggressive when it comes to the number of things we plan to do, it is definitely going to be a lot of fun to execute.
Check out SocaMom at SocaMom.com. You can also follow Eva on Twitter @socamomdc and on Facebook.
Photos courtesy Eva Greene-Wilson.