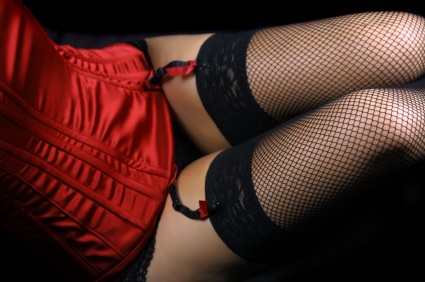 Slut or not? Judging Sexuality
|
You know, one of my biggest concerns, after living for over 24 years, is the fluid use of the label "slut", "whore", "skeg", "tramp", "skettel", or whatever makes you tingly inside. As we've seen, it probably has more synonyms than any other word in the English language. In fact, I'm not concerned. I'm downright amazed at it.
One thing I've noticed is ladies and men define the word differently.
To women, a slut is a woman who is sexually active. She's a woman who wears a lot of makeup. A woman who dresses suggestively in tight or revealing clothing. A woman who, despite her unpopularity, tries to get the attention of men. A woman who is assumed to be sexually advanced because her body is more developed, even if she claims to be a virgin. A woman who flirts with other girls' boyfriends or limes with mostly guys.
Frankly, ladies, y'all are conniving creatures. One wrong move or an extra drop of oestrogen during puberty and a girl's screwed for life! But I digress.
For the guys, it's much simpler. When a guy calls a girl a slut, it's because he perceives she has too much sex in terms of quantity, variety or number of partners. His definition pretty much revolves around… sex.
"A slut… anyone who has the courage to lead life according to the radical proposition that sex may be nice…"
With the ladies, however, this tendency to 'slutify' people is more based in psychology. Ladies admit it; it's only your insecurity, pettiness, immaturity and jealousy talking. Feel free to deny all you want, but chances are you're probably lying to yourselves, just a little bit. Most likely, you're afraid the girl you label as a slut might swoop in and take your man away, or you're threatened by her buckets of freedom and confidence that runneth over. Slut rumours may spread for the same reason other rumours are spread – for the starter to feel superior.
Now, guys… so… she has too much sex? Do you know any guys out there who have as much or even more than she does? Would you call him a slut; does he deserve to be labelled? And no, "pimp" or "having game" doesn't count.
I would probably define a slut as anyone who has the courage to lead life according to the radical proposition that sex may be nice, and pleasure is good for you. And as long as someone is being safe, responsible, and not harming anyone else, how much of my business is it what they do with their sex life?
In my view, enough prudes and haters run amok in society as it is. Are these people so oppressed, so controlled by what is going on around them? Probably yes. But if you haven't noticed, people who are negatively cultured operate in extremes instead of balance, propaganda instead of safety, controlling lies over factual information. And the fact is, the popular viewpoint on sexuality is in no way healthy, productive or empowering. That's why it is so important for us to use our super-duper God-given critical thinking skills.
Anyway, here are some questions you can pose to your friends, if they label people… Just to get them thinking about what they're doing…What's wrong with sex? Is it your place to judge them? Would you call a guy a slut or man-whore? What's so wrong with exploring sexuality in this way, provided they are being safe about it, that you have to harass them?
And here are some questions for you. If you think a woman should be able to partake in sex if she pleases, why are you labelling her in ways that say you don't?
If you think what she's doing is wrong that's cool, but is it your place to judge?
Does your reason really mean anything, or is it just an excuse to be intolerant?
One more thing, though – ladies, when you call each other sluts, it gives men the impression they have permission to call you sluts and treat you disrespectfully. And fellas, using that word just makes you look unintelligent and misogynistic (which I'm sure you are not).
So, let's just respect each other, respect each other's choices, and hopefully grow as a society.
Image courtesy iStockphoto.com; Asian.