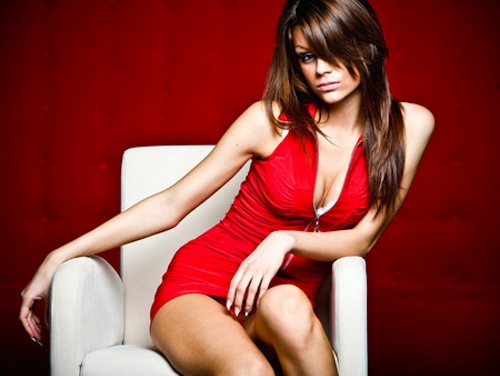 Should You Let Your Lover Tell You How to Dress?
|
"When you have a little girl, it's like how can you teach her that you're in control of her body? If I teach her that I'm in charge of whether or not she can touch her hair, she's going to replace me with some other man when she goes out in the world. She can't cut my hair but that's her hair. She has got to have command of her body…" – Will Smith; Parade Magazine interview.
If you follow US pop culture, you'll know that Will Smith's daughter, Willow, age 11, has an eclectic sense of style. Hippy clothes. An almost shaved head. Pink hair. A fake tongue ring. She dresses, as she likes. Meanwhile, blogs critique her style, and the Smiths' parenting.
Several people question whether a young child should be able to dress as she wants. Shouldn't her parents tell her what to wear? In a knee-jerk reaction, most of us will say yes. After all, when we were that age, we had to dress within the boundaries our parents set for us. So why shouldn't she?
But when I link the idea of people's mates dictating how they dress, Will's statements ring true. Many women decide what to wear, based on what their man likes or dislikes.
I'm focusing on women, because, most times, this issue affects them. And if you add weight issues, it's double the pressure. Men, while they are still judged, tend to experience less. Although I do have a male friend who says he had a girlfriend who told him how to dress. "We didn't last too long," he added.
Let's acknowledge some of the factors at play. We all dress a certain way to please others, to be socially accepted, and, specifically, in a relationship, to seem more beautiful, or handsome. Some women dress a certain way because their man likes it, and it's part of their whole keeping the flame of physical passion alive routine. However, at what point do we go too far with our need to please our partner and get their validation?
Some fear that their man won't be interested…
Some fear that their man won't be interested, if they don't look always look appealing. They're fighting self-esteem issues and a fear of abandonment. "If I don't look good for him, somebody else will," they think. They always feel pressured to look sexy. They absolutely need the validation.
Some never cut their beautiful, long hair, even though they want to. Why? Because their man would have a fit.
I have a friend who has beautiful, long hair. For years, she wanted to cut it. But because her boyfriend was very vocal about how much he didn't like short hair, she didn't cut it – even though she could never stop talking about the virtues of no longer feeling her hair on her neck in the heat. Years later (and I mean years), she finally cut it. He still hates it. But she's become confident enough to wear it how she likes. And, fortunately, he's not controlling. So he doesn't demand that she change it, though he wishes she would.
That's a very different reaction to another man who grabbed his girlfriend's weave, and told her that she looked ugly, and that she had to take out immediately, which she did, although everyone else thought she looked beautiful.
It's also a different reaction to another woman I know whose 'man' insisted that she walk around the house wearing makeup. "He expects me to look like a sex kitten all the time," she said. He also insisted that her eyebrows weren't well done, so he did them himself. And he told her to lose weight, when, by general society's standards she was super slim, and could make the average guy snap his neck to give her a second look. Surprisingly, as feisty as she was, she submitted to his demands.
Unconsciously, we let people dictate how we dress ourselves.
This brings me back to Will Smith's statement: "If I teach her that I'm in charge of whether or not she can touch her hair, she's going to replace me with some other man when she goes out in the world." Maybe your social conditioning influences whether you say yes to every request to change that top, put on more or less makeup, or wear perfume.
Unconsciously, we let people dictate how we dress ourselves. As children, we let our parents tell us how to dress. At that age, we have to let them. As adults – even when we think we're modelling our own sense of style – we let magazines, society, not-so-good-looking people who are self-proclaimed, style queens, and our lovers tell us how to dress.
When it comes to body image control in relationships, you're probably lucky enough to not have experienced this outright. But imagine if you were asked to change your hair or your style…would you? How far would you be willing to go? What about if your looks dictated whether your partner stayed or left?
Why do some people ask their partners to change their style? Some people do it to exercise control. Some, like the guy who loves short hair, just have a preference. Some people do it, because they know that their partner will dutifully say yes. It's something that people deal with – depending on the control dynamic in their relationship. And it can happen at any age.
I've also seen it happen to other girls, when I was a teenager. Most recently, we saw this on reality (or fake) TV, with Kanye West totally replacing his girlfriend's (Kim Kardashian) wardrobe, and changing her style, while she goes along with it to please him, and with the belief that it's good for her look.
When I first started writing this article, the 90s jam by Sybil, "Don't Make Me Over", came to mind.
"Don't make me over
Now that you know how I adore you
Don't make me over
Now that I'd do anything for you."
http://www.youtube.com/watch?v=VYLlLq-9bbA
She was talking more about personality and behaviour, but the same applies to looks.
I think it's fine to want to look a certain way that will please your partner. But, what about when it becomes an issue of feeling as if your value rests in complying with his/her wishes? What if you start to feel as if someone is remaking you, or encroaching on your taste?
Style is an extension of ourselves. It's a form of self expression. So why would we let someone else dictate the extent to which we express ourselves? Because we sometimes lack the confidence to do otherwise. Basically, we're afraid that someone else will think that we're not cute enough, or sexy enough. Or maybe we do it because we're just infatuated or in love. Maybe we do it because we're accustomed to other people telling us what to do with out bodies. Maybe we do it to get an extra compliment. It can't be because all of us have a low self-esteem. Right?
While most of us would claim that once we like how we look, everyone else will have to follow suit, or get out of the picture, when in a relationship, we tend to try to please the other person – during the early stages when we're trying to impress them, or even after we've established a relationship and have become attached.
Should we say yes or no to how someone else wants us to look? I see nothing wrong with wearing that dress your man loves, or that shirt that your girlfriend thinks makes your arms look 'cut'. But you've got to know why you're doing it.
Image credit: desktopnexus.com