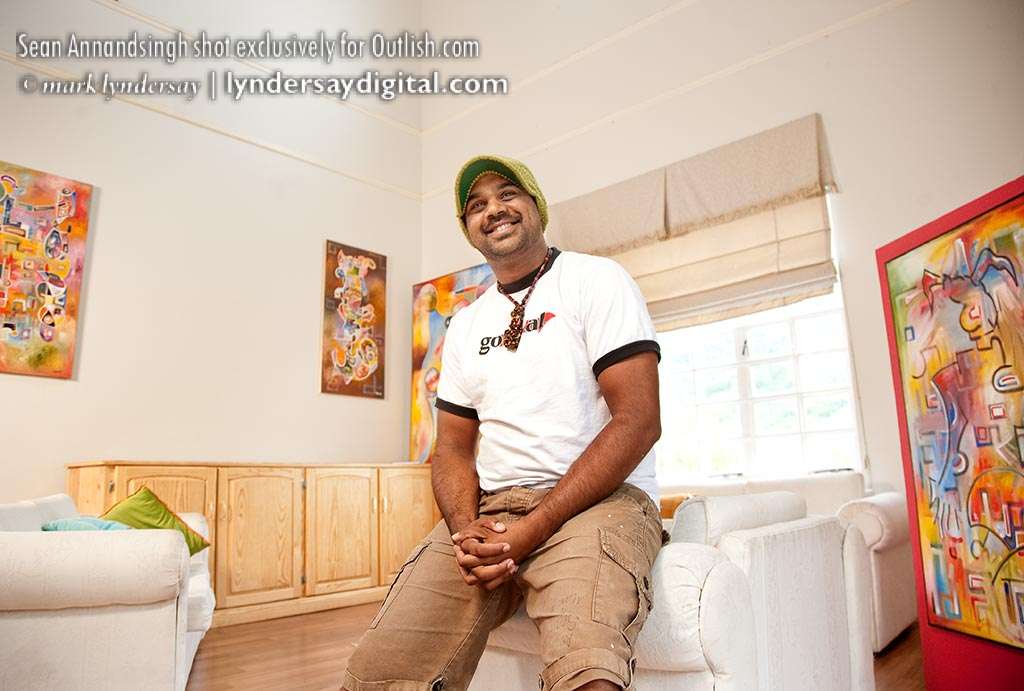 Sean Annandsingh: Babash Man
|
Sean Annandsingh is one of those guys you have a hard time not liking.
Always smiling (at least every time I see him), he's earnest about going after his dreams, and supporting others in their own quest.
Dabbling in social media, music, and everything local, he's on a noble campaign to get recognition and support for local artistes, and he has some particularly strong views about being true to himself, as an entrepreneur, when dealing with clients in the starchy corporate world – even when it means donning shorts and sandals instead of a suit.
I had a little chat with Sean about his business Babash Media & Events, the various projects he's involved in, and how his life is different, now that he's based in Trinidad, after having been in the United Kingdom for so many years. Check it out.
O: From what I've seen, you manage artistes, work in social media, run Babash UK and more. What is it that you do exactly?
S: I am a social media consultant. My business in Trinidad is called Babash Media & Events. In London, I used to work in travel, as well as advertising and event management. My business there, Babash Events was the event management side that I started in 2007.
I managed a band in London called Nicholai La Barrie & the Mangoseed, which kindled my keen interest in local Trini music. Coming back to Trinidad after ten years in London, I feel compelled to support local cultures as best as I can, being the best patriot that I can be, leading by example. This propelled me to found goLocal, an initiative which supports local cultures – music, art, cuisine, design.
So if you have to label me, I like the label – Cultural Ambassador!! Ha ha ha… not really, but it feels like that. I love Trinidad and Tobago, and believe that we need nothing more than what we have within our shores. I wear local jewellery. I listen only to local music, patronise local designers, and eat local produce. And it's not difficult.
'T&T is about three years behind the world in thought processes'
O: What's the difference between what you do in Trinidad and what you did in London? And how does the workings of each country affect your style of work?
S: London has been hard work carving a name for myself, but when it got going, it was smooth sailing, because I'm only dealing with a couple thousand Trinis.
I worked for the man all my time there; Babash was always on the side. In Trinidad, I work for myself. I developed the confidence, skills and contacts to make Trinidad work for me.
T&T is about three years behind the world in thought processes… Light years I think in honesty.
London is honest. If you want to be a drag queen, big up. It's an open city, built by conservative people. I hope T&T gets there! I may retire in Barcelona though. It's my favourite spot!
I actually have rebelled against changing my style of work. I go to meetings in shorts, slippers, maybe a scarf. It has won me contracts. I don't change for anyone. I spent a long time discovering myself. Many years digging deep in to my psyche to understand who I AM, no way will I change that for any person with blinders on. My trump story for T&T was going to my first high-level meeting to pitch social media with a twist to the client. I turned up in my slippers and bejewelled jeans, tee shirt and cap. The client was in a suit. I showed him my stuff. We chatted. At the end of it all, he said if I turned up in a suit, he would never trust me, nor give me business, because a suit doesn't match who I am. I am an honest person. That hasn't changed, neither here, nor London. I do miss the cold weather though!
O: Tell us about your various projects and what they're about.
S: Babash Media & Events was started to drive the social media marketing side of my business. I am hired by companies to assess, plan and execute their social media marketing campaigns. The media side of Babash is all about new media, so I am always seeking new, innovative ways of marketing and advertising.
Babash partners with some young pioneers such as Press Play Jukebox, BlueElephant Adz and Rissecure to harness creativity.
One of the cutting edge media solutions I champion is Poken. Poken is a digital business card, which has revolutionised the way we communicate and network. It's not just a simple "connectivity" device, however, used in the right way, a marketing team can certainly benefit tremendously from the intimate data that can be harnessed. Poken is the digital business card that is the social media tool of the future. The very near future.
'Duck bubblin', Babash flowin'!'
The events side of Babash is all about seeking alternative events to champion. I started with hiking and trekking. As a hobby, it has a following, but hardly mainstream. Babash will take a hiking tour, for example, and create the buzz around it with familiar bait – branded tees, food, music, alcohol. Or what about the sports that seem niche, but are actually quite frenzied and enjoyable? Rugby? Rally? Brilliant – so I brand my team, we go out and lime, create a buzz with some pics, videos, an iron pot, ring stove and cooler! Duck bubblin', Babash flowin'!
On the artiste management side, Babash has recently signed Collis Duranty, The Unlimited Soul Project. His music, well, it's the sound of your pores raising. As my background is European flavoured, I'm concentrating on the European festivals for Collis. He's given a lot of love to T&T, but this music is international.
My baby, goLocal is all about supporting local cultures. It began as an avenue for underground artistes to get their music out, using the Press Play Jukebox network of hosts, and a database fuelled by TrinidadTunes.com. It has grown to be championing local artists (Joel Lijertwood), designers (Darcel de Vlugt), and chefs (Ashmir Ali), and well, I hope to keep on finding new people to support via marketing efforts.
Every day someone contacts me, mainly musicians, just for some advice. This is great stuff!
I also have RedRhi.no – a tee shirt line that is close to being launched. Of course, it won't be your standard tees.
---
O: You were very instrumental in starting the goLocal campaign. Tell us more about it, and what's been achieved since it started?
S: goLocal is my baby. It was born out of my passion for local music and our cultures. Trinis are horrible patriots. Maybe it's my "foreigner" goggles, but wow, Trinis are selfish.
golocal is about giving. I give my time, my photography, my videography, my home, my advice, my marketing, my contacts, for free. I spent a long time building relationships with artistes, most of whom have been burnt in one way or the other by cloaked Samaritans. I try to bring reality to the situation.
This underground music needs corporate support. Our cultural expressions need money to make them sellable.
goLocal was created, developed, is being managed, produced, run, designed, planned, and sweated out, by me. It belongs to me.
'Trinidad is quite tough to be different, but being different in spirit is what has been driving me'
O: You're very much into promoting music artistes? What got you interested in this?
S: My interest in music was truly developed by being a Trini in London. I love T&T. I would try to recreate "home" as much as possible; music was a major part of that.
I worked for many years with Mateen Hepburn, CEO of Busspepper Promotions (the best re-creation of a Trini party in London, til Babash Events came on the scene of course) and every month, planning music, food, artistes would be part of the diet.
When I decided to start Babash, it was because music wasn't enough. I missed the culture. So Babash brought theatre, poetry, mas, river limes, Parang limes etc to London, all recreated, all false in some way, but it's what we had.
We were the first to bring Kes to London. We rekindled Signal to Noise and Clyde the Outlaw parties, with the Djs making annual trips. We did a live feed with Boom Champions for a party. Music is probably the most powerful expression of a country's culture. I love it. I was asked by Nicholai La Barrie to manage his band. Nicholai left Trinidad a long time ago, as a struggling artiste, a Rapso man, an actor, director, writer; he found his niche in London with his style. I got my first taste of artiste management with the Mangoseed band, and I am still very much tied to them.
O: You go between London and Trinidad a lot. What's the difference between your life in the UK and life in Trini?
S: London! I miss London. It's where I grew up! London is a cultural melting pot. I actually feel more comfortable there than here. I miss the seasons, the mood changes. Trinidad is quite tough to be different, but being different in spirit is what has been driving me.
London is my metropolis. I love it there. I hope to be back in August for Notting Hill Carnival, haven't missed one in ten years, and I've only actually played Trini mas twice in my life. I don't have an accent, I tried to lose it when I started Babash; it was my re-acquaintance with my love, Trinidad. For many years I denied myself the Caribbean heat. But you can never shun your native culture. I am fortunate to have both Europe and Trinidad to call home.
O: What's a typical day like for you?
S: My day would ideally start at 5 a.m. with a jog. Ideally

Lately, I've been in meetings all the time! Plan, plan, plan! It's a little bit of organised chaos. Truthfully though, structure bores me, so there's no diary, unless I have a meeting, or schedule. I know what I have to do, and I do it.
To stay linked in to all things Babash, check out their website, Facebook page or follow Sean on Twitter @babash.
To check out goLocal,visit facebook.com/supportgoLocal.
Photography by Mark Lyndersay. A veteran photographer, he's photographed the likes of Michael Jackson, and Wendy Fitzwilliam. Check out his awesome photo library at www.lyndersaydigital.com.