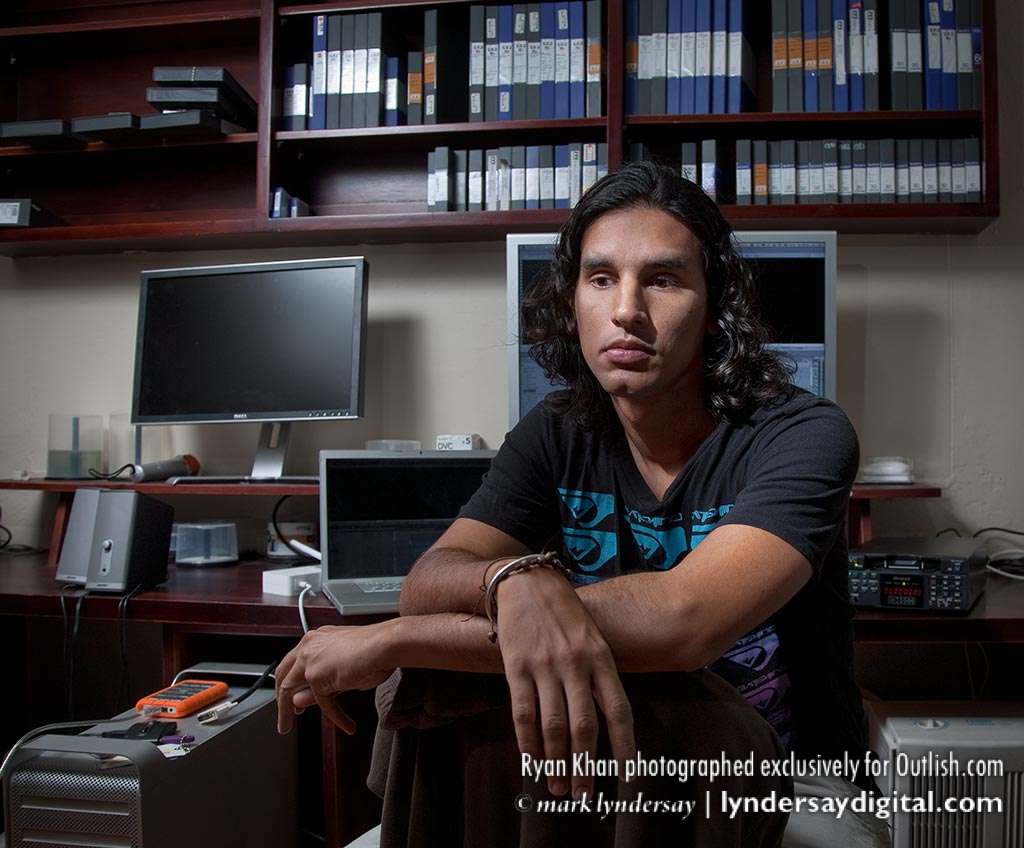 Ryan Khan – Directing an Affair
|
We often think of storytellers as orators telling us tales from the stage or reeling us into their realities through the books they write. We forget about the directors who choreograph the movement of people from behind the camera, tying together stories, characters, scenes, and dialogue.
Telling a story visually is not a simple matter of art or science. Directors have to feel the emotions coursing through a movie, and be able to chart that progression of moods and actions, sometimes taking advantage of narrative freedom to ensure that the audience walks away not just moved, but also mesmerised by what they've seen.
For Ryan C. Khan, it's the same, and as a filmmaker in Trinidad and Tobago, he's faced with various challenges – creative and practical in nature. He's faced with navigating a small industry that is still seeking its big break. Yet, he makes it look fairly simple.
At age 29, he has two, short films under his belt – "Minutes to Midnite", which premiered at the 2009 Trinidad and Tobago Film Festival, and "The Midnite Affair" – the second instalment in his folklore franchise – which will premiere at the 2010 festival in September. Khan is big on incorporating indigenous stories in his films. Dark humour and mysticism colour his writing, which is defined by a decidedly Trinidadian perspective yet universally understood stories.
"Dark humour and mysticism colour his writing, which is defined by a decidedly Trinidadian perspective yet universally understood stories"
"Basically these were stories I wanted to tell," he says, explaining his creative chronology. "It feels good to have made the films and to have executed them in line with the visions I see in my head. But then I look back and see flaws. It's really like I'm learning as I work, as opposed to going to school and waiting to apply the lessons. I'm working it backwards, creating then looking back on what I've done."
With more doors opening for him (he's had his first short film shown on TV6 for the Trinidad and Tobago Film Festival, he signed up with Flow for his film to be one of their launching films for their video-on-demand service, and he's set up a distribution network), Khan seems set on screen domination. This progression in his career highlights his go-getter mentality, and his ability to spot opportunities, even when doors may seem closed. You see, "Minutes to Midnite" was actually written for his application to film school in London, at a point in his life where he was unsure of what path to take. If you'd met Khan in 2008, he wouldn't have necessarily predicted his current status. At the time, he was in London, lured there by music.
"I loved video production, but I was feeling tired," says the entrepreneurial filmmaker, who has amassed eight years' of experience in various capacities, having worked as a camera man, editor, animator, and author with various companies. "I went up to London, and had some friends in the Trini rock band Tripped and Falling. They had moved to London and things were going good so they called me and asked if I wanted to join the band and play bass, and I said why not? I spent two years doing that and some video work in between, but I was mainly focusing on music. I was still building links in London in video though, and I managed to align myself with some good work."
Within his first, three months in London, he landed a tutoring job at the London Academy of Radio, Television and Film, teaching a short course in post production. Every so often, he produced videos for people, and even made a video for Tripped and Falling.
Then, with his two-year, working-holiday visa coming to an end, he was at a crossroads. The band didn't get the record deal it had dreamed of, and Khan had to decide whether he'd continue living in London, working odd film production jobs or return to Trinidad.
"I needed something that stood out, but showed my Trini background – our culture and stories"
"London is big and it's hard," he says. "I was focused on filming and telling stories and what I was doing in London was more commercial stuff just to get by. I was also applying to film school, and I wrote 'Minutes to Midnite' for that. I needed something that stood out, but showed my Trini background – our culture and stories. It's a modern version to the Anansi spider folklore. It has that character in it, but it doesn't have any of the Anansi stories or you won't find anything related to Anansi. Nevertheless, it was definitely inspired by Anansi. I researched our folklore, then in reading the Anansi stories I came up with this idea, and wrote the story. I realised while simplistic in nature, the Anansi stories said a lot.
"While I was in London I also took advantage of the facilities that were available. They have script consultancy agencies in London, and I was checking a bunch of them. I found one called Euroscript, took my script there, and did a focus group on 'Minutes to Midnite' to get feedback, so it was done in a professional way. And I'd never written a full script before, so this was my first."
This level of preparation and his fascination with folklore set him up for the opportunity that was awaiting him back home in Trinidad.
"I was online one day and came upon an article about the Trinidad and Tobago Film Company offering funds for small filmmakers, so I gave it a shot, applied and got through," Khan explains.
His screenplay for "Minutes to Midnite" now had the green light. However, his plans to study were put on hold when he didn't get through with his film school application. That was 2009. As the saying goes, "when one door closes, another opens", and in this case the Trinidad and Tobago Film Company held the key for him. He was also about to learn things that film school wouldn't necessarily prepare him for – like the business side of filmmaking, especially in a market like Trinidad and Tobago.
"The Trinidad and Tobago Film Company provided the foundation for my career," he says. "I've got to give credit where it's due. Their programme (the Production Assistance and Script Development Programme) is perfect for a guy like me who's starting out as a filmmaker and needed help because really and truly no one else would fund a new filmmaker. I applied to other places and didn't get through the first time I sought funding. I was probably checking the wrong people too. I got more sponsorships the second time around though. I wouldn't have been able to reach the second film without the T&T Film Company. They really helped me with the starting off."
Khan's ability to spot opportunities and gutsy moves are very much in character for the young director. If you spoke to people who've worked with him throughout the years, they'd tell you it could have been predicted without the use of a crystal ball; after all that gustiness is what got him into the field.
At age 20, Khan had been trying out various career paths, including selling cars and computers, and bartending. He'd moved straight from Form Five to pursuing introductory business courses at Roytec. Previously living in West Moorings, he'd moved to Diego Martin, and going home on afternoons, he used to see the sign "Big Fish in a Blue Bottle". When his brother told him Big Fish did video production, Khan sauntered in, and asked for an internship.
"I had to be persistent with them," he says. "But when I got in it was free sailing. Within three months I was working and getting paid."
Khan spent much of his time at Big Fish in a Blue Bottle before moving onto Gayelle as a Main Editor, and then Advance Dynamics, freelancing in between, before moving to London, which set things in motion for where he is now.
With "Minutes to Midnite" having been released in 2009, Khan is currently focused on marketing his follow-up film "The Midnite Affair", which maintains a strong folklore theme, highlighting the feared La Diablesse character. Again, Khan wrote the screenplay – this time with input from Alan Ferreira. Starring Keshav Singh, Kerri Tucker, Kiwan Landreth-Smith, Teneille Newallo, Luke Ribeiro, Penelope Spencer, and Conrad Parris, and produced by Darisha Beresford, the film marks a progression in his development as a director. Set against Trinidad Carnival celebrations, the film deals with love and deception, as Kevin (the main character, played by Singh) visits the country with his girlfriend, and realizes that folklore is real, when he falls for the seductive femme fatale Charlie (played by Tucker). Promoting the short films hs been an entrepreneur's training ground for Khan.
"It's almost like I'm practising every aspect of the business, managing funds, filming, directing art, and marketing," he says, admitting too that "it's bloody hard to produce stuff in Trinidad". "I tapped into my years of experience in the commercial world, and because of my experience I knew what to do. I don't think I was as efficient as I should have been, but that's where I'm growing, getting more efficient, and learning.
"Every time I do a film, I think of it as starting a small business"
"Every time I do a film, I think of it as starting a small business, because each time I do a new one it's not the same. You have to hire employees. You don't always work with the same people. So it's like starting a business, then closing it down. The whole filmmaking thing is a bigger task than what I had done before.
"In terms of money, there's no return of money. You have about a four-year period to see if there's turnover. I've taken it upon myself to be my own product and push my brand. I know of people who make films and people don't know about it. I'm making sure that my brand is out there. It's all about balance between business and art. I work at my own pace. I believe in a slow, steady pace. Not speed; not an overnight success. With art you've got to take your time. A lot of the great movies take time to make."
While Khan thinks that the film industry is changing and growing, he stresses that quality standards have to improve, and the artistic community needs to band together more to help "push Trinidad".
"I'm focused on film making," he says. "I'm doing the whole nine yards – make a film, shoot it, market it, distribute it, write it. I'm not doing everything by myself though. My career couldn't be where it is without key members – my producer, director etc. Just like you hear at the Oscars, it's the people behind the scenes who help to make this a reality. It's me you're interviewing, but without them I couldn't do this. Working with creative people is phenomenal, and that is a big reason why I work in film.
"I'm very far from reaching the pinnacle of my career. Well not far, but I have some way to go. The films I'm making I don't consider as being brilliant. I'm not a masochistic kinda guy or self-deprecating. It is what it is. I'm focusing on something that is Trinidadian and making it original. It's a work in progress. You can see where it's going and where it's coming from. After this film, I'll keep making films and putting them out. Then I want to do my own feature film next year. Right now I have ideas. I know I can't make all of them at once, so I have to find the right one so I can do that. I also have other projects lined up where I'll be working on other people's projects. I like doing my thing and also working on other people's projects. Sometimes it's nice not having to make all the decisions."
Judging from his current activities, it's safe to say that Khan's career will be an interesting one. His decision to make films that are very much Trinidadian, but internationally appealing, reflect an innate understanding and identity with his roots, and may well open new doors.
To keep up-to-date with Ryan, visit his website, Youtube channel or follow him on Facebook and Twitter. To stay tuned for the release of click here – "The Midnite Affair".
Karel Mc Intosh is the Founder and Editor-in-Chief of Outlish Magazine. She's also a seasoned Marketing Communications and Training Consultant. A real online junkie, when she isn't surfing the Internet, she's thinking about surfing the Internet. Follow her at twitter.com/outlishmagazine
Photography by Mark Lyndersay.