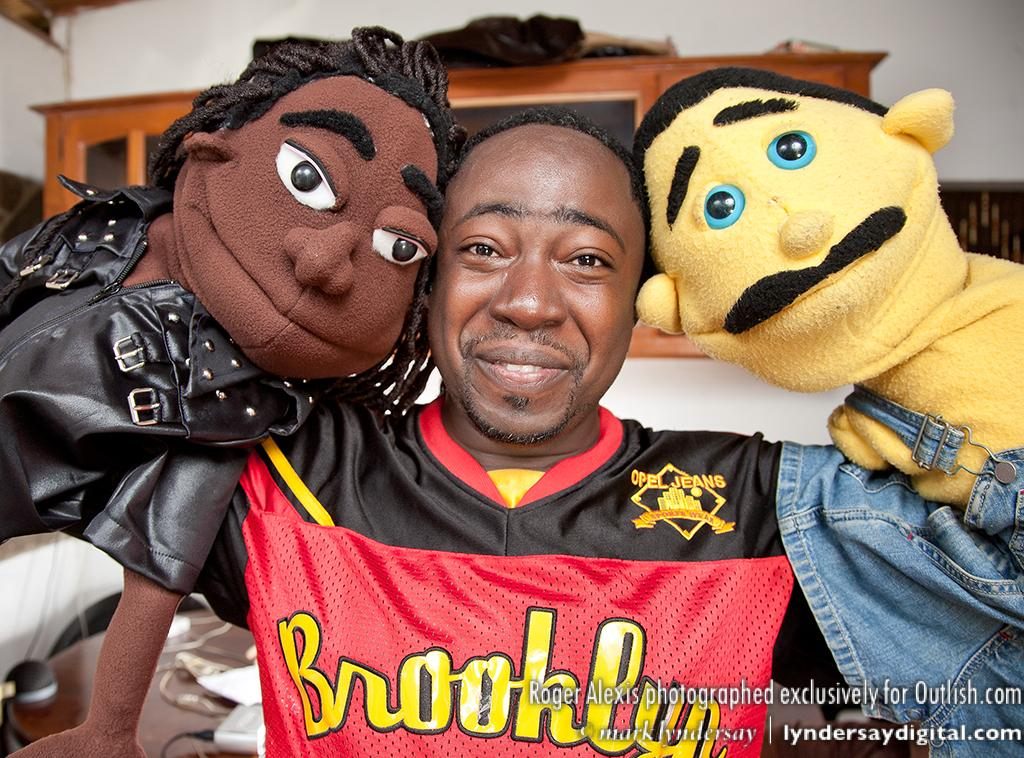 Roger Alexis: More than Puppets on Film
|
Puppetry has always been a thing for kids, but Roger Alexis has definitely made it a must-see for adults. Trinis have been 'cracking up' over the short films "Thou Shall not Horn" and "The Fete", which have gone viral, amassing over 98,000 and 70,000 views, respectively on YouTube, and have been circulating Facebook. Distinctly Trini, and starring the puppets Santana and Janice, the films are written, directed and produced by Alexis, who's been dabbling in video creation since his teens.
Alexis is as animated as the characters he films. Dressed in a jersey and three quarter pants, he's funny, casual, warm, and just plain ol' affable, as we chat on a warm, Thursday afternoon at The University of the West Indies (UWI). He's not just some guy looking for popularity online.
Describing himself as a filmmaker, who loves comedy, this 35-year-old is in his final year at UWI, pursuing a bachelor's degree in film production, while balancing his day job as a news cameraman with CCN TV6, and his company, Lexo TV. As President of Lexo TV, which he started in July 2010, Alexis is knee-deep in flexing his film muscles with his half-hour show "Herman Tales", which stars puppets (of course) and airs on TV6 on Saturdays at 4 p.m. and Tuesdays at 4.30 p.m. Writing, producing and directing all his films, he also plans to develop his online Santana series, pushing his productions through new media.
Check out his story, and what he plans to do with his newfound, online popularity. We're also pleased to present the official debut of his third, short film "Patsy", starring Santana and Janice.
O: How did this all start?
RA: I made my first video when I was around 15. A relative had a camcorder, and like most teens, when you get something to play with, you play with it. I wasn't the average teenager. At a young age, I had the foresight to actually put a production together.
Fast track to my mid 20s… one of my friends left a video camera home. Rain was falling, I was bored in my apartment, there was nothing good on cable… imagine that. So I pick up my camera, pick up one of my socks, put some holes in it, put some eyes on it, and record a show to entertain myself. I edited the recording on camera, a skill by itself. When my friend came back home, he looked at it and he was real rollin'. Next day rain falling… home again. I made another production and it was even funnier. He asked me for a copy to show to his friends. No problem. I gave him a copy. Another friend saw it and wanted a copy to show their friends. Relatives got involved and started showing it around. Another friend from south came up to ask for a copy. I told him I loaned it out, and he was real vex with me because he wanted to show it around. And I was like why he vex with me? Then I say you know what… I onto something. Once you could make people laugh, you onto something.
I bought a puppet, then a few others, started doing production, and it ran away with me. People kept telling me, "boy you hadda start a company", and that's how I came up with Lexo TV. The love for this puppetry and making films landed me in UWI.
This programme in UWI is one of the few courses here that does actually interview you before they take you in. Dr Paddington saw my early work, and he liked the ingenuity and creativity and… you know… the real essence of the filmmaker. I doh have no big budget.
In the past people would tell me I's a black boy. Film in the past was for de white boys. I see myself as a human being. I do all the tings I like to do. I scuba dive. I like hiking. I like outdoor stuff. I love filmmaking. So I do it.
O: Let's jump to the present. How did Santana start up?
RA: I created "Herman Tales", about a puppet named Herman who lives in a village. It shows on TV6 now. I had bought these puppets from a guy, and I told him I wanted a Rasta puppet. It lil stereotypical. Anyway, I named the puppet Santana. He got his debut on "Gangster" on "Herman Tales"; he's the leader of a gang. I realised that people remembered Santana. With entertainment on the whole, characters are very important, good or bad, and I decided to use this puppet to do other things.
O: And what's the story with "Thou Shall not Horn" and "The Fete". How did you come up with those videos?
RA: "Thou Shall not Horn" was actually a class assignment on cinematography using light and so on. I couldn't get real human actors for that day, and people kept cancelling so I say screw dat; I have puppets home, let me use that. So a friend from class and I shot it in my bedroom. I ended up getting an 'A' for it, because it had most of the attributes of a good, well-lit film, and after I finished it, I put it on YouTube. It wasn't scripted at all. I made it up as I was going along. That's an exercise I've developed for myself, spontaneity, adlibbing and improvs.
"The Fete"… I did it with two friends this time and this time it was a lesson for myself because I doh wait for them (UWI) to teach me anything. It was a lesson in green screen work. I got some equipment from school, got the green screen cloth and lit it. I had the puppets performing in front of the green screen. Again… not scripted. You can tell 'cause there are a lot of pauses. The funny thing is when I do these productions, females doh really be on location. So I do the voices for the females – which sounds weird – and then I do voiceovers and get a female friend to help.
O: Are those the only films you've done?
RA: I also did "Contemporary Sorcerer", about an obeah man living in a house, who had a man spying on him. That went into the Trinidad and Tobago Film Festival last year. I got sponsorship for that. It was two days before I was supposed to hand in an assignment, laziness again, and I went in the yard, thought about it, came up with it, and my friend Kevin Maturine did the special effects.
O: How did the films get so popular?
RA: All those films were on YouTube for nine months and had 110 views. "Thou Shall not Horn" had about 50 views, and the others were straggling behind with 10 views and stayed there. Then I doh know what happen. I doh know who saw it. The film started circling and it went viral. I know I'm not in the million views like most videos circling YouTube, but it's steadily growing and people keep on asking for more videos. Now all of this sorta open my eyes to YouTube, as an outlet to display films and advertise and so on. Besides that, YouTube could spawn a new type of filmmaker. I could earn from this one day.
O: People sometimes worry about sharing their ideas online. What's your take?
RA: You can't be afraid.
Creativity, coming up with ideas is not a problem for me. I could come up with ideas like that (snaps finger), so I could come up with new things.
O: What's in the future for Santana and Janice?
RA: In UWI, for final year, you have to do an assignment to show you've learned all what they teach you, so I'm gonna do a Santana movie with Janice and so on, Trini style. People used to call me puppet man and puppet master, and I used to get offended because I can do other things, but lately I kind of like that.
O: How does it feel to see the kind of response to the short films?
RA: Girl is like yuh's a nerd all de time and all of a sudden you's the most popular person in school. People subscribe to my channel every day. About three or four people, which is a little, but I find it's amazing.
People from Saudi Arabia, the Diaspora, USA, and throughout the Caribbean subscribe all the time and really like meh work. And I think this is important because as Trinidadian filmmakers, we struggle with trying to be international with the world not understanding our accent or culture and sometimes they want to, but we try to do it the Americanised way. We try speaking like Americans, but we want them to think we're Trini. I think if they're interested enough, they will check it out and try to understand the accent and ting. In one of the shorts, Santana's girlfriend asks him what he wants to eat and he says pelau. Somebody from Canada may be like, 'what that is?' Or a Trini go say, 'you know how long I eh eat pelau'. So I'm going to put as much of us in my films as I could.
O: Tell us more about the "Herman Tales".
RA: That's a next thing with local content. I developed that show with two colleagues Kenwyn Francis and Kirk Budhooram. It's a strictly local show, all local dialect, nothing foreign. Nice adventures. The novelty of putting puppets in human situations is always comical, and we try to put a message at the end, whereas with Santana you mightn't get messages, but you see familiar situations.
"Herman Tales" started running in September. We're in the second season. We got a first run on Gayelle in 2008. Now it's on TV6 – started September, finishing end of October. We're reaching quite a lot of people. It was also shown up the islands.
O: Have you had any problems with people trying to copy you?
RA: The only piracy I've experienced was when a friend of mine told me somebody downloaded my film and uploaded it with their thumbnail on it. I reported that to YouTube.
O: Now you got "Herman Tales" on TV6, but you often hear people saying it's so hard to get support for local programming. How did you get through?
RA: I work at TV6 as a news cameraman, so I understand how it works. All the TV stations in Trinidad want local programming. The only thing is it's too expensive. It's not their fault, nor the producers' fault; that's how it is. What we have to do is make a quality programme for the least amount of money and local filmmakers have to wear a lot of hats, so I write, I direct, I edit and I produce.
It's the same thing with "Herman Tales". So I would get help to make the whole ride easier. I do the bulk of the work. If I do work for next to nothing, if I make ten dollars… is a profit. I would advise anyone, equip yourself with the skills. Do something quality. Do something catchy. TV stations will air it. When you get a following and they're sure you could make money, then bring in your sponsors.
O: I like what you said about building an audience, then going to sponsors. What are your thoughts on making it in the film business?
RA: I'm looking at the opportunities we have with new media for my final-year thesis. I'm looking at how do we make money in a nonexistent film industry. The more traditional filmmakers come in and teach you about writing grants, how to beg for money, and trying to find ways to go to film festivals abroad. I don't like to beg, so I'm focused on finding ways to make money using new methods.
Check out the official debut of Alexis' newest short film, "Patsy", here on Outlish.com (Roger quietly uploaded it on Saturday, and as at Sunday it had already received 855 views).
To keep up with Roger, subscribe to his YouTube channel here: http://www.youtube.com/user/rogera43.
Photography by Mark Lyndersay of http://lyndersaydigital.com. Mark is a professional photographer and writer working in Trinidad and Tobago since 1976. His column on personal technology, BitDepth, has been continuously published since 1995. He is currently pursuing a photo essay series about how Trinidad and Tobago pursues its culture and festivals called Local Lives. Both series are archived on his website at http://lyndersaydigital.com.
Look out for a new issue ofOutlish.comevery Monday.