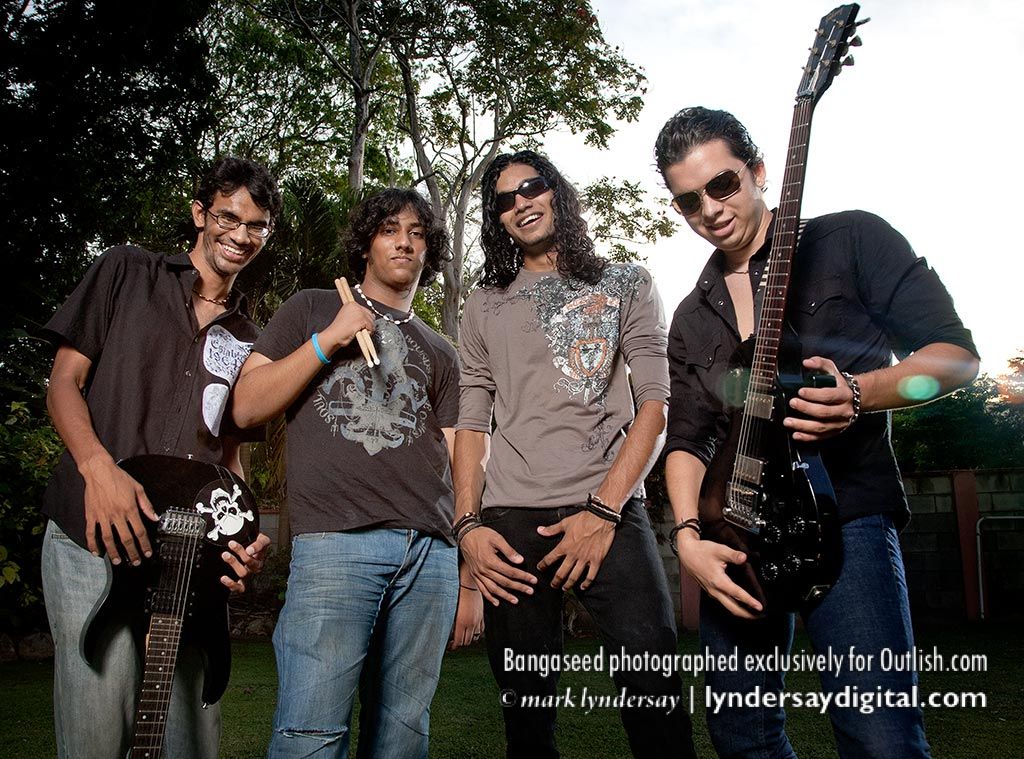 Rockin' hard like a Bangaseed
|
Look up Bangaseed in a future edition of the Trini dictionary Côté ci Côté la, and instead of the hard fruit, maybe the faces of the four, young men who have adopted the name will be featured. Listed as the synonym will be 'rising star'. Until then though, being listed on the immensely popular urbandictionary.com is a sign of things to come.

Taking lead from their name, these rockers 'go hard', and in their first months on the scene, since debuting in September 2009, they're building a steady following. With over 1,000 fans on Facebook, and scoring gigs alongside top-rated, local bands in the genre (think Orange Sky), their dedication is certainly bearing fruit.
"You see these four guys here," says lead vocalist John Emmanuel. "These are the most driven guys you'll ever meet in Trinidad and Tobago."
This isn't an empty boast, as three of the four members are only 19 years old, while Varune Logan, the drummer, is a 'secondary-schooler', and a startling 14. Jonathon Agostini, the lead guitarist, and Javed Ali, also a guitarist, balance studies at The University of the West Indies (UWI) while molding themselves, and their band as the new face of local, hard rock.
Friends from Fatima College days, Emmanuel, Agostini and Ali started by jamming at each other's homes two days a week. As jamming turned into sessions at actual venues, their then bassist, Gregory Pantin, and a session drummer decided to leave, throwing the band for a loop. The Universe quickly righted itself when Emmanuel met Logan at his then day job at Mystic Hemp, and asked him if he knew any drummers. Emmanuel's enquiry of the guy who "looked like a rocker" became Logan's entrance into Bangaseed, as a fourth member, and solidified their sound. Although they are still in the search for a bassist, it was the green light they needed to start rocking out across the country.
"Some people like the 80's, like us," he says, a claim that is undoubtedly backed by not only their scores of fans on Facebook, but also the media attention they've been getting recently.
With Outlish breaking their first interview, you can look out for future interviews with these guys. But like consummate professionals, the guys are taking it all in stride, and seem calm and confident that their destiny is unfolding, as it should.
"The last six months have seen the revival of what Emmanuel calls 'the progression of metal'"
The last six months have seen the revival of what Emmanuel calls "the progression of metal" with 80's and 90's cover tunes by rock legends Guns n' Roses, Metallica, Alice in Chains and Pantera, and Bangaseed definitely has a plan to rock T&T, despite the challenges that local musicians often encounter in getting their music heard. Their current strategy is to book as many gigs as possible, and release some of their own music. They performed and launched an original single titled "Last Laugh" in April.
Operating behind the scenes to help give them the push they need is their manager, Rachelle Singh, a friend since 2006 and a supportive fan – who they show nothing but love and respect for. Her first and only music management gig, Singh admits that she does it because she believes in the talent of her friends, but knows that they need some direction.
"I've been friends with these guys a long time," she explains, taking little credit for their success. "They have the drive but sometimes they need someone to push them. They promote themselves a lot, and they let people know who they are."
The shoot from fun to fame in a matter of six months has had its challenges for the guys, and they are willing to admit that it has been an opportunity for fine-tuning. Just a few weeks ago, in early April, they had the privilege of playing alongside local, rock legends Orange Sky and Krash, at Sparky's Bar in Chaguanas. This clarified where the benchmark was set.
"We've loved bands like Orange Sky and Krash since childhood", admits guitarist Agostini. "These guys have such a big name, and we're just now getting out there.  To be with them you have to be on par."
"When you come to our show, you'll see we give it our all," lead singer Emmanuel adds. "Keeping up that pace is a big challenge."
Yet this is only a gauntlet that these young men look at as their whetstone to sharpen their talent. Opportunities like these also take them one step closer to establishing themselves as the local standard in their genre.
In the advice department, the fellas are just as gung-ho as they are on the stage.
"Don't be afraid to go out there… if you fail, you fail, just go out there," Agostini  says enthusiastically, while one of the guys quips, "Oh, and don't panic".
This throws the rest of the band into laughter, and a flurry of inside jokes on past mistakes ensues. Stepping on electric guitar chords, and falling off a stage are just some of their classic memories of things gone wrong.
Even though all members agree on their local music gods – Orange Sky, Incert Coin and Krash (they were at their first performance and still go to their shows today), the guys believe there's enough space on Olympus for them. But Emmanuel quickly makes it clear that Bangaseed's determination to ascend to their local legends' level is also what makes them stand out.
"We see ourselves as becoming one of the greatest bands in Trinidad," he says, when questioned on their future over the next three years. "Look out for us!  We coming hard and we coming strong.  We coming hard like banga!"
To check out Bangaseed, find them on Facebook or follow them on Twitter.
Photography by Mark Lyndersay.