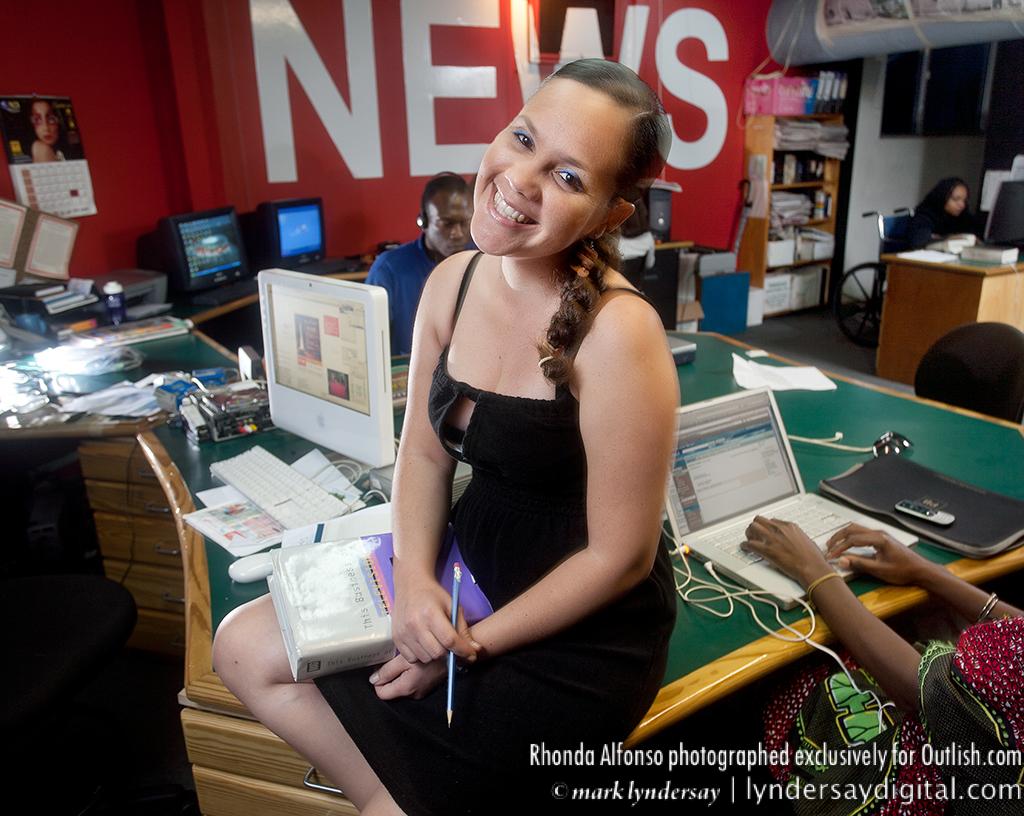 Rhonda Alfonso: Raw and Real in TV Land
|
Spending very little time with Rhonda Alfonso, you'll be sure to get an idea of the kind of person she is. The bubbly "red girl", who has worked in television for 16 years, has no shortage of opinion, when it comes to local TV. Currently working as a Supervising Producer at Gayelle The Channel, I spoke with her, getting her take on local programming, whether Gayelle's guerrilla style is here to stay, and what keeps her up at night.
O: What is your current position at Gayelle the Channel?
RA: I am the Supervising Producer at Gayelle, and what that entails is a little bit of everything. I came out of a very corporate background because I worked at TV6. I started television when I was about 14, 15. My uncle was into TV and theatre, and then some and so I was dragged into it. I was a Production Assistant at TV6 in the newsroom. From that I went to Line Producer, Associate Producer, and then here at Gayelle as the Supervising Producer.
O: Walk us through a typical day in your life.
RA: I'm supposed to be in charge of quality control on the station, as well as the brand. I come in and manage quite a few people, so I have a lot of production assistants, as well as television producers and presenters under me, and my role is to ensure quality programming goes out at whatever cost and that is quite a challenge because for those who know, we are really guerrilla style, and we try really hard to put out (shows) to industry standards, but we don't always hit. However, we've come to understand and appreciate that guerrilla style is what we do best, so we're not going to change that. We're going to clean it up a notch, but we're not going to change it.
"We're raw and we're real and really rough around the edges."
O: What do you say to people who might consider Gayelle's guerrilla style unprofessional?
RA: What is professional? What is the benchmark that you came to that decision with? You would have seen something on American television and said, "Ah, good, so that is what a newscast is supposed to look like". And those are the comparisons that we've had thus far. We're raw and we're real and really rough around the edges.
O: Can you paint a picture of what things are like in television in your eyes?
RA: In my eyes, we have a bunch of local TV stations playing foreign programming…
O: You say that like it's a bad thing.
RA: I do. Because I believe in foundations, and I believe in the strong principle that it starts at home, and if you can't appreciate your own, then you have no future to appreciate anything else. A lot of the core values we might have been taught as children, to have respect for your elders – all those values are no longer – and it was so sad to see that Shell Shock had to die in order for his songs to stir up emotion with everyone, but it's true, his lyrics are definitely hard hitting and true. I think it should be the responsibility of all local television stations to promote 'US' and an appreciation for us, an appreciation of our skin, an appreciation for our language…
O: Did Gayelle's launch in 2004 impact you in any way? Was it Gayelle that got you into local programming?
RA: I was on vacation from TV6. I had taken a month off because I was really tired and frustrated and all that. Lying down in the living room with the television on, I was scanning through channels and I said, "Hey, what's this about?" and I saw all these local personalities on – the Uncle Errols and the Uncle Wendells (Etienne) and Nikki Crosby and all these people… and it was a nice family environment.
The weeks progress, and I'm there watching Gayelle on-air and I'm at home, so I'm in TV6 mode, but then watching this going on. When I looked on I saw familiar faces in the industry that I would have worked with at TV6 who left, and they're here now. I was messaging the engineer at the time like, "Oh my God, you can't have a plant coming out of someone's ear, you need to move that plant, oh my God! The camera is going to fall, oh my God! You need to white balance, oh my God!", and you know I kept going on sending him messages about what was going on. Then I was editing at TV6, and exactly three months into Gayelle being on air, Errol Fabien turned up at my office at TV6 together with the GM at the time here (Gayelle), and the GM distracted my boss, and he came to me like "Hear what, I need to you work at Gayelle tomorrow".
But I never worked with Uncle Errol before. At that point in time I was producing "Nikki on the Promenade" so I was very close with Nikki, and she was like "Well, if I am coming Gayelle I want my producer to come with me". And so BAM, Errol turned up and was like "Well, you could start working next week, or tomorrow", and I had to resign and I ended up here (laughs).
O: Was it that simple? What was it that got you to resign?
RA: I wanted to do local programming at TV6, and they wouldn't allow me. They kept telling me, "How is this bringing in money? Why do you want to do this?" When I saw what Gayelle was doing; Marcia Henville for one was doing "On Guard", and that particular show would go into the communities, and actually give a voice to the voiceless. No other television station at that point in time was doing anything like that, and I was like "Oh My God, definitely!" I'm at home crying and watching the TV, crying.
She was interviewing an elderly woman, both her and uncle Errol, and I don't think it was "On Guard" then. Gayelle's format at that point in time was just to produce features of people, and let the people do the talking. So they would go into communities and actually talk to real people, they would go by a riverbed where an old woman was living and trying to get housing provided for her and they were there with this little old lady, and she's there, "Yeah well I hanging my clothes here", in this little shack that she built up with galvanise or whatever, and I started to cry and said "This is what I need to do".
O: Was TV something you were against initially, now starting out?
RA: I didn't want to do TV. I didn't like the flam and being in front the camera; it didn't make sense to me. I thought that if we had such a powerful medium where you know, we could create something and get an emotion out of it, I wanted to be part of that emotion. I wanted to make movies that would make people cry and laugh and confused and have all the emotions stirred up because that's what I thought television was. I wanted to be a makeup artist for theatre because that's where you saw the emotion being expressed on stage.
"Everything I learned here at Gayelle is extempo, because we make it up as we go."
O: Is your being at Gayelle about having a job or about what they stand for?
RA: It's about principle. It has always been about the core values and Gayelle. When I came here I couldn't understand what on earth Christopher and Errol wanted to do because first off, coming from a corporate background where you have style guides, and you have ethics in television and broadcasting codes and all these things laid out for you, when you came here it's like, "No, we don't have any style guide, per se. We are making this up as we go along, like a real extempo".
Everything I learned here at Gayelle is extempo, because we make it up as we go. We don't have any template to go by. You fall down, you bruise, we real bruise sometimes, but you dust off and we go at it again, because we believe there must be a platform for the people's voices to be heard.
O: Is your working in television through schooling or the school of hard knocks?
RA: It is the school of hard knocks because I came fresh out of high school and straight into the business. I started when I was pretty young, which was just the other day by the way (laughs), and so it was about paying your dues and starting form scratch, working your way up. I don't think any university could teach me what I've learned while on the job.
O: Do you find there are any challenges in this industry, as a woman?
RA: When I first came to Gayelle, it was the first time I saw female camerapersons and female directors, because this is a male-dominated industry. When I first got into the industry, it was full of man all over the place like, "Who is this little red woman who figure she could come tell us what to do?" I saw that whole cycle crumble when I came here because I saw women pick up the camera shooting features, editing their stuff and putting it on air. So, maybe seven years ago, but now, nuh uh, I don't see any challenges.
"I have learned that anything I think is common sense, isn't."
O: What are some of the lessons that you've learned in your time in television?
RA: Nothing is so simple that it cannot be misunderstood. I have learned that anything I think is common sense, isn't.
O: What keeps you up at night?
RA: GAYELLE! (laughs) This is my life, Gayelle is a lifestyle for me. I try not to take work home with me, but that's not necessarily the case.
O: What are some of the major challenges you face?
RA: Selling local programming, trying to get people to buy into our ideals. Corporate Trinidad and Tobago. What we could never understand is – surveys would come out, nobody is watching you all, or you have like .5% watching you in the population, yet if we go off the air for ten minutes, humans are calling asking, "What the hell, why we can't get Gayelle? Why you pull off this show?"
We did something for Flow (covering Flow World, an event showing off their products), and Flow's response was that they didn't expect the influx of people they had coming in, and all of them were saying they were watching it on Gayelle. So I don't understand how they say nobody's watching us.
O: What are some of your greatest achievements in your career?
RA: Working on television shows in culture and HIV/AIDs. I lost an aunt to the disease, and ever since then my mission has been to find out as much information about the disease, and while at TV6 I got a scholarship to Martinique to study film and work on an HIV/AIDs project.
"…it's about passing on."
O: What are some of your goals, both short-term and long-term?
RA: I want to leave TV and open a café. That is my ultimate goal. I'm tired of television, and I'm not tired of it in a bad way. I just think that there are a lot of young people coming up, and there's room and it's about passing on.
O: Is this type of job a strain on your personal life?
RA: Oh yeah, come on, you don't have a personal life. My day can start anywhere from ten in the morning, and you won't finish til ten the next morning, on a really hectic day. It all depends on the project you're working on.
O: Do you think people appreciate what Gayelle the Channel stands for?
RA: I think we have definitely made a mark in the minds of people who watch us, and even those who don't watch us. Those who criticize and those who can't stop reigning praises on our heads, but if it is that Gayelle should close its doors, it would definitely leave a dent on Trinidad and Tobago's society and even worldwide, because of the impact that we're having right now up the islands as well as in London. So yes.
O: You mentioned earlier things would improve – in what ways?
RA: Well right now we've changed management, so that's a huge thing. We have never had that corporate, business-like structure in Gayelle. What people can expect is that the core values will remain in everything that we do; however, yes the look will change. We're trying to upgrade our equipment. We have Flow on-board, which is a huge help. Programming is going to change, definitely.
O: Do you consider local television doomed?
RA: Oh, hell no! (Laughs) Doomed, I don't think so. It's a challenging thing, but it's an exciting, challenging thing.
O: What do you think is missing from local television right now?
RA: (Laughs) Money! I do think that not enough attention is being paid to social issues and issues pertaining to children.
O: What do you watch on television?
RA: I watch Gayelle. I sit down and enjoy mostly the archives, so all the old Banyan and all the old Gayelle shows, I sit down and watch Tony Hall interview this one or that one.
O: Does what you do bring you happiness?
RA: Oh, absolutely. I always tell people I've never worked one day in my life, and I learn, every day I'm learning something new. Money is not an issue for me. I'm not trying to sound like Jack Warner here now, but I would take a dollar or less to be here, because nothing is more satisfying or brings me joy than seeing an emotion evoked one way or the other.
Keep up with Gayelle at facebook.com/GayelleTheChannel.
Photography by Mark Lyndersay of http://lyndersaydigital.com. Mark is a professional photographer and writer working in Trinidad and Tobago since 1976. His column on personal technology, BitDepth, has been continuously published since 1995. He is currently pursuing a photo essay series about how Trinidad and Tobago pursues its culture and festivals called Local Lives. Both series are archived on his website at http://lyndersaydigital.com.