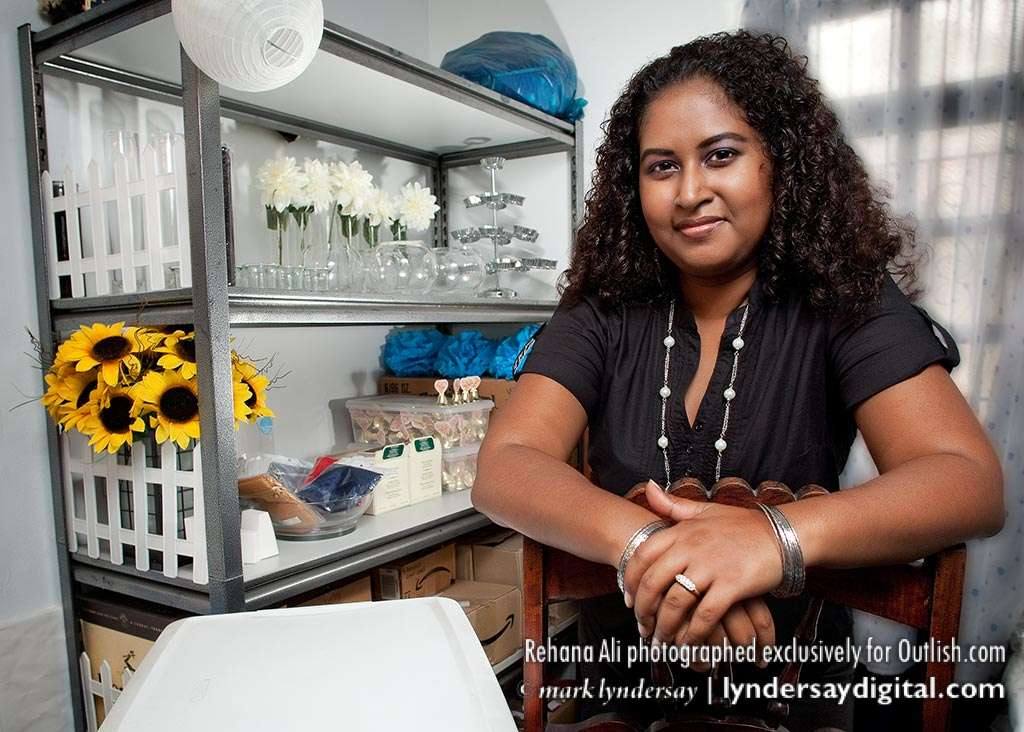 Rehana Ali – An Inspired Mine
|
"When you are inspired by some great purpose, some extraordinary project, all your thoughts break their bonds: Your mind transcends limitations, your consciousness expands in every direction, and you find yourself in a new, great, and wonderful world. Dormant forces, faculties and talents become alive, and you discover yourself to be a greater person by far than you ever dreamed yourself to be" – Patanjuli.

This is the tale of Rehana Ali, a former database developer/ administrator, who jumped from the hardwired world of technology to the artsy and logistics-laden lane of event planning, when she discovered her true love, and founded her company Inspired Mine. If you thought this love I'm referring to is events management, think again. Inspired Mine's history is rooted in a love story.
In 2007, she was getting married to her beau Marc. Like most brides, she was very excited about planning her wedding – from choosing her dress to deciding on the décor and the menu.
"I planned my entire wedding from start to finish," she says. "It made me realise two things. The results exceeded everyone's expectations including mine and I'd never been happier doing anything else in my whole life. My contract was nearing its end, and I was torn between staying on as a DBA (database administrator) and taking the risk of starting a new career as an event planner. I decided that the risk was worth it, especially with the amount of joy I gained from planning my wedding. I wanted to experience that again and again and I am."
Having managed to pull off the biggest event of her life, Rehana literally began devouring every bit of information she could find on event planning. She had absolutely no prior experience in events, having worked in the information technology field for ten years. However, Rehana had been hiding a well of creativity, and relied on her talent as well. Not only did she have a flair for putting together an event, she was also gifted in baking and making arts and craft. Rehana soon began putting things in place to run her own business. But she was not doing it alone, as her husband Marc joined forces with her to make sure that everything worked smoothly. The young couple began conducting research, developing business plans, and conducting feasibility studies to ensure that the venture was worthwhile.
"We wanted make sure the venture was one that would work," she says, explaining that they took their time to start the business, which got off the ground in 2008. "I also began learning as much as I could about all aspects of events as well as latest trends and how to deal with clients. My first official job was for a friend of my parents and when the entire thing was set up I was very proud of myself… I cried."
Despite the fact that she may have been considered a newbie in the field, Rehana came well prepared for the job at hand.
"Database administrators tend to be very analytical and organized in everything they do," she explains. "So it was not that big a jump into planning events since it requires the same type of organizational skills."
Two years later, Inspired Mine is known for putting its unique stamp on events, offering event planning and decoration services, party favours, cakes (and cupcakes), and party foods. From thirtieth birthday bashes to weddings – they do it all, and despite the demands of a growing business, the husband and wife team continue to meet challenges head on.
"With my organizational skills and Marc's natural business skills, we are never overloaded," she says. "Thankfully my husband, Marc, is my anchor. He keeps me from doing things impulsively. Without him by my side I would have never taken the risk, and he was a great help in calculating how I would approach the startup."
A self-proclaimed perfectionist, Rehana seems very focused on ensuring that she achieves the right vision and inspiration for events.
"Marc got a taste of that for our wedding," she shares, laughing. "I have to do everything the right way otherwise it bothers the heck out of me!"
As a wedding planner, one might wonder what are some of the biggest challenges in catering to clients.
"So far the biggest challenge for me has been learning the psychology of a bride," she says. "It still is and always will be a learning process since not every client is the same."
An absolute romantic at heart, Rehana's face comes alive as she talks about the business.
"I love weddings," she says. "I love the drama… seeing two people in love and sharing the experience with them, creating something that starts their life together as man and wife, and especially seeing and hearing how pleased they are with what I've done for them. It's a great feeling.
"When I hear someone talking about events I kind of get carried away. I start thinking of all the possibilities. One aspect that I love is decor. I especially love using flowers, fabric and lighting to create amazing spaces. I've done sophisticated adult cocktail parties, weddings and fun birthday parties on both small and large scales. We do both private and corporate events. To date, our clientele has been largely private, but we're hoping to move into the corporate market on a larger scale. To be honest, no matter the size of the guest list, there is always a great deal of work involved. I am responsible for making people happy and for making their dreams come true, so I always give my all when I'm doing an event."
As a golden rule to ensure consistent quality and service, they never take on more than they can handle.
"I'd never take on more than one event within the same week," she says. "I think it is unethical. I'd never want to stretch myself so thin that I end up not giving my client all the attention they need. We also try to ensure that they get the sort of event they want despite whatever financial limitations they may have. So costs of events vary according to the client's needs, the scope of the event and the budget, which is why we offer a free consultation session to learn the client's vision, so we can bring it to life. I prefer to focus on giving my clients the best quality and making the entire process a stress-free one where they simply have a fabulous time. I do believe that our costs are highly competitive as we continue to create amazing, cost-effective events."
Although, Rehana and Marc are Inspired Mine's only full-time employees, they do hire staff for events, but make it their business to always be there to ensure that everything goes smoothly. Possessing some of the inherent skills associated with event planning, this duo is well prepared on all sides. Marc, who works in the technical field, is a photographer as well, and offers services for clients as well.
Rehana seems to truly be in love with what she does, and her flair for creativity is obvious. She makes many of the centre pieces and party favours you'll find at an Inspired Mine event, and if you were ever lucky enough to taste one of her cakes, you'd think you were in culinary heaven. Rehana also makes divine cakes for weddings, including cupcakes – from chocolate concoctions and coconut flavoured frostings to red velvet creations, her cakes are a favourite with clients. With such goodies adding to the array of services offered by Inspired Mine, she makes sure that the company's name is always at the tip of clients' tongues.
"Nothing is better than word of mouth, especially when you have a good product or service," she says. "It's the real seal of approval. So we're not aggressive in our approach. So far we've been using social networking tools to attract clientele, and so far it's been working. We have not done any other advertising, but are always on the lookout for events that can challenge us and make full use of our creativity."
After two years in the business, Rehana seems to be sticking to her aim to inspire people with her work.
To view some of Inspired Mine's work, check them out on Facebook at http://www.facebook.com/inspiredmine or email rehana@inspiredmine.com