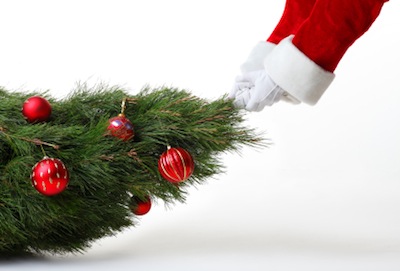 Outside with Tropical Chimneys: Preserve We Culture
|
December 25th, the jingle bells are sounding their sweet melody, and mom is roasting her chestnuts on an open fire. The Christmas tree is adorned with snowflakes, as father puts on another Luther Vandross CD. Ah…sweet T&T!
But wait nah! Wha really goin on hoss?
Since when we have ah open fire? What chimney yuh ever see in the tropics? And what is it with de fake snowflakes on de Christmas tree? The closest ting I ever see to snow in Trinidad is the ice trays in meh freezer, and 90% of the time they half full 'cause meh lazy sisters could never refill it!
And, I mean Luther is a boss eh, but sometimes I could do with a Daisy Voisin resonating on the concrete walls. As yuh reading this, stop, take a breath, and leggo yuh best Daisy impersonation: "AAAWWWWWWWWWWWWWWWWW AYEE! AYEE!"
Ah boy! How dat feel? Now check whoever next to yuh, and see if they watching yuh like yuh mad.
Snow and chimneys aside, what hutting meh the most is dat people launching Carnival before the Christmas music could even play! I go wake up on the 25th, and put on the radio to hear Swappi imitating a lock-up Jamaican, or somebody talking bout jamming on meh zipper? NO! Is den I go hope Santa stick in dem radio station chimney, when dey was roasting dey chestnuts, and bun down dey antenna!
Now, I am not hating on Soca music eh. Actually scratch dat. Maybe I just toting! We could recall the times where all now the radios was overloaded with Parang music, and dais what we would listen to while painting or varnishing. If yuh turn on the radio, while doing any of those chores now, yuh gate or table might just come out two-toned, because yuh cyah stop wining while painting.
And do spontaneous house parangs still happen? The last time someone parang my house, it was three in the morning, and I had to go outside with yampee dropping from meh eye, like fake snowflakes, to hear some tone-deaf, high-on-coffee (or maybe some spirituous liquids) family members trying to sing Parang. Now dat was good times. I used to call them hummingbirds, because they only knew the choruses; den dey would just hum the rest.
Those were the times when the fridge was laden with sorrel, ginger beer, Peardrax, homemade wine, punch de creme and babash. Woops did I just say babash? Anyway, the counters would also have fruit and black cakes, the stove – pastelles, the oven – ham or sweet bread, and meh belly full of all of the previously mentioned items.
Those were the times when, on Christmas morning, the aroma of the house was only fresh homemade bread and love. When TTT would be beating out the video for Marcia Miranda's "Bring out the Ham". But just like how the former television powerhouse phased out, it seems as though those festive images went with it too!
Without fail, the Christmas curtains only went up on Christmas Eve night! Ms Lyons over the road would peak through she louvers to maco what curtains granny had this year. When yuh was on vacation from school yuh never wanted to wake up early, because yuh know is some form of child labour would begin – from polishing the floors to cleaning every room from top to bottom. Yuh ever realize dat in one year yuh home becomes the storage for everything yuh doh need around Christmas time, hence dey get pelt out the door?
Meh back used to kill meh after scrubbing down the yard took a complete day, but it was also some good bonding and quarrelling time with my family. Now, a pressure washer and lyme cuts dat down to a matter of hours.
Yuh see…this is not about commercializing or modernization, or nothing like dat yuh know. This is about preserving wateva little culture we have. Okay…Christmas was not invented in Trinidad and Tobago. We get dat much. Plus it have others dat go say Jesus was not born on December 25th, and others go say sometin' else, but is not about dat!
When you think back to Christmas long ago, somehow the memories seem sweeter. Yes yuh is big man and woman now, could afford to buy yuhself fancy ting, and doh have to get straight As in term test to get the toy yuh want. Or maybe because yuh big now, and busy fuh so, you doh have time to study these tings. But that feeling that used to make us feel 200% sure, when we say Trini Christmas is de bess isn't there anymore.
Not everyone go believe or celebrate the day dat Christ was born, but most will celebrate it as a time to share valuable time with family and friends. So let we doh spoil de ting. Fast from the Soca for a lil while nah man. Press pause on the dancehall. Throw way de crime and ting. Cure the ginger beer in the sun. Boil a ham in a crix pan, and just hug up yuh family.
What yuh say?
Image credit: iStockphoto.com