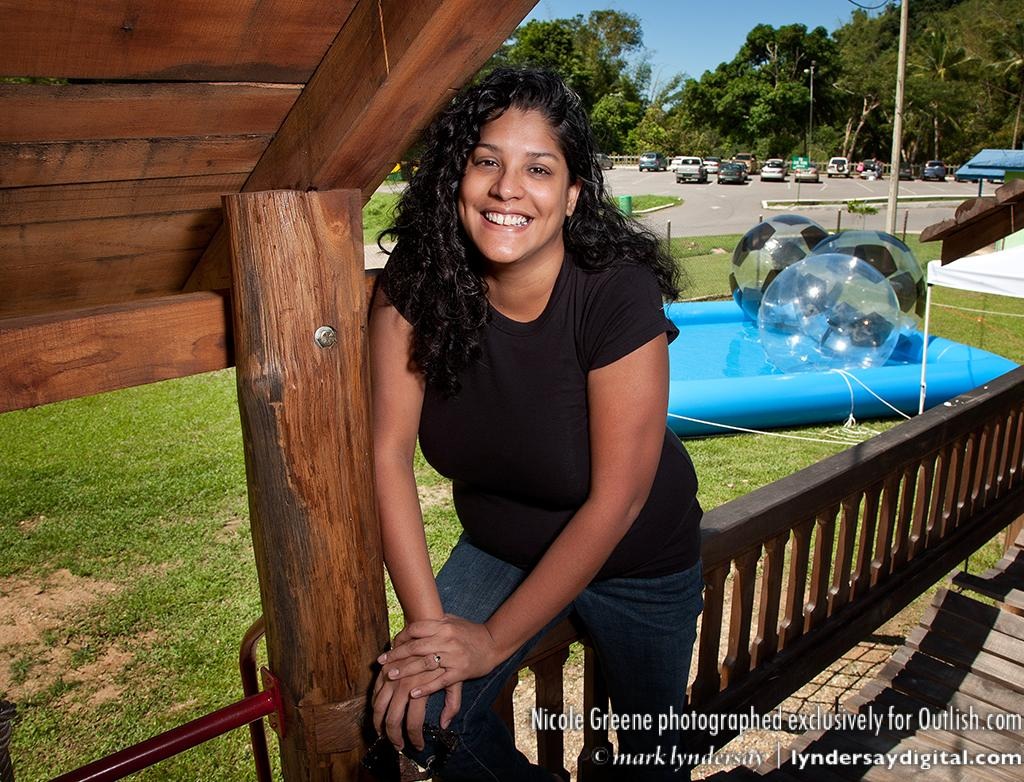 Nicole Greene: Macaroni Kid at Heart
|
Creating a business that matches your lifestyle is a great way to keep your passion burning. For Nicole Greene, 36, it only made sense to develop a business based on her first love, family. As the Founder of Macaroni Kid Trinidad, she's part of a rapidly expanding mom's blogging network.
Founded, in the US in May 2008, Macaroni Kid exists primarily in US communities, and provides information about activities families can enjoy. Each community is operated by an individual publisher, who has the exclusive right to publish Macaroni Kid in their area, with content suited to their local context.
Greene started the Macaroni Kid Trinidad franchise, which is the only Caribbean Macaroni Kid site, in March 2010, and has made some strong strides since, leveraging their framework to bring about the change she envisions. Her business agenda is all about a social agenda – bringing families together, literacy, and a passion for being Trini, through rediscovery of great places and activities. Reaching children through parents, she's shining light on an acknowledged, but under-recognised demographic, moms, providing them with information about activities for children that create opportunities for parents to bond with their kids.
Not only does Macaroni Kid have a growing community with over 11,000 monthly hits to the website, over 1,200 Facebook fans, over 200 Twitter followers, and just over 500 e-mail subscribers, Greene is soon taking Macaroni Kid to the screen, as she's working on a show for kids, by kids called "Little T&T". Extending the editorial themes of Macaroni Kid T&T (road trips, Trinis with a passion, storytelling, and kids) from a kid's perspective, it's scheduled to air in December 2010 on Gayelle TV.
A real mompreneur, Greene runs another business – CIT Solutions (an IT company), which she formed with her husband in 2009, while raising their two sons and daughter. It's easy to try to peg her as a super mom, who does it all, with the help of her uber-supportive husband, but she's quick to point out that she isn't perfect, and that her house is often in a disarray – much to her chagrin.
She recently chatted with Outlish about the burgeoning community of mompreneurs in Trinidad and Tobago, Macaroni Kid's future plans, and why she ignores the naysayers and doesn't doubt herself anymore.
O: If you had to explain Macaroni Kid Trinidad to a child, how would you explain it?
NG: I would use the words my son uses. He's not afraid to advertise his mommy. So I'd say, do you know about Macaroni Kid? It's a great site where families can get ideas to spend time together and do really cool stuff with kids.
O: How did you find out about Macaroni Kid and what made you say, "Hey, let me look into setting up a franchise in T&T"?
NG: I am a 'mom blogger' and over time I built up a pretty decent network of interesting moms who blog. You're talking to people every day, so you end up with relationships, and one of them had discovered Macaroni Kid, then another one, and I asked them about it. The premise is it's a newsletter letting parents know about activities they can enjoy with their children, something that is sorely lacking in T&T. I found it was interesting and I approached MacKid, told them I realized that all of their sites were US-based, but if they'd be open to me starting a site, and they said yes.
When I had left my corporate job, a lot of it had to do with the importance of family and how it is really difficult to be in a corporate environment, be successful and be about family. Family is number one for me. My kids haven't had the kind of childhood we had, playing in the road… and talking to other parents, we all shared the concern about the kind of world we're leaving to our kids. I was very afraid of what Trinidad had become. So in doing this, I was trying to make a social statement, and say guys we can bring this back and start with the youth. I wanted to merge my passion for tech and make a positive impact on society.
O: You're the only non-US publisher. Have you had anyone from other Caribbean territories approach you to ask how to get involved?
NG: No. It's something I've thought about. There are a couple people I have in mind who would do a good job. It's hard for me to get my MacKid to the point where I want it to go, so I haven't had time to do recruiting, but I think a Jamaica or Barbados site would work especially well because of their size.
O: How does Macaroni Kid make money?
NG: Through online advertising primarily. We're ad-supported, but at no time must it not become about community. To add further value for our community, we also partner with retailers who are displaying a commitment to families, where subscribers can access discounts with their Macaroni Kid membership card.
O: How did you go about building the brand locally?
NG: I don't have a marketing plan. We're on the fly and dynamic. I believe that what you put out is what you get back in. I cannot say I have built MacKid Trinidad. I have had a lot of angels who have come into my life. There are so many people who have been generous and instrumental in the earlies. For example, Dr David Bratt. He is someone who's concerned about family and the state of kids. He's my kids' paediatrician. I told him about the idea, and he loved it.
In the beginning, I used to actually print the letters and he gave me my first opening, putting them in his office. So that's how people found about it. I think it's grown because it's something new and unique. There are different groups and online mags that get together to talk about family-related issues, but there really is quite a strong social agenda with MacKid T&T, which I hope is what comes across… that let's make T&T a better place for the kids.
O: You run CIT Solutions and MacKid, and have three kids. How do you manage?
NG: I work on various contracts. I work four days a week on site. What I do is computer-related so I don't need to always be physically in the office. I try to keep certain hours of the day free for the kids. It also allows me to work crazy hours. It's not unusual to see me up at 2 in the morning working until five, doing laundry and getting work done.
Some days are better than others. It is challenging… very challenging. As a mom you're asking yourself am I doing ok? Am I raising them with the right values? Now, if my kids need me I drop things… if they're sick, there's an issue at school or whatever, I'm there. I'm focusing on a family-related business because it's a way for me to be able to work and spend time with them. If I'm doing a craft article for the newsletter, they help me and get to be a part of it.
I've also stopped going by other people's standards as to if I'm doing it right. I know what's going on with my kids and feel connected to them. My husband and I are doing what's right for our family and ignoring the naysayers.
O: How else has the change in lifestyle affected you?
NG: I think what I'm doing now will help me be a successful businesswoman in the future. It's been a bit of a pay cut, as a result of leaving a regular job and things are a bit unpredictable, but that's for now. I know it's not going to be like that forever. We don't have many complaints. We're much happier with this arrangement.
O: Macaroni Kid T&T grew faster than you expected. How are you coping?
NG: I really didn't expect it to grow so quickly. It has reaffirmed my faith in T&T. When someone says. "I liked your article" or "We had a birthday party in the park because of an idea from the newsletter"… those things blow me away because I feel like I'm writing in a vacuum. So to know that is great. I know this can work and draw people in, but to hear it or meet someone who says they're a subscriber blows me away. It validates the whole premise on which I started it.
We also can't just take a vacation. You have this vision and an audience, and so much to do. How do you take it to the next level and fund it? Now I have to say what is the business plan? What is the direction? I was just being passionate. Now it's like I have to address the business side.
O: Running an online business… what are some of the challenges for you?
NG: Online doesn't go away. You're writing, but the purpose is to be interactive. So you write and you want to see what the reaction is. You're on FB and Twitter and you're seeing what people are saying. You're seeing what are the concerns because you're trying to get ideas for content. It can absorb a lot of your time without you realizing it. My big challenge is how to manage this.
Another problem is… I have too many ideas. There are a tonne of ideas that I need to get out there. Three months ago, for some of these ideas, I would have said they were six months off, but then I realise I don't have three months or two months. I need to do this now. Trinidadians are very social and this is social media. And I have big plans, but it's not dictated by "this is my three to six-month business plan". It's dictated by the pace of social media, and how people are responding to things. Because it's online and it's dictated by social media it's not static. I don't want to come on to fight an established thing. I want to come on and set the pace.
There's no marketing person. There isn't fragmentation of roles. It's tough; it's a lot to take on.
O: Mom's are a huge niche market, and you're very focused on developing the Macaroni Kid mom community. Do you have any special projects underway for moms?
NG: It's a valuable market that is under-recognised. In so many ways we have become a community. We have a community of mompreneurs. Stay at home moms doing something on the side. Or working and wanting to do something on the side even if working. We promote small business and families. If moms are able to follow their passion and take care of their kids at the same time. This comes back to building a good society. So that has built MacKid in a sense, building the members and community. People will buy into a story when there's value. People want to support the mom on the corner who is selling jewellery.
I'm also working on a series of events for mompreneurs in communities – a monthly event. Each month a mom gets to talk about her business and how social media works or doesn't work for her. The team will then give advice and suggestions. MacKid is all about community, so maybe you'll meet a new customer or new supplier, and walk away with lively, vibrant conversation.
O: How did the project with Gayelle TV come about?
NG: I was helping Gayelle coordinate a Family Day. The project was shelved for a bit, but we got to talking about the limited locally made content for family viewing. I thought the themes of the website – which is geared to parents – could be extended nicely to TV, with a twist – catering to kids. They agreed! We've done some filming of the local karting scene where we've got some talented, young racers. We're also going to be featuring young, surfing talent in Tobago via Jason Apparicio's Surfing Academy – where Jason's daughter is apparently a force to be reckoned with! We're going to be travelling across the country rediscovering T&T through kids' eyes.
O: What advice do you have for people starting online businesses?
NG: As with any business, make sure to understand what YOU are offering. What's your niche? What makes you special? Then go after defining yourself as the expert in your particular niche. There's room for multiple businesses in the same market. Online presences make it easy to study the players in your market. Be aware, but don't get caught up with your "competition".
Understand that online marketing is a different ballgame, but it's built on some of the oldest strategies out there. Your approach to relationship marketing – word of mouth – you've got to get it right. Social media marketing is about being social/building relationships, and demonstrating the unique value you bring. You better have a product you believe in, and not be just in it for the money. Your audience will spot it a mile away.
To keep up with Macaroni Kid Trinidad, check out trinidad.macaronikid.com or find MacKid on Facebook at facebook.com/MKTrinidad or on Twitter @MacKidTrinidad.
Photography by Mark Lyndersay. Mark is a professional photographer and writer working in Trinidad and Tobago since 1976. His column on personal technology, BitDepth, has been continuously published since 1995. He is currently pursuing a photo essay series about how Trinidad and Tobago pursues its culture and festivals called Local Lives. Both series are archived on his website at http://lyndersaydigital.com.
Check out the rest of this week's issue (29/11/10, Issue 34):
Look out for a new issue of Outlish.com every Monday.
Join us on Facebook. Click here.