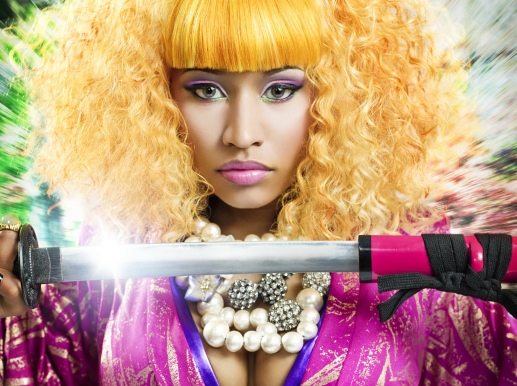 Nicki Minaj and the acceptance of all things local
|
I swear Trinidad and Tobago funny. Last week the Minister of Sport and Youth Affairs, Anil Roberts, announced that Nicki Minaj was coming to Trinidad to headline a concert that would launch its "Localize Itt" campaign. The concert would also feature supporting local acts. The day after, Nicki tweeted that she was not contracted to come to Trinidad. Talk about egg on face.
The immediate reaction from Trinis on Facebook about her reported performance ranged from "yay" to "steups". For the person who could only think of seeing Minaj live, it was cause for excitement. However, for those who were considering all the issues, it was evident that Nicki wasn't the best choice to headline the concert.
While it's obvious that she is not going to be visiting Trinidad, because she said so, it doesn't detract from the glaring oversight of the Ministry to consider the real issues playing out here. Yes, Minaj has Trini parentage, but would she really contribute in any way to helping support the campaign objectives?
Firstly, the "Localize Itt" campaign aims to create an awareness of local goods and services available to the public, recycle revenue back into the economy, provide the public with a broader range of product choices and competitive pricing, and promote patriotism among the youth. Ultimately, the hope is that it would help reduce crime, youth delinquency and domestic violence by creating "a more caring and compassionate society".
According to the Trinidad Guardian, Roberts said: "The change that will take place in T&T will call for all our resources. It will require the support of every citizen. It will re-ignite patriotism and exude a confidence and self belief which many of us might have forgotten existed."
I would have loved/ love to be a fly on the wall to hear the conversation between Roberts and Darryl Braxton, Chief Executive Officer of Hypro Ltd and D Project Records, who was responsible for bringing the artiste to Trinidad, when Roberts heard she was definitely not coming… again, because she said so. "Whaaaaaaaattttttt!" (Although I'm hearing that there's still talk in the media of her coming; they need to check out her verified Twitter account to keep up to speed; Twitter is the new newsroom).
Back to the matter at hand.
Had it been just another profit-seeking concert put on by private enterprise, no one would have an issue with it. Minaj is indisputably a 'big' artiste, and is on the tips of everyone's tongues in mainstream, urban entertainment. However, based on the objectives of the campaign, it was evident that she was not necessarily the best choice, and based on feedback on Outlish's Facebook page, I'm not the only one who thinks so. Yes, she'd draw a crowd, but after everyone had a great time, what would have been achieved?
It's the typical Trini way of doing things – throw a party, see scores of people, everyone's belly is full and they're having a great time, but after all the money has been spent, we're still at point A. This is by no means an attempt to discredit Minaj's Trininess. It's just that well, her coming would not help to address the real issues before us.
Widespread support and appreciation for local artistes, goods, and services will not be an overnight achievement. We still have the mentality that we need to bring someone 'foreign' for workshops, concerts, and whatever else to feel as if we 'in ting'.
The Ministry of Sport and Youth Affairs should approach the "Localize Itt" campaign from a methodical standpoint. There will be no instant gratification.
The same money that would be spent to bring down a big-name artiste, could be invested in the local circuit. Instead of hosting a large concert, just to feel good that there were so many young people there, they should host a series of smaller concerts, featuring all local acts. You won't get the crowd you'd get for a Nicki Minaj concert, but over the mid-term, you'd engender increased awareness of the talent our young people have, as well as a true understanding that we have quality artistes here too. There are so many young people who still create works of merit, despite the odds. Talking about odds, check out this week's interview with Highway Records about the fight down they're facing re collecting royalties.
If you really want to have a big artist to draw crowds, we all know Machel has that appeal. Mix it with more established artistes and upcoming ones. Concerts are just a small part of the campaign, but as with everything else, your start sets the tone for how you complete the course.
If you're planning a campaign to support local endeavours, then be true to the spirit of it, and go all local in your execution. Approach the campaign with a strategic eye and make sure that the tactics used will bring a return. Otherwise, the new regime would have failed just as much as the old one in spending money in the wrong places, and all we'll be hearing is, "Whaaaaaaattttttt?"