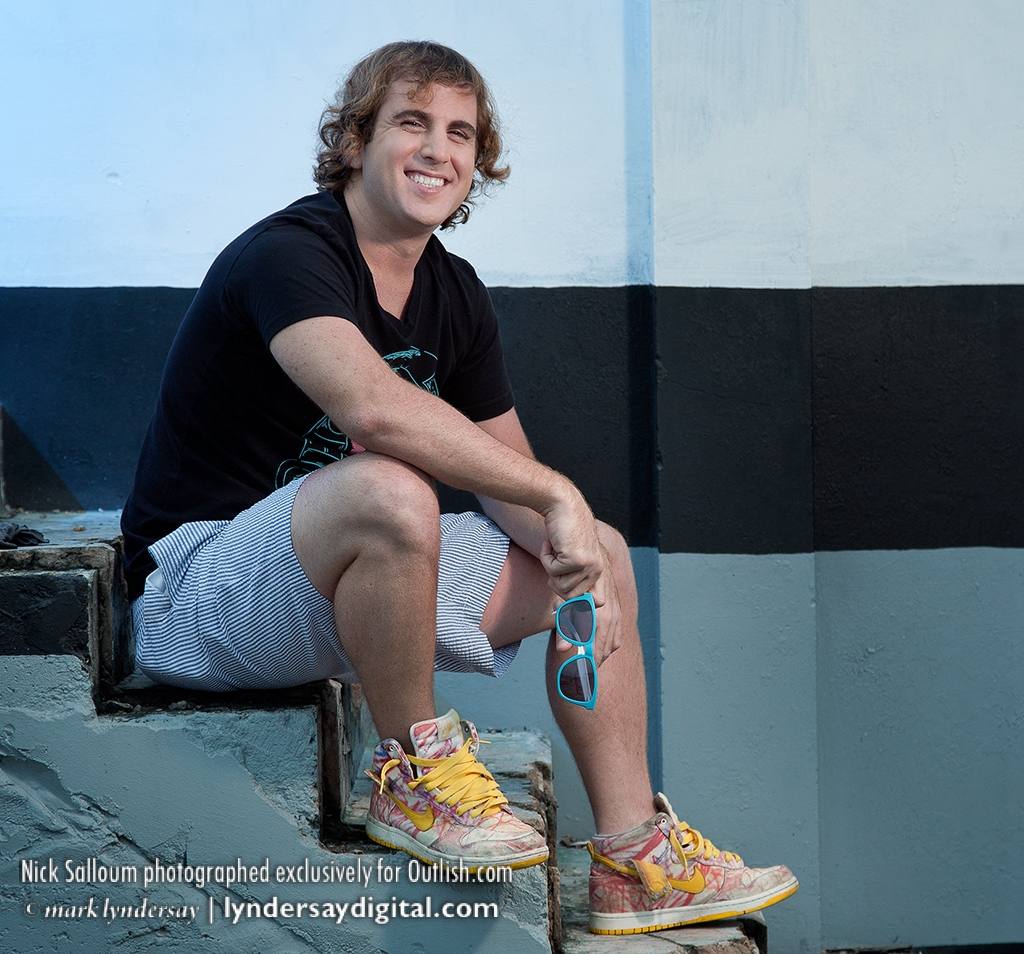 Nick Salloum: Engineer gone FashioNiQ
|
When can an engineer become a fashion designer? When your name is Nicholas Salloum, and the idea of a career behind a desk, pushing paper, makes you cringe. Most people who make a drastic career change are having a mid-life crisis. But what do you call it when you're 25, fresh out of college and simply considering your options?
After graduating with a degree in mechanical engineering from McGill University, Salloum – the one-man show behind street-wear brand NiQ Fashion – came home in July of 2009, and decided to take a breather from the fast-paced life of Montreal. After five years of immersing himself in the hectic party scene he found in Canada, Salloum returned to Trinidad, and realized he didn't have any immediate plans.
He had studied art while at St. Mary's College (Port of Spain), and decided to pick up his old hobby again to help occupy his time. Having wholeheartedly abandoned the field of engineering, he began teaching lessons and creating art to try to save, so that he could exit the country once again.
In getting back to his art, Salloum found himself incorporating the Montréal nightlife culture into his aesthetic, but, as true artists are wont to do, he grew defensive when people didn't appreciate his work. He found that with graphic design, the end product was all about the client, and the fact that something may have been his best work was irrelevant. A rolling stone, Salloum realized he needed to be able to work for himself.
He discovered that fashion design was the perfect outlet for his need for artistic expression as well as the best of both worlds. He could design, following his own aesthetic, and still make a living, while also being able to constantly be on the move.
"Fashion is random and expressive," he says. "It's lifestyle driven."
And the Montreal lifestyle had a tremendous influence on his designs. Salloum realized that there were no boutiques in Trinidad that sold unique and/or vintage pieces, and took it upon himself to fill that void. He drew influence from all the things that he associated with the culture he had left behind, and came up with a funky and cool line of casual wear that is easily distinguishable by its vibrant colours and pop art designs, as well as its revival of nostalgia in new and tasteful ways.
From simple colours, to abstract designs, to music, to friends, Salloum drew from every facet of his life to create his street-wear brand NiQ Fashion. Though the line is still in its infancy, it has already made quite the splash both at home and abroad.
In May 2010, he debuted his line at Antilla's Be.Fashion Weekend, alongside Trinidadian fashion mainstays like Meiling, and her protégés' Anthony Reid and Anya Ayoung-Chee. His poolside presentation of men's and women's fashion t-shirts was casual, and had a youthful and unpretentious feel.
"NiQ Fashion isn't really a runway brand," he adds. "That's not the lifestyle I'm going for. The party launch was the ideal route because it was a better reflection of the brand."
The NiQ Fashion t-shirt, board shorts, and signature blue shades he wore during the interview attested to that. Although he hasn't ruled out the possibility of showing in next year's instalment of Fashion Week Trinidad and Tobago, his personal philosophy to "live fast and die young" indicates that NiQ's future launches may become part of how Salloum sets his brand apart from the masses.
For now, Salloum is focusing on expanding his brand, and identifying his market. He wants to ensure that he can balance his deigns to satisfy both the Trinidadian and Canadian markets.
"In Trinidad, I just want people to be open to it," he explains. "NiQ Fashion is about being fashionable and comfortable. I want to try to push the lifestyle that I've associated with the brand."
Abroad, his goals are simply to keep pushing product.
"I just want to get it off the ground and for it to be selling."
Salloum also wants the idea of immediacy to be a mainstay of his brand.
"The idea is that it's today for now. I'm always producing; it's always fresh. I might come up with something now, and it will be gone in two weeks."
Designing a line also means running a business, and Salloum hopes to make his line lucrative and profitable. While he doesn't anticipate Trinidad being his main market, he does intend to create lines specifically for the Carnival season. The plan is to centralize the brand abroad, and bring his collections down to Trinidad. Salloum feels that Trinidad is coming around to the hip, underground, party scene on its own, and he doesn't need to force it, or tailor the line for Caribbean consumers.
For the foreseeable future, NiQ Fashion will be his top priority. Salloum predicts that things will soon have to change, as the one-man machine will tire eventually, but he is optimistic about the prospect of making a living from something that he loves, and is intent on making his fashion line a long-term commitment.
What's next for the line? An accompanying line of accessories in the signature NiQ fashion style. He also hopes to begin producing sunglasses, hats and sneakers, and to integrate them into the lifestyle that is NIQ fashion. Additionally, he plans to launch his first Carnival line by January 2011.
Long term, Salloum has huge plans. His vision includes a three-storey NiQ fashion building with boutiques, lounges for hosting events, and a floor for production. The idea is to push lifestyle and culture together in one place, and in one package.
With the recent relaunch of his line's website www.niqfashion.com, Salloum is well on his way to establishing himself in the world of street-wear fashion. His desire to tangibly represent a lifestyle he loves gives him an extra boost in his field. He has a goal outside of creating art and making money. NiQ fashion is his specific representation of all the best experiences of his life.
Check out NiQ at www.niqfashion.com or on Facebook at www.facebook.com/niqfashion.bangerang.
Photography by Mark Lyndersay of http://lyndersaydigital.com. Mark is a professional photographer and writer working in Trinidad and Tobago since 1976. His column on personal technology, BitDepth, has been continuously published since 1995. He is currently pursuing a photo essay series about how Trinidad and Tobago pursues its culture and festivals called Local Lives. Both series are archived on his website at http://lyndersaydigital.com.
Images of NiQ fashions courtesy Nicholas Salloum.