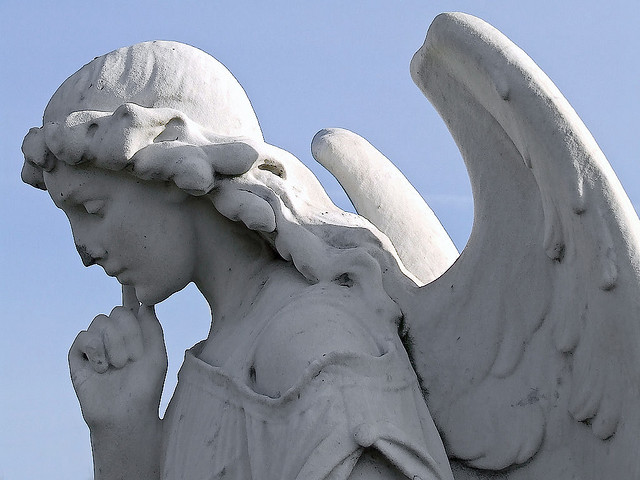 My Faith in Doubt
|
As a child, I was taught that people who did not worship Jesus Christ needed pity. After all, they were going to hell. I myself thought of hell as a place for serial killers and rapists. I had trouble figuring out how someone from across the world, who had never heard of this Jesus before, could be damned for Christ's denial. And I annoyed adults, proposing scenarios for them to reconsider their ideas about God.
I meant no harm. I really had questions then, quite the way I still do now.
This is not about Jesus, but about the conviction that God or gods do or do not exist in whatever theist or atheist standpoint you hold.  And about what happens if you're not quite sure. Should you fake conviction, grasping at early religious education to prove it, or do you admit you have no idea?
And does it matter if God exists? If he/she/they do, then isn't it more about what we do with this life and how we live it, regardless of if it's our last experience or a test until the next life? It's a good approach, whether there's a God or not, so everybody wins.
…God is at the mercy of our wishes or ideas
But it seems to me that God is at the mercy of our wishes or ideas. You need people to behave – God smites the wrongdoers. You need God for love and belonging – God surpasses human prejudice and loves us all. You need to control women, we wrote verses for that, and for homosexuals – even more. It seems as though this God person has less say than we do.
I used to be a polite, non-verbal audience in situations where the more acceptable religious positions were quite loud. I don't feel the need to campaign. I don't wish for people to think as I do. I do, however, think it offensive to be bullied into another way of thinking, and my tolerance for it has died.
I am open to there being a God, and I am open to there being none. I strive for honesty, even if unpopular, and I honestly don't know the answer. I think none of us do. We either cope with or strive for understanding through our own learning process and choices.
When I was in the hospital and the doctors did not know what was causing my illness, I was terrified. There were real moments when the possibility of dying had to be addressed. I always thought my mind would radically change in moments like this, and I can vouch to you they didn't.
My thoughts were not about God, but just about asking myself if I was pleased with my life so far, my lovely daughter and the man I love. And amidst my cascade of panic, I found peace.
I am less concerned with who and what than how to live
The idea that this beautiful Universe and all the overwhelmingly touching and miraculous experiences within it happen only on a complex, scientific level, mixed with random events does not offend me.  The idea that we are motivated and led by a higher power does not either. I am less concerned with who and what than how to live.
The time for me to voice an opinion came to a fore, after years of being bullied and ridiculed for my usually humble and quiet opinions. The most recent altercation took place with Christian people I knew. I commented that the coloured streaks in my hair would need to be clipped back before my next job at a Muslim wedding.
No one asked me to do this, I simply decided it was a respectful gesture that took no effort on my part as the colour in my hair was quite bright – something you might consider hiding, even for office work. Unprepared was I for the barrage of aggressive feedback.
'You don't believe in anything anyway; you have no say'
If I had a dragon tattooed from shoulder to wrist and were filming a Catholic Church I would wear long sleeves. They disagreed. They vehemently added that "those people" would not change for me, and why should I accommodate them. I was angry and then pissed when they said: "Why does it matter to you? You don't believe in anything anyway; you have no say".
And this is the point I am coming to. I think it absurd that I only have the right to an opinion, if it is backed by an authority figure that we are taught to fear. I have a say. And I have the sacred right to be respected the same way believers do. If God exists, my own existence grants me access to that respect.
I have my own beliefs. I don't preach to those I disagree with. Everyone is entitled to an opinion. Even racists. If you think that every person who does not worship your God is going to hell, you are a type of cultural racist. And that's fine.  It's your own cross to bear, and certainly not mine.
However, when a belief that is oppressive to others turns into acts of verbal or physical abuse, then it moves from ignorance to just plain out of place and wrong.
The Trinidad & Tobago Newsday published a story, two weeks ago, about an attack on Hindu statues by a neighbour who opposed idol worship.  The attacker stated that no fingers could be pointed at those who "followed God's commands". I am incredulous that she was not arrested on site for trespassing and wilful damage to property.
For too long human beings – yes regular people – have been allowed to hide behind their belief systems in justifying violent or offensive acts to others.  What if God told them to burn the temple down with people in it? Would no one question this?
I find it interesting that people can be overtly passionate about what they think to be true, and then attack others in an attempt to convert them. Has it never occurred to them that those people would be as passionate about their beliefs, and try to convert those attacking them?
If I could force myself to believe in God, whole-heartedly, I might. If there is no God then it won't hurt to believe in one – I may sleep more soundly and have more of what we call faith, when things go awry. Belief, unfortunately, does not work that way. You either do, or you don't to varying degrees.
Someone I love and respect keeps trying to convert me. For the first time, I delicately offered my point of view. Her defiant discomfort was unsettling. She had zero wish to hear about my "wrong" ideas. I find it interesting how double standards work, how some of us can shout from the mountains, and some of us dare not to.
She then said to me that it was similar with laws and governments. Would I question them? Absolutely I would – if I thought that what they stood for went against my own conscience and common sense.
She keeps trying to save me. Sadly, in a way I wish I could save her too.
Belief and faith are actually quite valuable in human society, once backed with reason, free thought and compassion. It should be noted that there are devout people, who are as intelligent and humble as they are liberal.
If there is a God or gods, my simple hope is that they're fair, compassionate and as practical and level headed as I think I am. And I hope they are not like many humans, preoccupied mainly with being right. Simply put, this is the strength of my faith in doubt.
Image credit: brokentelegraph.com