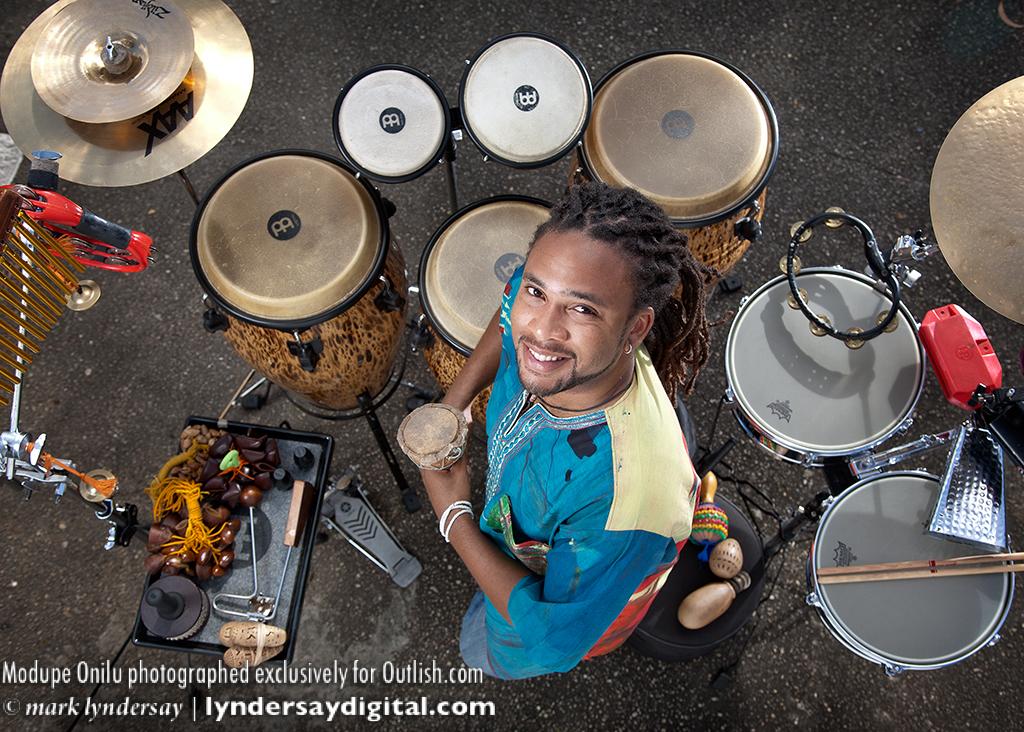 Modupe Onilu: The Power of Percussion
|
He is the reason why you can sink your teeth down to the very bone and marrow of a live performance, and enjoy the succulent flavour that oozes through your soul, as the waves of music course through the air.
Modupe Folasade Onilu is a self-described multi-instrumentalist, who traverses the plains of percussion with a strong sense of self, and an unquenchable thirst for knowledge.
Percussion, in his own words, is the seasoning that adds that distinctive and irreplaceable flavour to all music. Locally, we call percussionists, 'de iron men', or the 'toc toc' crew, and everyone knows someone who thinks they are a real riddum man. But the truth is, the playing of percussion is a very serious and disciplined calling, while percussion itself is a vital aspect to all musical genres, and can be found playing a major role when you listen to anything from classical music to jazz to soca – all of which by the way, Modupe has been a part and parcel of in his very short, but very music-infused life.
His face should be familiar to you, if you enjoy live performances, as he is currently one of the most sought after percussionists in Trinidad and Tobago.
His musical résumé is extremely diverse. Modupe has performed with Charlie's Roots, David Rudder, Black Stalin, Super Blue, Machel Montano, Arturo Tappin, Busy Signal, Lil Jon, Luis Conte, Collie Buddz, Raf Robinson, 3canal, Clive Zander, Ray Holman, Ron Reid, Theron Shaw, Sean Thomas, Etienne Charles, Len "Boogsie" Sharpe, Mikhail Salcedo, Ken "Professor" Philmore, Elan Parle, and Exodus, to name names. He also dreams of adding names like Anita Baker, Sting, Pat Metheny, Andy Narell, and Esperanza Spalding to this list.
Chatting with Modupe is a lesson not just in music, but in how music can change lives. In this very personal interview, he lets us past his youthful, energetic, fun vibe to show his raw, pensive self, as he tells us about hustling as a young musician, his band – the Dayo Bejide Jazz Project, and why he feels a strong sense of responsibility to help heal his hometown of Laventille with his music.
Outlish: So you have some skills. Were you always into music?
Modupe: Actually no. In high school I never went into the music class, ever! The most I did, before I got into music seriously, was play the instruments I found at my dad's, but other than that it was a while before I thought music could be a career for me.
Outlish: Your dad is a musician?
Modupe: My daddy is many things! Plenty, plenty things, but yes, I am the son of master percussionist and master builder, JaJah Ona Onilu. Everyone who has played music in this country knows him. He has toured with Super Blue, and worked with Clive Bradley, David Rudder, and countless others. It was through watching him and my brother that I really started to give music a try. For many years daddy had pulled away from the music scene, and it was only in 2001 he went back with my bro and entered "Scouting For Talent".
I remember watching them on TV, and hearing and seeing them play, feeling the vibes, or as daddy would say, keeping the audience spellbound while they played, and they came second overall. In that same show, I saw Ken 'Professor' Philmore play as a guest artiste, and it affected me, seeing him play, realising the effect music could have on people. And he was getting paid to do it? I thought, but I could do that too! After that I joined Laventille Serenaders, a steel band near to me, and played with them for about four years.
Outlish: So your appetite was opened…
Modupe: Very much so! And the more I played the more I wanted to learn. I started researching professional musicians. Also, daddy and my bro, Baba Ayinde, really took me under their wings in Jewels of Nature, the family band, and they taught me. I mean they were always showing me stuff eh, but I think maybe I was finally ready to really open up and learn and listen. The experience, knowledge, and just organic vibes that I gain when I play with them… invaluable.
Outlish: Why do you call yourself a multi-instrumentalist vs. a percussionist?
Modupe: Well I used to refer to myself as a percussionist, until one day I was setting up for a Jazz on the Greens performance, and I counted how many instruments I had ready to play and it was 78. That was the last time I called myself a percussionist, because yes it is percussion, but when you are playing 78 instruments in one show, it is so much more than that. I also have and can play all of the different types of steel pan, and drums…
Outlish: In addition to Jewels of Nature are you a member of any other band?
Modupe: Yes! Jewels of Nature is the family business, up in Caura. That is where we practise, and also sell handmade unique percussion instruments, jewellery, etc, make sure you tell people to check us out. I also started my own band the Dayo Bejide Jazz Project, and I am hired to play as a multi-instrumentalist for many different gigs all over the Caribbean.
Outlish: How do you go from being, a pan player, to having your own jazz band?
Modupe: That journey took a little while. After Laventille Serenaders, I started going to different pan yards and doing what we used to call 'hustling'… where one man will play for several different steel bands at the same time and collect payment from all of them. I'm not shy, so I went to the pan yards, like Desperadoes and more, and just listened and tried. It was easy for me to pick up, and it wasn't long before I was able to play all the different pans, and I was hustling with the best of them.
At the same time though, I kept on researching and following the careers of professionals I admire, Len 'Boogsie' Sharp, and of course Ken 'Professor' Philmore, also Andy Narell. Around then too, I started playing percussion in the steel bands instead of pan and seriously began pursuing music as a career. I was hired to work with the National Steel Symphony Orchestra as a percussionist, and I did that for a year and half. Imagine that, I used to play classical music for a living… but after work every day I would stay in and keep practising, and keep working and pushing myself after everyone else left. It was somewhere in there I knew I wanted more. Then I saw pan jazz, and jazz really just spoke to me. It was, to me at least, the most organic form of mainstream music around. And I thought it was in this I would really find the music that would express what was inside my soul. My words, my thoughts, my gifts to the world.
Outlish: If you had to put a name to the sound we hear when we listen to your music, what would it be?
Modupe: One name???
Outlish: Ok describe it then…
Modupe: Jewels of Nature is organic music, as the name suggests, and all about channelling the vibes and energy within nature through ourselves as musical vessels to sound energy that reaches out to spellbind the audience. Me as just Modupe, or as bandleader of Dayo Bejide, growing up in an electric age and with the organic music background, that music is Organic, Afro, Caribbean World Fusion Jazz!
Outlish: Why is it important to you that you share what you feel inside with the world?
Modupe: To understand that, you have to understand where I come from. Laventille. The place everyone is so afraid of. Every day in my neighbourhood all around me I see negativity. Some lil lil boys robbing, shooting each other, and girls who are barely teenagers making babies, always a repeating cycle of negativity.
I was lucky to have my family teach me differently, to instil in me a curiosity and a strong sense of who I am, who I am supposed to be as a Black man, a husband, and as a musician. The people around me do not have that sense of respect or sense of self, believing and following what they see on TV, hear on radio, letting those individuals be their role models… that is not the truth, that is not who or what they were meant to be.
Too many of my brothers and sisters think that slavery and post slavery is the end all and be all of Black history. And you can see this damaged sense of self being passed on to generation after generation. I remember one evening liming home and hearing two and three year olds singing, harmonizing eh, to ramping shop. You believe that? The singing itself was beautiful, touching, but imagine as small as two years old… you know the words to ramping shop right! It reinforced to me though that music is the most influential thing on this planet.
I always tell musicians we have the ear of the people. It is our responsibility to not just entertain, but also educate and uplift those who listening to us to a higher plain of thinking and feeling. This to me is my calling.
Being surrounded by people who are unaware of their potential, I want to compose and play music for them. To help them find a way out of the negativity. To teach them. But first you have to be able to reach them, so I try to incorporate our lives in Laventille, our daily reality here into my music, my voice… for them. And trying to write music for them is a lifetime study. This was not something I could do as part of someone else's voice, I needed my own sound and that was how I knew I had to start my own band – Dayo Bejide.
Outlish: That is meaningful and fulfilling work, it makes me wonder if the name, Dayo Bejide, ties in with what you are working so hard to do?
Modupe: It does. Dayo Bejide means happiness has come in the rainy season. It is in Yoruba, just like my full name – Modupe Folasade Onilu.
Outlish: Which means?
Modupe: Modupe means giving thanks, or thank God, Folasade means let this crown be your honour, and Onilu means drummer.
Outlish: Future plans?
Modupe: This year is all about education. Sharing and receiving. I will be giving classes in drums and percussion, theory and practical all age groups. In addition I will be trying to access funding to travel to Berklee (College of Music), and if possible, New York, to do some workshops. Long term though, my goal is to find my true, unique purpose and that is a lifetime study, which nobody but me myself could uncover. But I working it!
To stay connected with Modupe, check out his Facebook pages:
Photography by Mark Lyndersay of http://lyndersaydigital.com. Mark is a professional photographer and writer working in Trinidad and Tobago since 1976. His column on personal technology, BitDepth, has been continuously published since 1995. He is currently pursuing a photo essay series about how Trinidad and Tobago pursues its culture and festivals called Local Lives. Both series are archived on his website at http://lyndersaydigital.com.
Check out the rest of this week's issue (21/2/11; Issue 46):
Look out for a new issue of Outlish.com every Monday!