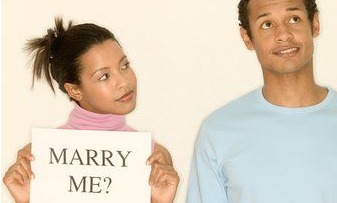 Men Pee Standing… and Propose
|
Often, the thought of a woman on her knees gets the average man excited (yes, keep your minds in the gutter). However, seeing a woman on her knees, pulling out a ring to propose may bring about a different reaction.
Generally, the law of relationships calls for men asking for a woman's hand in marriage, and any woman who attempts to turn the tables tends to be called desperate or pushy, and is viewed as forcing marriage on the man. Some would even say she's trying to emasculate her man, and 'kill' his ego. These are just some of the stigma attached to a woman proposing. Add the fact that we're conditioned to believe it's the man's role since time immemorial, and all the impact is lost if the woman proposes.
However, what if both parties were already talking about marriage? Much in the same way that a man asks a woman, (who he thinks will say yes) to marry him, wouldn't the woman have the same thinking? If so, she's safe, right? But what if he says no, or can't decide? The issue really isn't about being afraid of rejection. It's more of how do you know the other person is totally ready, when the norm is to wait for the man to ask?
Some will say that it doesn't matter who asks who. For me, it does. I'm not averse to 'modern' takes on relationships and marriage. However, I certainly won't be proposing, and it has nothing to do with dreams of a romantic evening where a man pulls a ring out of a glass of wine or hires Maxwell to sing "Matrimony Lady" to me. I'd let the man propose because, talk aside, it'd be a clear indication that he's 100 percent ready and comfortable with the idea of spending the rest of his life dealing with my cute ways and quirks (snicker). Plus rings are expensive.
That's just my opinion though, so I got some male feedback. One guy, Joe*, said, "Prior to someone asking, you generally already kinda know what the answer is going to be. So, who does it is kinda not really important. Couples are talking about marriage before someone pops the question. I think in this modern time it is acceptable, but in keeping with tradition it is not acceptable. I believe in tradition".
Another, Bob*, said, "I think it's cool. Says the chick knows what she wants".
Joe* agreed with Bob's view, but added, "That can also be perceived as pushy because women are generally ready before men for that commitment. So I think it should be kept in the hands of the man. I could understand dropping hints, but not posing the question".
Bob agreed. So what this tells me is that while in theory guys are okay with the thought of women proposing, in practice they're not as sold on the idea.
One girlfriend of mine said, "Some things sacred.  Men pee standing… and they also propose". As a 'modern' woman, I do believe that some things of old can stay that way. So I'm all for the guys peeing standing and proposing.
We live in a time when men can be 'househusbands', and women can be the breadwinner in the household. However, there are some things that are still considered a man's role. Most men still see it as part of their duty to be the ones to pop the question. The man might really, really want to do it… when he's ready, and some may feel cheated of the opportunity to show that he's decided who he wants to spend the rest of his life with, and take lead. We all know men love to 'wear the pants' in the relationship. Proposing is the first step when you're on the road to marriage. Proposing, for men, is a rite of passage.
Similarly, most women look forward to being proposed to, surprise or not, because it has special significance for them. It's the start of the giddy road of happiness, from engagement to wedding day, and hopefully, to married bliss. So why would some women consider proposing to their man?
Some women can't stand the wait, and figure that they should take matters into their own hands, and get the relationship to the level they want, when they want. In some cases, this may turn out well. In others, if they'd just waited a bit longer, he may have popped the question, making her get that 'special' feeling.
For people who've been in a relationship for years, it always gets tiring having people ask, "So when allyuh going to get married gyul?" So for them, proposing mightn't be a romantic move on their part, but more of a chess move to make the man decide on a certain path for the relationship.
This takes me back to my earlier point. There's a difference between talk and action, and a man talking to you about the prospect of marriage is very different from him asking you for your hand in marriage.
See, apart from loving you, and being absolutely certain that they want to spend the rest of their given time on Earth with you, the person also has to be sure about themselves, and that they're ready for this step. Let's face it. Some men are slow to warm up to the idea of a serious relationship, far less marriage. So a proposal may be scary for some. Talk about cold feet. For the man, it may make it look like he is not in control of the relationship. He may also view it as an ultimatum.
Men don't always 'take their time' because of emotional reasons. Sometimes they're waiting to become financially stable enough to feel that they can support their wife-to-be and a family. In some cases, this isn't communicated, and so the woman gets antsy, as he doesn't give a reason for waiting so long. Thing is though, everyone knows their individual situation. If you realize your man is taking you for a ride, yuh know, allyuh together ten years, and you want to get married, and he knows it, yet keeps you in limbo, that's a different situation altogether.
Technically, who proposes shouldn't matter, but you know what, in practice it does for many. Not everyone can comfortably accept a woman proposing due to traditional, gender roles. So in 2011, what's the consensus? Let women keep dreaming of the perfect proposal? Or let men take the reigns? Even if a man tells me he doesn't mind who does it, deep down, I feel that it's something men would love to retain the honour of doing.
*Names changed to protect identities.