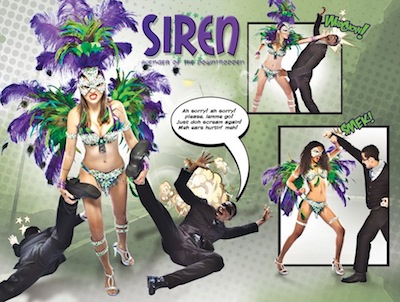 Mas Wars 2K12: How far can consumer power take us?
|
Last year, during band launch season, I proposed that overpriced, overskimpy costumes were an expression of ultimate freedom and independence for consumers and businessmen. This year, I'm back on my band launch soapbox to discuss intensified competition among bands courting the limited number of masqueraders who are willing to spend more than the average Trinbagonian's monthly income on a Carnival costume, and the role of the consumer in all of this.
Let's start with the issue of prices. At present, there are approximately seven bands – Yuma, Harts, Spice, Island People, Fantasy, Tribe and Bliss – in the large to medium size band category, competing for the 18 to 40-year-old 'it' crew. You would think that the most obvious outcome of increased competition would be decreased prices, but no. Although prices have stabilized, there has not been any marked decrease. In fact, Harts has increased its prices, Fantasy hasn't let being a new band affect its premium prices, and YUMA, who was a little less expensive last year, is now right up there with the rest. The average backline male costume will cost you $500 USD, the average female backline will cost you $650 USD, and the average female frontline will run you close to, or past $1000 USD. These bandleaders are savvy businesspeople who understand that by pricing similarly, they will all make a profit.
So instead of varying pricing strategies, the bands compete on the quality of 'the experience' offered. This experience includes exclusivity, a gorgeous costume, accessible premium drinks and gourmet food, hype music trucks and adequate bathroom facilities. However, new bands are finding it difficult to balance the weird mix of sensitivity to consumer demands and exclusivity. This has resulted in strange, hypocritical behaviour. For instance, Fantasy invited persons to its fan page, and answered a wide range of sometimes-idiotic questions – yet failed to offer online registration. Instead, Fantasy opened its mas camp to a select few, and finally closed off its Facebook wall. Do you want to hear from us or not?
Last year, mas band YUMA asked the prospective consumer a different question every day on its Facebook page, what you'd like to see of entertainment, food, drinks, rest stop action, costume, route, etc. This year, they embarked on a massive open-ended, pre-launch marketing campaign giving away freebies to band loyalists to don their costume and pose like a perched owl. Before you know it, the 'owling' craze had taken Facebook by storm and landed the band on the evening news. Their launch was great – plenty people, plenty vibes, plenty drinks and plenty fun. Yet still, even YUMA has its exclusivity to protect and rumours of private registration have been circling about them as well, causing them to publicize the fact that some of their sections may be SOLD OUT in advance because they need to cater to past masqueraders first.
Where is the consumer in all of this? Although not to the extent which I would like, consumers are exercising their power to choose. The monopoly, which Tribe seemed to have on this elite market, is obviously a thing of the past, especially considering that everyone I know, who used to play with Tribe, is already registered with Fantasy or YUMA for 2012.
Carnival blogs and band Facebook pages are alight with consumers voicing their disgust for certain bands and their commitment to others. But with so much to choose from, band alliances are like those in the "Real World" – very fluid. Tenuous loyalties will eventually put pressure on band leaders to remain the 'it-est' of 'it' bands.
The spate of activity since bands have launched must make us think, how far can consumer power take us? After launching its 2012 offering "HEROES", mas band Island People issued an apology for their unpopular costumes. Moved by the constant complaints on social media about the unattractiveness of their offering, and afraid of losing their supporters to eagerly awaiting competition, IP issued a swift apology and ran back to the drawing board. For me, this is a signal to consumers that the possibilities are endless.
Personally, after ten years of committed revelry, I retired from playing mas in 2009. I find the whole production to be way too commercialized, and I believe 'the experience' is diminished by the hysterical frenzy, six months in advance, to play in a particular section in a particular band and pay over the top prices. Additionally, despite how exclusive everyone tries to be, every year – without fail – there are stories of epic fights, drunken brawls and smelly stragglers. But with new bands following happily in the footsteps of the old, and with the expected outcome of high registration numbers, what's one less customer? Not much, but consider the amplified soapbox we now have.
Social media including blogs, Facebook, BBM and Twitter have provided us with a platform to interact with the bandleaders. Even the bandleaders recognize this. So if we were to demand en masse lower prices, open registration processes, and original, attractive costumes, the bands would have to respond. However, making the demand is one thing; withholding purchasing power is something else. In my mind if you don't like it, don't buy it. With reduced sales you would be amazed to see how extensive and affordable Carnival packages would be in 2012. This will only happen if the reaction is concerted and popular, because sporadic and scattered action would be of little effect.
So when I see people grovelling on Tribe's wall or b*tching on TrinidadCarnivalDiary.com, I just shake my head and laugh. The power to change is with you. Put your money where your mouth is!
Image credit: ISLANDPeople Mas.