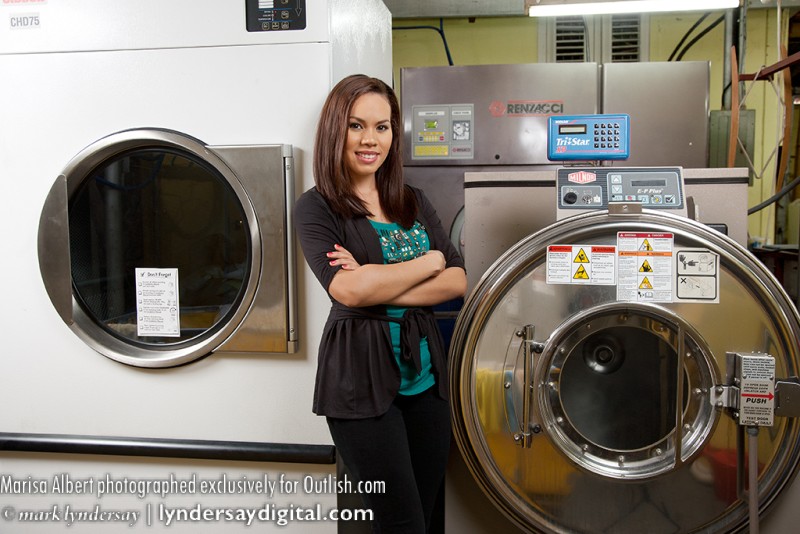 Marisa Albert: Take it to the Cleaners
|
You wouldn't be surprised to hear a 21-year-old talk about wanting to start a business, but starting a dry cleaning business? That isn't often mentioned. But, six years ago, at that age, that's precisely what Marisa Albert, the owner of Tropical Dry Cleaners, was doing.
Albert always had the business bug. At age 13, she would tear out photos of singers and celebrities from magazines, and sell them as posters to classmates. She'd also sell accessories or clothes she'd grown tired of at school, and by the end of the school week she'd be wondering what she could get herself at Colsort Mall (now known as Capital Plaza) with her earnings.
As she grew older, Albert went on to work at her parents' printing business, and dabbling in two of her favourite hobbies, deejaying and photography. In 2005, she got the opportunity to start a dry cleaning business with her close friend and former deejay, Kurtis Russell, when her father bought the dry cleaning business next door to his business. With some help from her dad, Albert and Russell got to down to work, and so, Tropical Dry Cleaners was born – merging her love for fashion, and her experience in business.
Six years later, Tropical Dry Cleaners is known for great service, and has customers who include the average Trini, looking for an easy way out of laundry chores and top designers like Heather Jones, Meiling, Brian Mac Farlane and The Cloth.
Check out what Albert had to say about her journey so far, and how she's built a reputation for great customer service, a rare compliment for businesses in Trinidad and Tobago.
Outlish: How did you get involved in the dry cleaning business?
Marisa: I wish I could tell you I had a plan and it was always a dream of mine, but I can't. I was finishing up a business degree and working with my parents' business at the time, which is next door to the dry cleaners. We bought the building from an old Chinese laundry and one day decided we'll do some research into dry cleaning and laundry. Next thing you know, we're modernizing the place and setting up shop. What can I say… sometimes having no plan is a plan!
Outlish: Dry cleaning is a far cry away from printing – your parents' business. Why didn't you get into that? 
Marisa: I will…when the time is right.
Outlish: Were they (your parents) supportive? How so?
Marisa: Yup, they were. They provided financial assistance and managerial advice.
Outlish: Do you find that a lot of people, like me, hear dry cleaners and do not think of drapes, linens, repairs etc?
How do you overcome this kind of challenge of customers not exactly understanding your business and that it's more than cleaning clothes?Marisa: Our latest printed call cards have a listing of our services on it to address this exact issue. Some folks think a dry cleaners only does dry cleaning, but we also do laundry, minor repairs, household items, wedding gowns and offer a press only service. Letting the general public know about all what we offer can ensure that Tropical comes to mind whenever the need for our service arises.
Outlish: I have a friend who took his suit to a cleaner once and when it came back it had little holes in it that weren't there before. When he asked them about it they said it must have been moths or something and they weren't responsible. How do you handle situations like that? 
Marisa: Sometimes customers don't notice damages that occur while garments are in their care and thus at our store it is so important for us to inspect all items before we clean them to assess the condition they come in before they are processed to avoid customers blaming us for damages we didn't do.
It's always difficult for us to tell a customer, "Sir, you might want to check your cupboard for insects" because it sounds a bit odd, and some may take it as an insult. People need someone to blame and don't want to hear that an insect destroyed their $900 suit, you know.
Outlish: What were some of the challenges you faced in setting up the business? Do you think these are unique to this type of business?
Marisa: The main challenge faced was getting the right team! In the early days, sometimes Tropical was understaffed because people would come to work stating they can do a job, but they were all talk and no action. There were other times when we'll have the staff, but they came with issues such as high absenteeism, regular late arrivals, underperformance and poor work ethic, all of which were very stressful to cope with when all I wanted to do was produce a great service. I lost a few customers during those times, but I write it down as a learning experience.
There aren't many kids sitting in school right now saying to themselves, "I want to be a presser when I grow up" you know. It isn't a highly desired job. Pressing is a skill and to be a presser you've got to get some self-satisfaction from finishing a shirt and seeing it pressed well.
I think that staff problems occur all across the country in all fields of work because of our Trinidadian laid-back work ethic, amongst other things. However, I also think maintaining a good relationship with your staff, creating a drama-free and fun, working environment and giving rewards or perks to deserving staff is all part of the deal when you run a business. I'm a caring person, so appreciating staff and treating them well is enjoyable for me.
Outlish: You started the business with the help of your friend Kurtis. How has his role changed over the years?
Marisa: Over the years we've observed what we excel at and thus on a day-to-day basis, Kurtis assists with store maintenance, dry cleans, manages the production department, and monitor/maintains equipment. I supervise the store, train staff, do human resource and administrative tasks, marketing and mainly monitor the customer service department.
Outlish: What about your business model sets you apart from the other dry cleaners around? 
Marisa: Customer service is of utmost importance. I always say you can get a pants pressed anywhere, but good customer service is not really guaranteed in Trinidad. Here, we remember your name, help take out your clothes to your car, offer minor repairs, and free pick up and delivery to offices and apartment complexes in Port-of-Spain and environs.
We also do our best at being green. We give our customers re-usable laundry bags, encourage the return of hangers and do a number of things internally to do our part in caring for the environment.
Outlish: I noticed that for Carnival, for example, you partnered with several bands to give masqueraders dry cleaning vouchers and even key chains. Tell me about your approach to marketing. 
Marisa: Throughout our first four years, we relied heavily on word of mouth, but in terms of marketing, I observe our niches and promote to those segments with two main goals in mind – creating more business and building brand awareness.  Recently, we've done more direct marketing than using the mass media approach.
In terms of deciding when to advertise throughout the year, I also look at holidays and culture celebrations, like Emancipation Day, Divali, Christmas time and New Years when a lot of business can be made and things can get quite busy. I'm proud to state that Tropical Dry Cleaners is the only Trinidadian dry cleaners on Facebook at the moment. Social media is an effective marketing strategy for business and is a valuable resource that could easily bring new clients and customers.
Outlish: I presume word of mouth is quite key to your business. How do you keep ensuring that your customers refer you in the best possible way?
Marisa: By keeping them happy! By maintaining a consistency in the quality of work and customer service and monitoring trends in the industry locally or internationally to see what can be applied at Tropical. We also listen to our customers' wants and needs, and put things in place accordingly.
Statistics show that happy customers tell one or two people about their experience while a dissatisfied customer tells nine to ten, and it costs five times as much to attract a new customer than it does to establish a new one. With this in mind, we try our best to please our customers whichever way we can!
Outlish: As you mention listening to your customers, service is something that people in T&T always complain about. How do you capture information to help you improve your service?  
Marisa: We have done formal questionnaires and surveys but overall it's informally collected in general conversation with our customers. We're very friendly here at Tropical and we casually chat often with our regular customers and new ones.
Outlish: On that note, where do you get your inspiration/passion from?
Marisa: I love fashion!! As a teenager, I wasn't allowed to go out with friends till I was finished with high school by which time I was 16, so I spent a lot of time with my head in magazines. I grew up reading various women and fashion magazines and when I got Internet I followed all the designers and the fashion on the runways. Running a drycleaners is interesting for me because I get to see a lot of clothes and its exciting when a gorgeous dress or top comes into the store. I'm pleased when a suit is pressed well and I feel really good when I can explain to a customer the risks involved in cleaning a delicate item.
Outlish: Running your own business is very demanding and tiring. What are some of the personal sacrifices you've had to make as a businesswoman?
Marisa: Accepting a big paycheque. A new business can take a while to grow; the other thing that gets affected is personal time. Sometimes I can work seven days a week and twelve-hour work days can become the norm. It's a small business so I've come to accept that even when I'm sick I may have to work. Work follows you at home and even when I take mini-vacations, I'm never away from my Blackberry.
Outlish: I've heard stories of other business owners being so busy at times they take their laptop to the washroom! When things get that crazy, how do you keep going? You can't exactly pull a sickie and run away to Maracas can you? 
Marisa: So funny, I've done that washroom-laptop thing also. TMI! I breathe and stop to think things through and focus on solutions and end results instead of the problem and what may have caused it! I'm also part of DLI (Dry Cleaning & Laundry Institute), an international organization that I contact whenever I want to get help and answers. You can never tell yourself you know everything, you know… every day you can learn something new!
Outlish: Out of your high profile clients, what are some of your favourite perks or best memory from working with them? 
Marisa: This is really silly, but in 2007 Edwin "Crazy" Ayoung had a song called "Cold Sweat" that was blowing up the airwaves. He's our customer and when a co-worker told him I loved his song, he sang to me. I blushed so much.
Outlish: What are some of the lessons you've learned along the way, after being in business for six years?
Marisa: I've learned that success takes time, persistence, determination, and most importantly believing in yourself.
Outlish: Will you stay in Trinidad or venture up the islands – a name like "Tropical Dry Cleaners" lends itself to that type of thinking, no? 
Marisa: It's a great thought. Barbados is beautiful!
Outlish: What about the future, any intentions of expanding your business, or getting into other businesses? 
Marisa: I believe in the saying "Man Plans, God Laughs", so I try not to plan too much.
Check out Tropical Cleaners on Facebook.
Photography by Mark Lyndersay of http://lyndersaydigital.com. Mark is a professional photographer and writer working in Trinidad and Tobago since 1976. His column on personal technology, BitDepth, has been continuously published since 1995. He is currently pursuing a photo essay series about how Trinidad and Tobago pursues its culture and festivals called Local Lives. Both series are archived on his website at http://lyndersaydigital.com.
Check out the rest of this week's issue (21/3/11; Issue 49):
Look out for a new issue of Outlish.com every Monday!