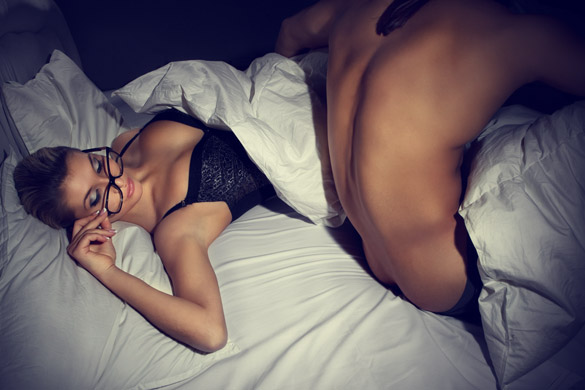 Making Love to Someone's Mind: The Forgotten Factor
|
What is sex really? Is it just an act driven by pheromones and hormones? Or is it an experience that we have the power and the pleasure to control? And when we think of getting into 'her panties' or 'his pants', is it always simply about what we find 'down south'?
According to science, there is one part of our body that has the final say on climax, and it's much further north. It's our brain.
Despite how delicious that body is, and how well someone rocks your boat, you're only getting half the fix if your mind isn't 'getting it on' too. It's even more powerful than the clitoris and a man's second 'head'.
Making love to someone's mind should be fun. Admittedly, it sounds less exciting than it does romantic. It might even sound longwinded. But relax. It's not a call for Shakespeare intervention or hours of hand holding either. It just implies having more to offer than "yeah baby your place or mine?"
It's foreplay without the heavy 'feel up'…
It's foreplay without the heavy 'feel up', when you can taste the desire and anticipation building. It's the adventure before the act of sex, and the prolonged smile glued to your face, when it's over. A flirty look, a rub of the arm, or a suggestive comment can make the bedroom ratings move from eight to ten. It's the sensual whispering of what they call 'sweet nothings', even if the sweet whispers are mischievous and playful.
I admit I don't need all the sensory enticement. Luckily, I am in love and share my pleasures with someone who is on my level in many ways. We don't need the candles, the strawberries, or the cologne. We do however stimulate each other constantly without effort, because we already exist in harmony. We flirt and tease during the day, and, if the moment comes along, we can do a happy dance, as quickly as you can snap your fingers.
The secret here is in the complex yet simple art of keeping your most important sexual organ active. It also helps to keep some of us excited about doing the horizontal mambo with the same person, for a very long time.
A friend of mine has been married for over five years. Even with a toddler and a tiring job, she admits that when she and her husband do have sex like they first met. She sends him teasing BBMs on her lunch break, and he sometimes leaves suggestive notes on the fridge. Coded 'kid friendly' messages about 'working together later' are sometimes uttered over dinner.
By the time they get to 'work', fireworks are shooting before they get their clothes off, and they're drunk on afterglow when their make-believe office is closed. Surely they could light a fire without all the little details.
But I've heard people talk about viagra and good sex, and then I listen to others who sound like my married friend. She never says the sex is good. Instead she speaks about her eyes rolling back in her head. It's always the ones that get worked up, that share the little details that never use the word good or good enough. Words like "oh my god!" are more forthcoming, followed by intense gesturing and confident outbursts.
Think about the last time you had sex that was out of this world. 
The sex is never the topic of conversation. What I do hear about is the part that leaves the lasting impression, and which intensifies the actual power of the sex they share.
Think about the last time you had sex that was out of this world. Was it only physical or were you enticed by something more?
It's always a better find when your sexual partner is on your brain-wave level. Someone you can have a sensible conversation with, share humour, engage intellectually at times, and, of course, explore flirtation, sexual innuendo and provocation. The making love concept is an art. It's not just about 'doing it', but as LL Cool J sang, a few years ago, it's about "doing it and doing it and doing it well".
I know men who only need a 'bess ting' to fulfil their fantasies, but trust me, if the 'bess ting' rattled off a high-maintenance accent in an annoying tone, she just might manage to soften even the hardest of his southern organs. Same for us ladies.
I can't claim to speak for other women, but, personally, I am disgusted by cocky men. If I was with someone who thought all he had to do was pose off bareback to get me in bed, in two seconds flat, that poster boy would have me as excited as an early work shift on a Monday morning.
Some of us can settle for great sex with just a hot body. But why sell yourself short? All I am saying is stimulate me.
Mental foreplay can only make the experience more pleasurable. The brain also responds to stimuli that are so appealing to the senses. Even touching can benefit from a little more thought. A gentle stroke of the arm. A playful PG 13 touching. A sample of a kiss before the real thing. Touch should be the grand finale, the reward at the end of the journey. Appealing to sight could go further than just looking good; it can pertain to sexy glances too, maybe set some mood before, with dimming the lights.
A risky try at the beach at night may find you victim to a crime report in the newspaper, and a frolic in your car in a parking lot may be more uncomfortable than you think. But a little change of scenery is always a winner, even if it's just another room in your own house.
And what about the sense of smell? I am definitely not suggesting that you douse yourself in a bottle of cologne to the point where you can taste it in the air, but maybe light a scented candle or make the effort to be mildly fragranced from your north to your south.
And when stimulating the senses, it is sound that titillates the brain. All the 'sweet nothings' you might explore, comments on how desirable the other person looks…these verbal messages wake up the body and prepare the other sexual organs for a great night out.
Great sex isn't just about the rough and raw approach. When you know how to mix it up, and treat it as an art, that's what gets reviews.
Image credit: youqueen.com