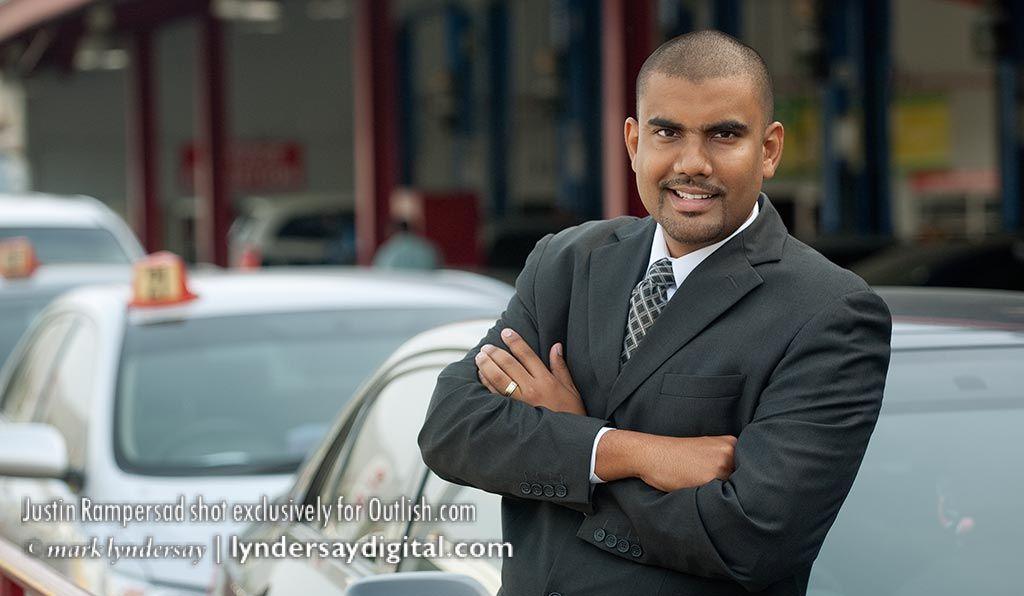 Making Insurance his Business
|
With dark brown eyes that sparkle with a hint of mischief, Justin Rampersad is the kind of guy who doesn't stay contained for long.
Ambitious, determined and full of ideas, he's always ready for a challenge, and eager to find solutions.
This sort of drive has undoubtedly fuelled his ten-year journey through the trenches of the insurance industry, and now, as the Managing Director of his company J. Rampersad & Co. Limited, which is an agent for Sagicor General, handling flood and motor insurance policies, it's what keeps this 29-year-old entrepreneur focused on his goals.
"I try to provide an all-round service, which includes, explaining all the insurance jargon so people are better equipped to make informed choices about what is out there," he explains. "The thing with insurance is that you have to spend a lot of time advising. It's not about closing the sale. It's about educating. You also have to be frank."
It helps that he understands the dynamics of his generation, who he admits aren't always the easiest to educate about insurance. Riding the social media wave, he's an avid user of Facebook, not just for personal entertainment, but also to connect with younger clientele.
"We young people trust our friends, so if another young person is trustworthy and is selling insurance they might be inclined to consider it," he explains. "It also helps that I speak their language."
However, he concedes, you cannot force the horse to drink water and notes that sometimes it is considerably more difficult to 'sell' the idea of insurance to younger clients, as it's not something they think about.
With ten years of experience under his belt, he's had enough time to develop a gut instinct about how to approach clients – something he had to develop in his newbie days, working in claims.
"I took a lot of cussing from clients in the early days," he says, reminiscing about his newbie days. "Claims is a lot of work, but you learn a lot about insurance. I soon got the hang of things, and it really gave me a solid foundation."
Most akin to a baptism of fire, Rampersad was literally dumped into the claims department at a large, insurance firm. Claims isn't the easiest of positions, as it calls for some serious customer relations savvy, with clients sometimes prone to being emotional. Armed with his good-boy charms, he soon learned the art of customer relationships, and sought to expand his knowledge of the industry.
Still Rampersad's entrepreneurial spirit was searching for an avenue. So to keep his sanity, whilst satisfying the underlying need for extra cash, he started his own side operation. Using ingenuity and charm, he became quite the DVD salesman.
"I used the tools at my disposal to promote the business," he says. "I purchased movies from my uncle and started using the Internet to contact people, letting them know about the DVDs for sale. I saved the e-mail addresses of those who bought and e-mailed updates of new movies."
People who bought DVDs from him soon started purchasing insurance. A true salesman, Rampersad was always searching for new ways to educate people about the need for insurance. In chatting to friends, family, and prospective clients, he realized there was a need for more education.
"I realised that a lot of people did not know much about insurance and this is a problem," he says. "The insurance industry does not do enough to educate the public. So I wanted to change this. I would send out newsletters about little jargons via email, and people would forward it to their friends. I had already established a relationship with these people, so they knew me as the guy who sold good DVDs and gave good insurance advice. This made talking business easy as many of them were already seeking my advice on insurance and forwarding my e-mails to other friends. I was constantly being recommended. My reputation and client base grew and my success was eventually rewarded with titles for Top Sales and Rookie of the Year."
With his DVD venture blooming, he was enjoying growth in his professional life.
His dedication was paying off, but he still felt that his full potential was not being tapped. After five years in claims, he became weary and wanted a new challenge, so he switched jobs – staying in insurance but setting his eyes on becoming an agent.
"I would see agents driving nice cars and wearing fancy suits, and I wanted that," he says.
However, after working as an agent for a couple of years, he figured the time had come for him to cast his own net into the sea. This time, he did his research and really felt confident that he was making the right choice, so Justin left his 8-4 in May 2009. There was no looking back.
Sure that he wanted to continue in the insurance business, he approached Sagicor General about becoming an agent.
"I checked the market and it was a reputable company," he says. "So I spoke to the Agency Development Manager and she wanted me on board. She was the influencing factor. She gave me two months to see how I did, and she liked how things were going and we made a more permanent arrangement. The opportunity really opened up for me, from becoming an agent to having my full fledged operation – dealing specifically with motor and house insurance policies."
Now, having the freedom he always wanted, Rampersad does everything at his office, from signing off on policies, to quotes and certificates.
"What I am doing now is truly fulfilling," he says. "I get to do what I love…help people. Business is great!"
Supported by the efforts of a well oiled team consisting of directors – Kevin Delochan, Dwight Pollonais and Shivanie Rampersad, his assistant Devika and a part-time employee, Rampersad is positive about his direction, and is committed to providing the best service possible for clients, especially with the perks offered by technology.
Already, his agency offers online quotes via his website www.jrcoltd.com, and hopes to soon introduce online payments.
Watching the twinkle in his eyes, as he talks about future plans for his company, it's evident that Rampersad is passionate about insurance and business. As he puts it, he's doing something that he loves, and he's helping people. In the end, that's what matters.
Author bio: Danielle Martin is a writer at heart, having crafted her first poem at the age of seven. Since then she has managed to gather experience in the fields of journalism and advertising. She believes that the best limes are spontaneous, and that life really is too short.
Photography by Mark Lyndersay. Check out his website www.lyndersaydigital.com.