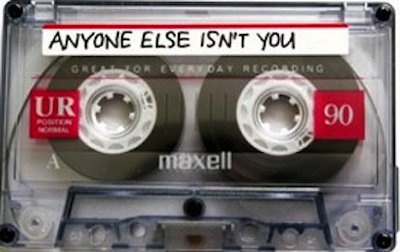 Love is a Mixtape: Playlists, Mushiness and MP3s
|
The year was 1997, and I was in love. A mere 17 years old, I didn't know the way to a man's heart, but I did learn that sometimes a love tape had a way of turning my seemingly tough 17-year-old boyfriend soft, especially when he was pissed at me.
Back in the 80s and 90s, it was all about making a TDK tape, 60 minutes or 90 minutes, and deciding what you were putting on the A or B side. If yuh didn't have two cassette recorders, with the double taping feature (space for two tapes), yuh had to settle down on a Sunday evening for the after-six love segments, and tape love songs. I had tracks like whoa, thanks to listening to David Elcock in the morning on 100 FM, the cassette men on Frederick Street, and combing through my elder brother's stocks.
In the late 1990s and early 2000s, it was all about CDs.
I actually remember a CD one ex made for me. He pulled it out in the car, on our way to Maracas, and pushed it into the player. Yuh gyul feeling nice, listening to a setta love song. All of this for me? Awww. Then smack in the middle of it, on comes Beenie Man's "Girls Dem Sugar".
"Homie, what dat doing dey?" I asked.
His reply. "I just want you to remember that in the middle of how much ah love yuh, yuh remember yuh lucky to have me too."
But what de….
Anyway… However, you chose to mix yuh tape, it was based on emotion. It was about creating a playlist of songs that perfectly expressed, in the right order of tracks, just how much you cared about the person. At the point of your eagerness to impress, nothing says I love you like a painstakingly made playlist, for which every track has a special meaning, and for which every lyric is intensely scrutinised to make sure that your lover interprets it just the right way. Some people also record themselves talking at the start, or between songs.
And, if you're a bit obsessive, when it comes to these things, like I am, then you'd get way too many songs that couldn't fit into 60 minutes, and have to whittle your choices down to the perfect mix.
Creating a playlist also means expanding your taste in music, and finding an artiste who would croon in just the right tone to emit the sounds of your heart. From Toni Braxton, to Babyface, Tevin Campbell, Shai, Monica, Usher, and Whitney Houston, my music of choice was mostly Soul and R&B, and, of course, I would have to drop Method Man's and Mary J. Blige's "All I Need". Gotta keep it gangsta.
However, I think the biggest song to put on a list back in the day was Tamia's "You Put a Move on My Heart". Let a man play dat for me now… and I sayin', "I dooooo". Then, I'll backpedal, and say ah wasn't thinking.
Some people create special music playlists for de 20 toes segment too.
Now, the making of playlists has certainly evolved. We livin' in the times of the iPod and MP3s. Few people have time to burn a CD, and besides that approach is kinda prehistoric. The new ting is to make digital playlists, or if yuh real lazy or impulsive, send someone a song from YouTube via e-mail, or post a video on their Facebook wall, or yours, tag them, and say "I love you", and other mushy sweet nothings, while your friends grimace at all dat 'overmushiness' they've been subjected to in their newsfeed and their ticker!
Yuh know… that givin' meh an idea. In the next evolution of Facebook, Zuckerberg should give people the option to create playlists right there on Facebook, and dedicate them to their lovers. Nothing says "I love you" like a playlist for the rest of maco book to see. Ah know some of allyuh love that type of makeout scene.
Truth is, when you're smitten, you make a playlist. And though technology has changed, the principle is the same.
The thing about a romantic playlist is that you do it when you're damn sure the other person would go, "Awwwww". The trick, though, is to not put a song that'll make the person run away. You know us ladies. We tend to go overboard, and throw in Bruno Mars' "Marry You", or Anita Baker's "Rapture".
The guy might run, when he realises you've already earmarked the Hyatt for your wedding reception. Match it to the stage of the relationship, so you don't scare people.
And don't feel because the person might be a gangsta or all tough on the outside, that they mightn't like it. From my experience, some of the supposedly toughest men are the softest on the inside. They mightn't want to hear Celine Dion's "Power of Love", but they mightn't mind some Jah Cure "Love Is" or J. Cole's "Nobody's Perfect". A love song isn't always slow.
And to the emo guys, who still secretly listen to Music Radio 97.1 FM, yes… women still love songs like Peter Cetera's "Glory of Love".
With all of the ways technology has changed romance, I must admit I'd feel sorta special if someone went through all the trouble of putting together a CD or cassette for lil ole me. Ah mean… dat mean real effort was exerted.
What about you? Have you kept up with the times, and make music playlists the modern way? Were you all up in the tape and CD business? Or you never got caught up in dat?
Image credit: xxlmag.com
Check out the rest of this week's issue (17/10/11; Issue 77):
Look out for a new issue of Outlish.com every Monday!