Are you a sell-out if you lose – or switch – your accent? Or are you just doing whatever you think is necessary to be accepted in a new culture?

Experts say that your accent is pretty much ingrained by 17. So I often do a mental double-take, when I hear adult, Caribbean immigrants spouting Yankee or Cockney – a seeming rejection of their sweet, native sound, which is music to the ears of fellow countrymen on foreign soil, who can't help but smile when they hear that familiar lilt. And I wonder, what's the real difference between people who keep their accent, and those who don't? Can you naturally lose your accent, or do you choose to lose your accent?

…what's the real difference between people who keep their accent, and those who don't?

There are many sides to this story.

Firstly, there are people like me, who believe that your accent is a part of your cultural identity. It's what you naturally sound like, so you should keep it. I wouldn't switch, and didn't have to while I worked and studied in England. But there are those who insist that they need to change their accent to sound less ethnic, fit in, and get ahead in the corporate world – especially if they're of a minority race. They switch their native accent off at work, and on in personal settings.

Nothing drove this home for me more than the surprise I got, when I called a friend in New York, and heard a very American version of her usually Trini voice telling me to leave a message. I jokingly told her to tell her Trini alter ego to return my call, and when she did, she explained that she'd changed her greeting, so that when companies called her for references for Trini friends, they'd give more credence to an American voice.

Other people go to the extreme – adopting a foreign accent full time. Some people, however, refuse to do this – regardless of how long they've lived abroad. And they never experience any serious problems due to sounding different, aka having an accent. All they do – like thousands of other immigrants – is speak slower and clearer, avoid dialect, and stick to Standard English, so that people can easily understand them, and not laugh when they say tuhtee-tree instead of thirty-three. Right Rihanna?

Not everyone can retain a strong accent in this multicultural world though.

Not everyone can retain a strong accent in this multicultural world though. Ever heard a London-based Trini speak with a hybrid accent? It's a mix of British and their Caribbean accent. Or a relative in Miami who says some things in Yankee, and then switches to shouting, "Wham to you boy?" the next? What about those who sound almost as bad as those actors who make a mess of a Caribbean accent?

I guess they never actively set out to dilute or lose their accent. It just happened. Why?

"I would say working in the oilfield…having an accent is never an issue since you encounter someone with an accent different from yours every day," says New York and Africa-based Jenny from Trinidad. "But I've been told that my accent switches depending on who I'm talking to. When I first started university in 'The States', I found out I'm a fast-talking Trini, so I slowed down and eventually I guess I lost my accent to the point that, whenever I returned to Trinidad, people would make fun of me for talking Yankee. This really annoyed me, but more importantly I felt like somehow I had lost my identity, especially since Americans could always detect my Trini accent…but most Trinidadians always hear me with a watered-down accent."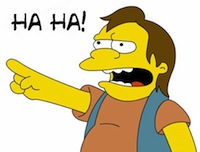 This is the hurtful part for people who genuinely love their country and never meant to lose their accent – the feeling of being a sell-out, or having people laugh at them, or – as we Caribbean people say – 'watch dem funny'. I guess if you're from the Caribbean, gave up your accent, and hang out with other people who do the same, no one will 'call you out'. But, when you land home, like Jenny, you're sure to get it.
But I can see how one's accent may weaken. Have you ever found yourself unintentionally talking like someone you spend a lot of time with, or picking up their inflections? Maybe that's it. Mimicking by accident…until the real thing gets partially buried.
People's reason for switching accents, in most cases, has nothing to do with being ashamed of where they're from. And it isn't about comprehension – since a simple change in pace and switch to Standard English can remove room for miscommunication. It has more to do with issues like stereotypes and prejudice…stereotypes and prejudices that aren't an issue only in adulthood.
People's reason for switching accents, in most cases, has nothing to do with being ashamed of where they're from.
Cy, who left Trinidad, as a young boy, but still retains his accent, says: "Whilst growing up in the UK, I actually encountered a few issues re accents. In school, I was seen as an alien, as my Caribbean accent didn't fit in with the Caribbean accents that the students had been used to. They were accustomed to hearing Jamaican and Vincentian accents, but certainly not Trini. I was called Welsh on a number of occasions due to the similarity of the two accents. Some even went as far as criticizing me for trying to put on a Caribbean accent, and laughing at me at my failed attempt. The irony being that I wasn't trying. I was just being me and I felt different. Not sounding British wasn't the problem, but not being accepted was difficult to deal with as a teenager."
This isn't uncommon for people who migrated as children or teens. And, if this type of harassment made school a living hell for them, or scarred them, can you really blame them if they change their accents to avoid that treatment in their adult years? After all, not everyone may have been as attached to their accent as Cy, who went on to make his 'Trinidadianness' work for him, as a manager in the construction industry, converting icebreaker mimicry of his accent into meaningful conversations that drove sales.
But intercultural communication will sometimes require speakers to adapt how they speak – especially if they have a heavy accent, or use dialect. Right?
Aaron, a Trinidadian professor living in the US, who migrated as a teen, says: "I don't see the need to adopt an American accent, and I truly don't understand why some other immigrants tend to do that. I think once you make your words clear, construct real sentences and use Standard English, you will almost always be understood regardless of your accent."
"I don't see the need to adopt an American accent, and I truly don't understand why some other immigrants tend to do that…"
Francis, a Jamaican, who was born in the US, and worked there for over 20 years, before moving back to Jamaica, has a different take, however.
"There is research that shows that Americans think that people with accents aren't as intelligent," he says, in a still-strong Jamaican accent. "I got a lot of smiles and nods because people couldn't understand me at first, and then I learned I had to modify my accent to be understood. The faster that one adopts an accent, the easier it is to join the mainstream, and this is where the power and money lie. There are some Jamaicans who picked up stronger accents in a year than I picked up in 20. I refused, as I always intended to come home.
"I worked in an ultra-liberal research environment (AT&T Bell Labs) that was ram packed with foreigners. In some other male-dominated places, I would have been 'encouraged' to become less ethnic. Jokes, digs, slights – they all would have become part of the reality to get me to become more 'mainstream'."
Francis' rational is informed by the Conservative perspective.
"There are certain keywords that Americans use (and especially people like Mitt Romney) to talk about the need for others to conform to the standard," he explains. "It's important to know that one's choice of accent places you in one of their three buckets, like it or not.
1. The White bucket – quite a few Caribbean people pick up 'mainstream' accents, marry white people, and stay away from Black friends and relatives. Some even become Republicans.
…quite a few Caribbean people pick up 'mainstream' accents, marry white people, and stay away from Black friends and relatives. Some even become Republicans.
2. The Black bucket – most end up sounding like Black Americans, who they assimilate into more often than not.
3. The Other bucket – a few stick to their guns, and end up being seen as outsiders. They eat curry goat, wear costumes on Eastern Parkway, and jerk anything in sight.
Each person makes an unconscious choice as to which group to join. It affects everything from that point and shapes their family's destiny."
This is why he also believes that immigrants' children are more likely to be more successful than their parents, "simply because their parents' accent, experience and cultural norms don't help their professional success".
But Aaron (the Trini professor) doesn't see it this way.
"In my humble opinion, if you're working somewhere, and even when you speak clearly, you're going to get negative responses just for having an accent, then you're not working in a healthy environment. If an accent is so intolerable, then such a working environment is one where prejudice and bigotry can easily surface, if it has not done so already."
In the article, "Can you lose your accent", Yan Guo – Assistant Professor at the University of Calgary (Canada) explores this dynamic. Guo acknowledges that "The native accent is unnecessary for intelligibility, even from the point of view of native speakers." She also goes on to confirm what some suspect, by stating "that a native accent often serves as a marker for White English", and that "a native accent signifies [that someone is] intelligent, educated and competent".
Which can help explain why non-native accents are devalued in some social circles.
Therefore, some people's fear of prejudice is justified – especially when one acknowledges the prejudices towards immigrants and racial stereotypes that are attached to accents. Maybe this is why some people switch their accent, even before they know if it will be an issue.
Kevin, a Trinidadian architectural designer in Canada, says: "Canadians have always said positive things about my accent, and I have been encouraged to not change it. It is an immediate icebreaker in certain circles, since some folks are curious about where I'm from…although, I'm not naïve enough to imagine that people are not sometimes judgmental. Because Canada is a country that is sensitive to ancestral heritage, so much so, that many Caucasian Canadians identify, not as Canadian, but as ancestors of their forefathers – Irish, French, Hungarian etc. – issues with accents are, to a large extent, equated with a lack of world exposure."
After all, it's 2012, and it is normal to hear foreign accents in metropolis areas.
"I've moved from Trinidad, a melting pot of races, to London, a melting pot of accents, so my accent is not an issue," says Latoya – a manager. "I can hear at least one of the 80,000 Jamaicans on the train to work every day! I'm proud that I specifically sound Trini, as people just love how we 'sing' when we talk."
And there are some benefits to bringing out your full arsenal of Caribbean dialect. Like comedian Russell Peters says, "West Indians…they have a very interesting way of speaking…they put words together in a very interesting fashion."
I'd even say it's an art. And, if not practised, you'll lose it.
Comes in handy fa cussing people…especially when they don't understand they dotish rass gettin cuss…
"I find there are certain things I just can't express in a Canadian accent," says Toronto-based, Barbadian Reuben. "I need to get Bajan to do them justice. I know that some folk at my workplace sometimes have a hard time understanding me, especially if ah vex. But I don't feel a way about it. Comes in handy fa cussing people…especially when they don't understand they dotish rass gettin cuss."
If you're not a rebel like Reuben, or an advocate for accents like Aaron, maybe you keep those interesting things West Indians say to yourself. But saying it in your mind, or when you're venting to a friend or family member, will go a long way in helping you to maintain your Caribbean sound.
If you've lost your accent somewhat, and you're lucky, your accent will grow stronger, when you're talking to other Caribbean people. So do it as much as possible to reclaim it. You could even try staying up-to-date with the latest slangs back home.
Being a cultural chameleon may be a part of some people's coping mechanism, and I can't judge people who've lost their accent harshly, if they really experience prejudice that they can't handle. Hopefully, they'll be lucky enough to realize the immigrant's dream of getting a great job, and being fully accepted – accent and all.
However, if you don't deal with those types of issues, and you still insist on losing your Caribbean accent, all I can tell you is this. Yuh see yuh accent? Try yuh bess, and be ready to pull it out at a moment's notice. It's how we West Indians instantly recognise each other, and, for a moment, feel as if we aren't that alone in whatever part of the world we choose to explore.

Karel Mc Intosh – has written 134 posts on this site.
Karel Mc Intosh is the Founder and Editor-in-Chief of Outlish Magazine. She's also the Lead Communications Trainer at Livewired Group, where she conducts workshops in business writing, social media, and other communications areas. A real online junkie, when she isn't surfing the Internet, she's thinking about surfing the Internet. Find out more about her here or tweet her @outlishmagazine.