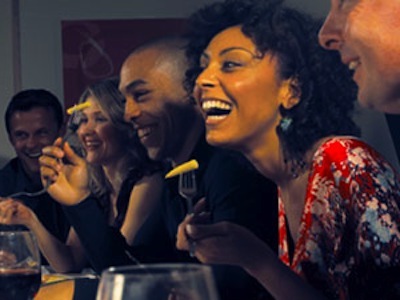 Livin La Vida Bored? Get More Social
|
A typical day in your life goes like this. You wake up – grudgingly – about 5 a.m. or earlier (props to you if you can get up later; pats self on back). You hurriedly rush to work. Thankfully, you make it through the workday.
Then you head to the gym, grocery, or drugstore. Then rush home to watch your favourite reality show, cook dinner for yuh pikney, surf Facebook for four hours nonstop, or do all three at the same time.
Then Friday comes, and you jump on the TGIF bandwagon, and blast Rihanna's "Cheers (to da frickin' weekend) on your speakers.
Hypocrites! All of you! I see you!
Know why I'm calling you a hypocrite? Because you damn well know yuh not going a place this weekend. Furthermore, you sell out yourself, when you log onto Facebook or Twitter, giving ball-by-ball commentary about a rerun of a reality TV show, or complaining that Flow's cable pop down after 30 seconds of rain (ok ah exaggerating…15 minutes?).
Now, there are several reasons you might be bored out of your mind, and devoid of a social life…like…
You doh have a liming crew
See all of those 700 nonfriends you have on Facebook? Make a lil fake friend ting with them, and take the relationship to the next step – actually meeting. On Twitter, suggest a tweetup. Tweetups are a perfect excuse to pretend that you're a very social person, with a real personal life, and real friends of your own, who just happens to like meeting cool people you've found online. No one will think, "But aye aye, Marva only suggest a tweetup because she have nuttin else to do".
Okay. I really didn't mean to ketch some kicks off of tweetups (really; pinky wear; grins evilly). I have been to tweetups myself, and had an awesome time with some of my favourite peeps online.
The whole point is, you can use social media to make you more social in real life too. Yes weirdos, perverts, and lame-os who have used Facebook to become popular by posting funny status updates use the Internet too, but once you've been using social media for a while now, you should have already been possessed by the spirit of discernment, and know who to lime with, and who not to lime with. You can't complain about not meeting new people, if you don't try to meet new people.
Basically, yuh learn to create casual friends for liming-only purposes. Doh tell dem yuh business. And to those who doth protest to this line of thinking…think twice. The blimp has passed over your house at least once, and I'm sure there's a record somewhere showing that you've limed, at least once, with someone you'd never consider a true friend.
Yuh doh like to fete/party 
Right now is Carnival time in Trinidad and Tobago. It might be against your religious beliefs, or yuh just really not into that sweaty pace. So the Carnival season is torture for you. I totally identify.
But you don't have to be a Carnival person to enjoy some good culture. Take in a  lil "Normandie under The Trees". A lil "3Canal" production. A lil geriatric fete where the old people will squeeze yuh cheeks and say how nice yuh grow up, and literally shove food into your willing arms…
Yuh get meh drift.
This year, I promised a friend I'd go at least one fete with her. The fact that this is the year of groovy Soca means that I won't have to drop on the ground and roll, bubble on a DJ, or jump and wave incessantly every five minutes. Isn't that what the gym is for? (Replace the DJ with the hot trainer or aerobics instructor.)
But I am specifically going to a fete that is more lime than fete.  A more mature vibe, with loads of GOOD food. Yes, if you're like me, any plans to be social must involve food.
Outside of the Carnival season, play pool, take in a movie, visit our underwhelming zoo, go a fete match (no is not a fete, and if yuh doh know what that is…ask somebody)…Just do something that gets you out of the house, and puts a smile on your face.
Yuh have pikney
Don't feel sorry for yourself just because you have five pikney running around the house, basically making sure you're grounded. On the bright side, you had sex five more times than at least 100 other humans on Earth. On the duller side, it just means you have to time begging granny, nen nen, tan tan or aunty to babysit your kids.
On that note, it bodes well to have well-behaved kids, who, though they may be a lil wild and have loads of fun, are generally a joy to have around.
So time yuh requests for babysitting, and plan at least one epic night out on the town. If you're a single parent, give your friends due notice that they owe you a lime. If you're coupled up, and/or married, let your partner know that although the pastor, imam, or pundit didn't say it, he or she vowed to lime every now and then, til death do you part.
It have nuttin to do in T&T
That sorta depends on your outlook. I mean…if you live in the west, work in the west, run your errands in the west, eat in the west…you're living in the west. Sorry…I meant a box. A really small box.
True Trinidad isn't New York City, with all of its thousands of entertainment options, but yuh ever lime in Arima, San Do, or Point Fortin? You know where the hot spots are? (And no I'm not talking about the SOE hot spots.)
Explore the place a bit, and you might find a nice lime. For this one, I suggest you actually have a crew you can depend on, because I doh know about you, but I am not playing Dora the Explorer with Kern from Facebook, who might be a madman on de low.
Basically, to be more social, you've got to step out of your comfort zone just a little. Go out once a week. Try something different. But unless you make an effort to gingerly step out of your house, you, my dear, will forever not have a social life.
Disclaimer: I personally left out money as a factor, because money trees outta season. If you want tips on liming while broke, check out Joshua's advice.