New Soca Parang 2012 from Xplicit Entertainment
|
So the young'uns over at Trini studio, Xplicit Entertainment put out a new, cheeky Soca Parang riddim a few days ago.
With lines like "I have a gyul livin' in de States…but yuh see dis year…she comin' for de Christmas" from Yung Rudd aka Isaac Foderingham-Rudder – local rapper and son of Soca great – David Rudder, "typical man…he feelin' fuh breast" from Khadz (Khadeece Celestine), and "she want me stick de clove in de ham" from rapper Mark Hardy, you know you're in for some cheeky, Trini humour.
Songs featured on the riddim are:
"Comin fuh Christmas"
"Eatin"
"Turkey"
"Clove"
"Cut She Black Cake"
"Bring De Rum"
and
"Bring De Rum" and "Santa Baby" aren't featured in the promo though. Guess you'll have to wait for that release from Xplicit's Facebook page or request it on radio.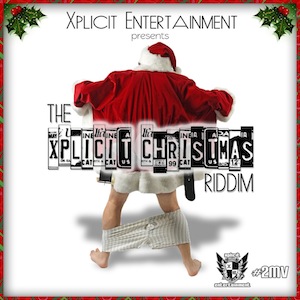 In addition to Yung Rudd, Khadz, and Mark Hardy, John Tho, Rule 9 and Stef Kalloo are featured on the riddim. It also features songwriting skills from Ayiende Toby, Yung Rudd, John Emmanuel, and Mevon Soodeen. Soodeen, who heads Xplicit, created the beat and produced all the tracks.
Based in Diego Martin, Xplicit Entertainment describes itself as "an elite group of music producers, song writers, party promoters & djs whose main focus is to showcase the upcoming musical talent within Trinidad & Tobago that radio seems to 'fight down'.
If you like what you hear, you can look out for some new Hip Hop from Yung Rudd and some of his songwriting for Soca, and a new Soca from Mark Hardy and Jamaican artiste, Dahlia in the future.
Take a listen. You can download the song here, courtesy Xplicit Entertainment.
Like it? Will you be playing the Xplicit Soca Parang Riddim at your Christmas lime?
Keep up with Xplicit at facebook.com/XplicitEntertainment