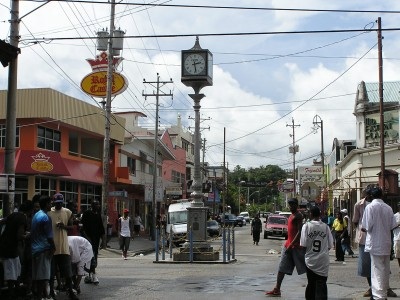 Life in East Trinidad: Is the Grass Greener?
|
Good Lord, please put a han', send a man or come yourself and take me to the West!
Ok, maybe I'm not THAT desperate, but for many years I've had an unwavering urge to leave Arima, and move to the 'sunny side' of the West. So much so, I've almost made it! Yes, I have succeeded in moving to Aranguez. Not what you thought right? However, it is a budget friendly alternative that's not too far from all the action, and still feels like home.
The funny thing is that most of us who live in the East call any area past the lighthouse, 'the West'. We don't consider the geographical boundaries or specifics of north versus west or, northwest. Once that maxi taxi hits Port of Spain, we in d' West – case closed, we don't distinguish.
Now don't get me wrong; my reason for wanting to move is not necessarily because the grass is greener on that side, but more so because of practicality and convenience. After living in Arima for most of my life, I am still proud to say I attended Kids Play Nursery School, just opposite my primary school, Arima New Government. I'm ever more proud to say I attended El Dorado Secondary School, fondly known as 'Eldo brown', and my first step into tertiary education was at COSTAATT, when the main campus was STILL at Mt Hope Hospital (where by the way, I was born).
"… long time Windsor Cinema, Palladium and Kay Donna was d real flick."
I then ventured on to UWI's St. Augustine Campus, and held down two jobs in my late teens: one in the heart of Arima and the other at Guanapo. My mother's entire family, grand and great grand were all from Arima, and have never ventured past Tunapuna, unless they moved overseas. I was christened, confirmed and congregated with family on a Sunday at the St. Jude's Anglican Church on King Street. The Arima Public Library was the meeting ground for many to study, and long time Windsor Cinema, Palladium and Kay Donna was d real flick. Yes, I've walked to the Dial, and shopped there; and learning to travel in a red band maxi taxi since yuh small comes natural.
Family life for the most part was great – neighbours, friendships and relationships that I'd never trade. Coming to think of it, I've even met and made a few love connections (that's for another story), and I've been going to the same hairdresser in Arima for over ten years, and I'd never change. The point is, I'm a true Easterner. If the Government ever decided to issue visas for entry to Port of Spain, I'd be in trouble, as I just might get declined because of my strong ties to my hometown.
So, why the sudden change?
Traffic is a bitch, and I do value an extra hour and a half of sleep. That's the plain reality of it.  After carefully planning my career path, I've followed that 'yellow brick road' straight to the dusty, smoke-polluted Port of Spain. After speaking with many of my peers, who also live in the East, they all agree that the traffic is not only disgusting, but puts a toll on the mind, body and spirit. If they could pack up house, land, car and family, they would just to make those morning and afternoon commutes easier.
And to those who venture to and from the battleground of City Gate, kudos to you! City Gate on an afternoon is like an African tribal initiation ceremony into manhood, especially on a rainy day. I no longer want any part of it. I acknowledge that traffic is almost unavoidable anywhere in Trinidad, but for the Easterners in particular, Monday to Saturday is unchanging and unreal.
The nightlife has some role to play for many, but it's minimal for me. I do appreciate not having to rush home to start dressing from 8.00 p.m. to go to Zen or 51 degrees, but more so, I welcome the variety of restaurants, bars, and other entertainment that the 'West' provides.
"Many Easterners can't take the attitudes, while many Westerners revel in it."
The 'Avenue' can be compared to 'The Village' in New York, but the lime is even better! On the Avenue, East meets West, and North and South are one. Sometimes it doesn't even matter where you're from, but what's in yuh cup. Many of the 'hoytee toytee' people greet by kissing cheek-to-cheek, pose and take pictures with their Blackberries and iPhones, for instant uploading onto Facebook. Sometimes it feels like a fashion show, a big parade perfect for people watching. Many Easterners can't take the attitudes, while many Westerners revel in it. They rarely venture past what they know. I certainly don't know of any who would leave this popular hub to take a lime by the Ponderosa Bar in Valencia or Castro's or Joseph's in Arima.
As the popular saying goes, "To each his own". I have found content in the perfect medium, still in the East, true to my roots, but away from most of the traffic, and closer to town and the West. But! If I suddenly win the lotto, I don't know what I would do.
Author bio: Certainly a "Jackie of all Trades", Keisha Stephen-Gittens is a professional makeup artist, and has always had a keen interest in the arts and theatre, having been part of small productions. She holds degrees in journalism, public relations and communication studies, and is now an Account Coordinator at one of Trinidad' and Tobago's top, advertising agencies. Follow her at her Facebook group.