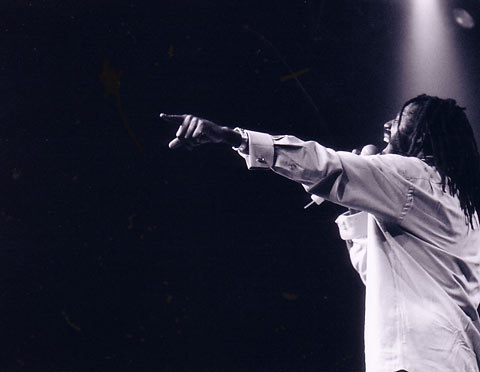 Lessons from Buju Banton
|
Dey shoulda never hurt Buju, but Buju shoulda never hurt himself.  Apart from the obvious don't snort, sell or buy drugs revision lesson, this whole Buju Banton trial highlighted some things for me.
No one could have ever wagered that Buju, of all people, would be caught in this mess, charged with conspiracy to possess and distribute cocaine. From Mr. Mention, Voice of Jamaica, Til Shiloh, Inna Heights to Rasta Got Soul, he's been an inspiration, and a voice not just for Jamaicans, but also for people all over the world, who seek upliftment, peace, and positive vibes.
The last time I saw him was at the Queen's Park Savannah for the "I am Legend" concert in 2009. I was having a really rough time at work, and that performance lifted me. I skanted so much, my relaxer turned into a glorious ras. He was in his splendour, putting on an indisputably legendary, magical, electrifying performance, and for weeks thereafter, his songs boosted my soul. This is why it pains me to see him this way… even if 'he look for it'.
Aside from helping inspire the name of this magazine, Buju has taught me several things, and regardless of the verdict that will be announced today, I will always bear these things in mind.
Say no to drugs
This one is obvious. From the time we were in primary school, we'd see "Say No to Drugs" on the back of our copybooks. It was ingrained in our heads, just like our two-time tables. If Buju is in fact guilty, I'd love to know why he'd risk his reputation for a wad of cash. Yes, human nature is susceptible to folly, but really, shouldn't Buju be smarter than this?
Much like Dennis Brown, cocaine has been the source of his undoing.
Watch the company you keep
"My son, if sinners entice thee, consent thou not" (Proverbs 1:10).
Buju opened himself to temptation. Why chat with a stranger on a plane about drugs, and allow that person to stay in contact with you? His other charge for possessing a weapon during the commission of a crime stemmed from the fact that one of his alleged accomplices, James Mack, had a gun when he was arrested.
Much like the young boy who limes with the wrong crowd, and gets locked up because he was in the wrong place at the wrong time, we need to say no to the wrong company as well. Buju says he was hoping that the agent (who allegedly entrapped him) would have hooked him up with some music contacts. He should have trusted Jah. We all think we need people to help us achieve our goals, and, to an extent, we do. However, if you ascribe to a higher power, trust that higher power to help you. Stick to your circle of trust, and hang with the right crew.
You never know when someone will propose something that can get you into trouble, and propose it at the moment you're most vulnerable.
Your past can haunt you
Boom bye bye. Recorded when he was only 15, "Boom Bye Bye" has followed Buju wherever he goes. Sometimes the things we do in our youth can haunt us forever.
Some would argue that it is because of this song that the authorities or 'the gays' had it out for him. Conspiracy theory or just a plain case of stupidity, it's sad that Buju is still defined by this song. He could have still stood his ground on not condoning homosexuality, but discontinue performing the song and denounce violence towards any human being, regardless of lifestyle, as a means of a peace treaty.
Power of your words
"Driver" was immediately referenced when people heard the news of his arrest.
"Driver, don't stop at all, drop this Arizona round a Alba Mall,
Driver, don't even hitch, collect dat likkle food deh yah and come back quick,
Driver, just rememba di damn speed limit,
Cause if yuh, run in di Feds my friend dat is it."
Life imitating art? Or is there power in the words we speak? Goat mouth is real people.
Stick to your path
"I wanna rule my destiny."
If you want to rule your destiny, you can't look to the left or right, and be distracted. Don't ever play the fool with your path. Never, ever get distracted from your purpose and stop even a moment to engage in folly, because it will be the undoing of you, and all that you seek to represent. One detour is all it takes to crush you.
This trial has redefined Buju's character in the eyes of many. When news first broke of his arrest, everyone was up in arms about conspiracy theories. Surely, this was a set up. We could totally understand if it was weed, but coke? Buju? Nah. Not Buju who sang, "I Buju may not be familiar with how d country run, but why d fightin' sensimilla making way for coke to come"?
Until the news of videos broke, fans were willing to put their heads on a block for him. Why? Because he seemed consistent in his beliefs. He wasn't Sizzla who turned into Shabba 2000. He was Buju, who seemed to be about positive vibes only.
It is unfortunate that this period will always taint Buju's legacy, but he chose this. We could say this is not the true mark of Mark Myrie. Yet because he 'jump out himself', this is what happened.
Self-love
Let's hearken to the Buju of pre-December 2009, before his arrest. He was all about love, appreciation, and inspiration. When a woman tries to change a man, especially a Caribbean man, and vice versa, the first thing they bawl is, "I wanna be loved…". Buju encouraged us to love ourselves, and accept nothing less than royal treatment. He taught us to "walk like a champion". He made us believe we could fight oppression, and emerge victorious.
This is the Buju I love.
I'm like a woman who knows her man has done wrong, but still I refuse to disown him. It hurts to see Buju in this mess, albeit a situation he facilitated. However, I cling to his songs, which are so uplifting. I cling to the lyrics "I wanna rule my destiny", "Jah Jah put an angel over me", and "I know that the sun will come out tomorrow". And amidst the clinging, I remember how easy it is to fall.