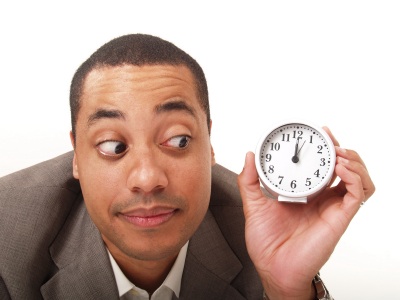 Last-minute Junkies: Addicted to Adrenaline
|
Who here is guilty of waiting until the very last minute to get things done? I'll be the first to raise my hand.
Do I always plan to be last minute? No, but more often than not I end up so.
Blame it on my work. As a marketing and public relations consultant, I often get last-minute requests from clients. A 2,000-word cover story in two days? Cool. A press release and media placement in three hours? Done. So you could say I definitely need some advanced-level, last-minute skills in my line of work.
If you talk to people in the creative field, some will tell you that they thrive on last-minute adrenaline. Yes, you might have an idea of sorts in your head, but there's nothing like having a deadline against you to get your brain churning like it's never churned before. I could sit in front of my laptop for days on end, but somehow the real inspiration comes at the last minute. The left and right side of my brain aren't even competing now. They know it's crunch time.
This is the life of the last-minute junkie – the person who thrives under pressure and can turn around a piece of work in five hours when it may have taken someone else a week to complete. Blame it on the adrenaline rush, ADD, last-minute clients (they're quite the enablers for us junkies) or poor time management, but last minute seems to be the name of the game.
I pin the start of this addiction on in-the-nick-of-time paper submissions and cram sessions the night before exams, during my student days at UWI. I went cold turkey on that habit when I did my masters in England though, especially after my first assignment submission when I ran out the house, ran to the bus stop, then ran from the bus drop-off point to the train station, then ran from the station straight to school to the submissions department, skating in five minutes before the doors were bolted to hand in my paper. Trust me; running full-speed in early winter, and having your shins hate you for it afterwards, will teach you a lesson in being on time. I managed to be more than on time for that entire year, submitting assignments, and even my dissertation, way before the deadline. Talk about a lesson learnt.
However, now as I juggle life as a consultant, editor, and whatever else I feel like doing, time management is key. The problem is, now that I'm juggling a million things at one, that I have to be extra focused. I can't always depend on 'ketchin a vaps' to write something brilliant or develop a rocking proposal on the spur of the moment.
"It's as if it won't give of its best until it's crunch time."
Talking to several of my friends, many of whom happen to work in creative fields (graphic design, art, writing etc), I realised that many of us have this last-minute addiction. We're junkies. Our brains are programmed to operate against the deadline. It's as if it won't give of its best until it's crunch time. As another writer told me: "I just work better under the gun. I retain information better; I am forced to understand the subject matter because I have no time to figure things out and I write better. My motto is 'it has to be done and will be done' so that gives me a sort of adrenaline rush".
This begs the question, when we've created the norm of waiting until the very last minute to get things done, can we only produce our best work under pressure? Have we so conditioned our brain to think that it's the only way it can function optimally that we don't realise that if we really tried, and really planned our workflows, we could be just as brilliant – even when we move away from the last-minute model?
Regardless, most junkies rarely kick their habit. Some people, however, have to fix their addiction based on their life stage. At 30 years of age, I have neither chick nor chile. Basically, I don't have anyone to interrupt my days and nights. However, if you're a married mom with two toddlers running about, as is the case with one friend, then you can't exactly stay up into the wee hours, when there's lunch to prepare, clothes to iron, and bottoms to wipe at night, and you've got to get the children ready early on a morning for the babysitter or school. You just don't have the luxury of time. So you have to get this last-minute habit under control.
I could tell you there's a way to kick the habit in ten days, but it'd be like Jack Warner telling you that you can overcome stuttering. So I'll tell you to do what I do.
You know you'll end up finalising your project just in time for the deadline, so prepare way in advance. Don't do your research or preparation last minute. If you wait until the very last minute to do everything, you will be in a hot mess. Prepare on time, so that when you get into the starting blocks, you can be off like Usain Bolt (or Tyson Gay, if Bolt is having a bad day) and run that race for time like a pro. A word to the wise though, if you're not good at operating under pressure or can't produce your best work at the last minute, don't try this.
"Know the art of energy."
Another thing about being a last-minute junkie is knowing the art of energy. Don't stress. Relax. Keep your head clear so when you settle down a few hours before you need to submit your work, you have the energy and stamina to make it to the end. My philosophy is that if you stress, then you won't have the mental energy and, more importantly, the focus to churn out work, and great work at that.
Make sure that when crunch time comes, you eliminate all distractions. If you know you can't ignore friends' BBMs or you can't stop to take calls, leave your phone in another room. If you work at home, ask your family to give you space. These sorts of methods will help you to be more efficient in your 'last minuteism', at the very least.
Any way you take it, it's advisable to maintain the art of 'last minuteism' (remember those last-minute clients or pressing school assignments), because you never know when you'll need to whip it out. Know the difference between the projects you can plan in advance, and those that you can leave for the last minute, and plan your method of madness in case you need it, because honestly, do you think you can stop being a last-minute junkie?