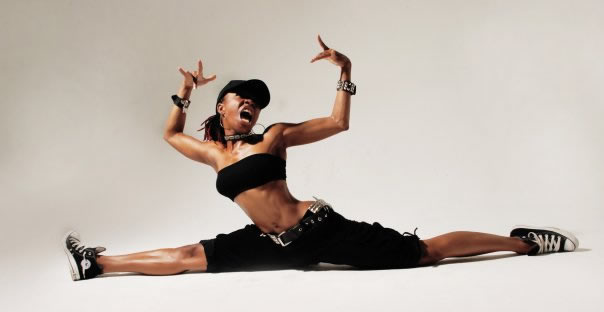 LaShaun Prescott – From Machel to Mogul
|
Watching a professional dancer on stage, executing all the technical steps of modern dance, can sometimes make you feel like an outsider or, dare I say, bore you. You can't connect to it, because you just can't mimic it. But when a soca or dancehall queen takes the stage, you tell yourself, "I can do that too". I mean, you can't call yourself Caribbean if you can't wine, wuk up, or jook, right?
Tapping into people's natural love for dancing, and bringing what's popular in the parties and on the streets into the studio, entrepreneur LaShaun Prescott has managed to not only bring dance to the masses, but has also proven that embracing Caribbean, dance culture can pay huge, business dividends – especially with the young, urban market.
I mean, you can't call yourself Caribbean if you can't wine, wuk up, or jook, right?
It's been just over a year since she left her job as an Industry Specialist at the Ministry of Trade and Industry, and board directorships at the Trinidad & Tobago Film Company and the Trinidad and Tobago Entertainment Company to open Elle Incorporated – arguably, one of the most popular dance schools in the country.
Since then, she's choreographed approximately over 40 dance routines for soca king Machel Montano and the HD Family and performed with them in Madison Square Garden, judged Synergy TV's Dance Crew Competition, hosted Elle's first production at Queen's Hall, and provided talent for advertisements. Other elite soca acts like Kes the Band and Destra have also added Elle's talented choreographers and dancers to hype up their shows. In other words, LaShaun and her complement of approximately 35 Elle dancers have helped to make dance popular again.
"Modern dance is such a disconnect between what you're seeing on stage and in the public," she says. "Everyone involved in Elle's startup were young people, so while we're trained in modern dance and use its techniques, we also like other genres. The same music you're hearing at parties is the same music you dance to in class.
With many other companies, you meet teachers who are well trained, but you're not seeing them putting it into practice. It helps that all of our teachers and choreographers are in the public eye, performing at parties or judging or participating in competitions, so people relate to us. I don't think we consciously created that image; it just happened that way."
Let's flashback to early 2007, when LaShaun, then 28, could have never imagined the strides she's now made. A dancer since childhood, her journey had reached a crossroads. It was starting to become obvious that she couldn't serve two masters – work and dance. Then, as a lead choreographer for Machel Montano and the HD Family – a role she earned after she and some friends, who were also Elle dancers, auditioned for the "Jumbie" video – she was often on tour.
"At first, I really thought I wouldn't have to make that choice," she says, admitting that she took quite some time before making a final decision. "When I started touring with Machel, I was on contract with the Ministry and used my vacation leave for time off, but he was touring often, so it started to create some conflicts.
"I was also living on my own, and had to think about how I'd manage. But it struck me. If I want to try dancing full-time and give it my all, let me do it now. There's a saying, 'follow your passion and fall back on your education'. If dance doesn't work out for me, I could always fall back into the academic field. But at 60, I can't decide to have a career in dance. I cried when I left, but I knew I had to do it."
Leaving her job in January 2009, LaShaun quickly sprung into action. Some people wouldn't want to relinquish the perceived independence of living on their own. However, coming from a stable, supportive family, LaShaun had already told her parents about her impending decision, and returned home. Having registered the company (Elle stands for the "L" in LaShaun), since April 2007, she embarked upon a marketing campaign, finalised studio space, and finished assembling the right team of choreographers and teachers. It was a hectic time, as she manned many aspects of the business, from administration to accounts and marketing. Not many dancers get the chance to form their own dance company, so this step was a huge one for her. But the help of friends and family certainly made the transition smoother.
"I still feel like I have so much more to do and so much further to go," says LaShaun, a firm believer in the value of family support, respecting your parents, and maintaining a close relationship with God. "It's been a weird journey because to be honest, I don't think I went about planning the company the way people usually would. I was winging it along the way.
"For me the hardest part of managing the school is managing the personalities. Our dancers come from diverse backgrounds and have different styles like ballet, dancehall and folk. When all these personalities and egos are in one room and happen to clash, it can be a headache. But it's important that they influence each other."
As the principal of a dance school, LaShaun's leadership skills certainly come into play; she also has to have a high level of self-confidence.
"I only recently started considering myself as a choreographer and that was because I was very nervous to let people see my ideas," she admits. "I had a fear of what people would think. I was very hesitant to create my own work and then hear people say, 'where she come up with this and what she feel she doing?' I was so self-conscious. For example with the Synergy Dance Crew Competition, the toughest part was having the confidence to say what's on my mind."
The first show LaShaun choreographed an artistic piece for was "Elle 1″ – the school's first production, which was held at Queen's Hall in 2009. It told the story of Elle, and where she was at that point of her life – with her personal relationships and career.  "Elle 1" opened to rave reviews, strengthening LaShaun's confidence, and the school's reputation as a creative force.
"I like to think that I'm unique in my style of choreography," says the petite dancer, who has been performing for over 20 years. "And it kind of ties into the company slogan, 'Experience different styles'. I started off in gymnastics; I did modern dance with Carol La Chapelle, folk with Aston Johnson, and a little bit of Hip Hop with Marlon Grant, among other things. I like variety. When I'm doing choreography, I incorporate different styles."
Calling on some of T&T's top talent to help shape Elle's different styles, LaShaun has a versed team of choreographers that includes Andy Josiah (who teaches Latin), Adrian Daniel (their Hip Hop master), and Daniel Pablo Philip and Brithany Dookie (who lead the Dancehall crew). Elle also has a sizeable team of modern dance choreographers.
"Trinidad has a culture of dance. A soca dance, a calypso dance," she adds. "Elle appreciates that, and we merge styles. Even if something is not from Trinidad, it doesn't mean you can't embrace it.
"For example, when the dancehall dance movement started, I don't think people really appreciated it. So I called Pablo from Trini Alliance and told him I wanted to expose people to it, and we started formal classes. A lot of formal companies only teach modern dance and take on people when they're very young. I think the reason we've attracted so much interest is because anyone can come by us to dance, regardless of age or proficiency."
In addition to offering dance classes in genres such as modern dance, hip hop, jazz, and dancehall, Elle offers choreography for advertisements and corporate events. Catering to corporate clients, however, is an altogether different story from catering to entertainers.
"I use my corporate hat to influence the artistic hat"
"Corporate clients come to you with a corporate attitude," she explains. "I remember preparing a PowerPoint and putting on my suit to go make a pitch for a project. You have to follow all the standard operating procedures when dealing with a corporate client. One of my advantages is having a mix of academic and artistic backgrounds, and I like to force the issue of being professional. I'm accustomed to making presentations and navigating corporate life.
I also know about going to someone's backyard to whip up a performance. So, I use my corporate hat to influence the artistic hat. When we get a job, I make sure we send quotes and have contracts in place. Some people might think, 'what she feel she in'. But it's a level of professionalism that we're aiming for."
Life is definitely different now, compared to early 2007, when LaShaun was doing shows on weekends, and working an 8 to 4 during the week. In theory, now she can sleep late, and not be constrained by workplace rules. However, she wakes up at 6 a.m. every day to manage Elle, adhering to every successful entrepreneur's rule – approach your business in a structured manner. This newfound lifestyle is equally liberating and challenging. In Trinidad and Tobago, we're conditioned to aim for 'shirt and tie' careers. LaShaun represents that growing segment of young adults who are charting their own path.
"Since I made the decision to leave and dance full-time, three of my other friends have done it and I think of a lot of people are starting to see it as an alternative lifestyle," she says. "I understand why people would tell their children, 'you need to be a lawyer or accountant', because they want them to be financially sound. But I think we're opening up to the non-traditional avenues now. TV stations like Synergy and Gayelle have helped because they bring the life of the artist into the public eye. Yes the sacrifices are hard, but they're not that hard. Increasingly non-traditional careers are being seen as a viable option because when people see what you can achieve, they become a little more open to it."
LaShaun still has words of caution for young dancers considering a professional career.
"The effort is probably not what you're going to expect," she says. "Especially since I did the Synergy TV show, people would call and say they're coming for classes, and ask if it means they'll get to be on TV. They think it's glamorous, but this is hard work. You have to be willing to make sacrifices and take criticism."
Coming from a varied dance background, and with two decades of experience behind her, LaShaun definitely knows what it takes to reap huge rewards from perseverance, daring, and hard work. As dance continues to attract more young people, it's a safe bet that Elle Incorporated will remain at the forefront of this movement.
To contact Elle Incorporated, you can call 391-ELLE or visit www.elleincorporated.com.
Credit: Photos provided by Elle Incorporated. Photography by Sancho Francisco.