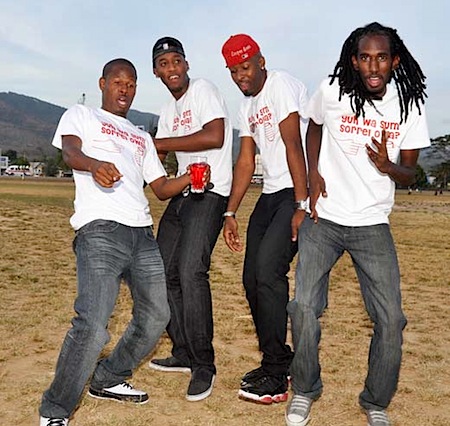 Larynx Merit – Yuh wa some sorrel a wha?
|
Thanks to three guys, sorrel got an extended shelf life in Trinidad and Tobago for 2010. In January, when Kevon Griffith, Kerron Edwards, and Jevon Griffith uploaded a video of them singing "yuh wa some sorrel a wha", it immediately went viral, with Trinis all over the world getting some good kicks off of a natural, Trini talent – finding humour and creativity in the simplest of situations.
When fans created a Facebook page in their honour soon after, that was when 'd ting went clear'. Since its creation, the "yuh wa some sorrel owa" page has grown to over 30,000 fans – surpassing the popularity of pages by stars like Machel Montano, Beenie Man, and Destra Garcia. Adding further credence to its popularity, the video has also received just under 90,000 views on Youtube, to date.
A week before Carnival, the Sorrel Boyz released the full song, and with the record getting a spin in fetes like Girl Power, and a bligh in Synergy Soca Star 5, UWI Campus Carnival, J'Ouvert, and even on the road with Tribe, as well as some airplay on the radio, things have been picking up for the guys. It's amazing that brands like Cannings, Shandy, and Orchard haven't contacted them as yet, because sorrel has been on the tips of everyone's tongues, figuratively and literally, all because of the Sorrel Boyz.
Now, if you thought this article was just about sorrel, get ready to change your mind. What started as a spontaneous moment, and has become one of the top moments in local, popular culture, has a deeper story behind it. Let's look at the main man of the group Kevon Griffith – more popularly known as Larynx Merit. He's set his eyes on a career in music as a writer, singer and aspiring producer (and yes, this was long before he drank some sorrel for Christmas).
"My main purpose is to make sorrel become known to the world," he says, jokingly. "I'm taking it by car, boat, or plane. Seriously, though, I really want to establish myself as an artiste."
His close friends, currently known as the Sorrel Boyz, have been extremely supportive in trying to help him go after his dream, and describe themselves as "a team in the making". There's Kerron Edwards (singer of the popular "ah" response in the sorrel song, and aspiring songwriter and singer), Jevon Griffith (Larynx's brother, backup singer, and aspiring promoter), Carter Grant (promoter, manager, and 24-hour disciplinarian of the group), Stefon Moore (fellow artiste and DJ), and Leston "Spungi" Thompson (friend and presenter on Gayelle TV's Rango Tango Radio, who is going to direct the sorrel video).
Larynx's story is interesting. Previously living in the US, he returned home (Morvant) in 2009 to pursue his music. But why come back to T&T?
"It's the people from here who made me who I am," he says, adding that his name means vocal chords (Larynx) deserving reward (Merit). "This is where I was born and Trinidad is where I get my influence. I don't have to change the way I talk. It's the people here who will appreciate my style."
While Larynx had an encouraging start working with artistes such as Michelle Sylvester, and Terry Seales, producers like Julian Nelson (who has worked with Nadia Batson), and popular DJ MadMan Yohann (also an engineer), it seemed as if his momentum had stalled. In late 2009, he had auditioned for Synergy TV's Soca Star 5, but was not selected.
"I doh find competition is for me," he explains. "I don't perform with a normal persona because I get nervous. There are certain rules to competition and I'm a person who likes to break rules. That day when I performed at Synergy Soca Star, it wasn't a good day for me and it didn't work out."
Momentarily defeated, he couldn't imagine that a spontaneous moment of fun with friends and family in his grandmother's kitchen, during the Christmas season, would propel him to popularity.
"It happened real funny because at that time I was real frustrated," he says, animatedly. "I didn't get to release the song I had for Carnival, so I was frustrated because I thought I wouldn't have a role to play in the festival.
"We were home chilling. I was in the kitchen and asked Kerron if he wanted sorrel. He didn't hear me, so I repeated myself and so it started up. We thought it was funny, and did it again to show my brother and friends and they were laughing. So we did it over, my other brother Quincy got the camera, and we taped it, and put it on Facebook. We were never expecting the video to get so big because that's a normal thing for us; we always on kicks. When we realized how popular it was getting, I decided to record a full tune."
"Yuh wa some sorrel a wha" was recorded in less than three days. Larynx wrote some lyrics, came up with a beat, and that same day went to Studio 12 in Trincity to record the track with producer Reon "Jaggernut" LaBorde, freestyling the rest of the song in the studio. As an aspiring producer himself, Merritt also did some work at home, coproducing the track. It's the first track he ever produced, and plans for shooting the video are underway.
While the sorrel craze has died down for some people, fans continue to keep it alive on the Facebook page. So, how does Larynx intend to ensure he's not a one-hit, Internet wonder.
"My plan is to go with the flow because everything that happened so far happened on its own and word got," he says. "With music you can't really plan; I mean yes you have to plan what you're doing, but you can't predict what's going to happen. Right now we're promoting. I'm building my name, and I'll continue to try to make good moments and memories for people so they will remember the sorrel man.
"I want to establish myself as an artiste, and I've got lots of things in store. A lot of them won't be like the sorrel song because I have different styles I'm experimenting with – Caribbean styles like soca and dancehall. I wouldn't advise anyone to stamp me as having one style just yet. Wait until the next songs come out.
"You see I have a split personality at times. Sometimes I'm tender; sometimes I'm rough. But generally I'm a wild person. My music shows different sides. Sometimes you'll get stuff that people mightn't like that much, but I'm not afraid to take chances and see what people think afterwards."
He and the Sorrel Boyz are also trying to start a production/promotions company in the hope of helping other talented, young people to follow their dreams.
"We have a lot of fellas out here with talent, but no-one to go to for help," says Larynx. " It's really about helping people because in Trinidad and Tobago I don't see many artistes trying to pull up new artistes with them. If I rise, and I see a youth with talent, I want to pull him up too because it's not an easy industry to get into and sometimes people with real talent get weary and fall off along the way."
With their popularity on the rise, the Sorrel Boyz remain as fun loving as ever – with the typical joie de vivre of youth. They remain thankful for the support of fans, and other key people who've helped them along thus far, including Shot Master J, the creators and administrators of the Facebook fan page, Mad Man Yohann, Matthew Dasani, Studio 12, Global Siege Prodigy, Larynx's production mentor Julian "Julio" Nelson, and Larynx's mom who just can't stop singing "yuh wa some sorrel a wha". Eh?
Editor's note: Just in case you were wondering if any of the Sorrel crew can make a mean jug of sorrel juice, Larynx insists he can, Carter claims he can bake a sorrel cake, producer Reon claims he can make sorrel jam, and Leston is a professional sorrel drinker.
Photography by Joanna deSilva.