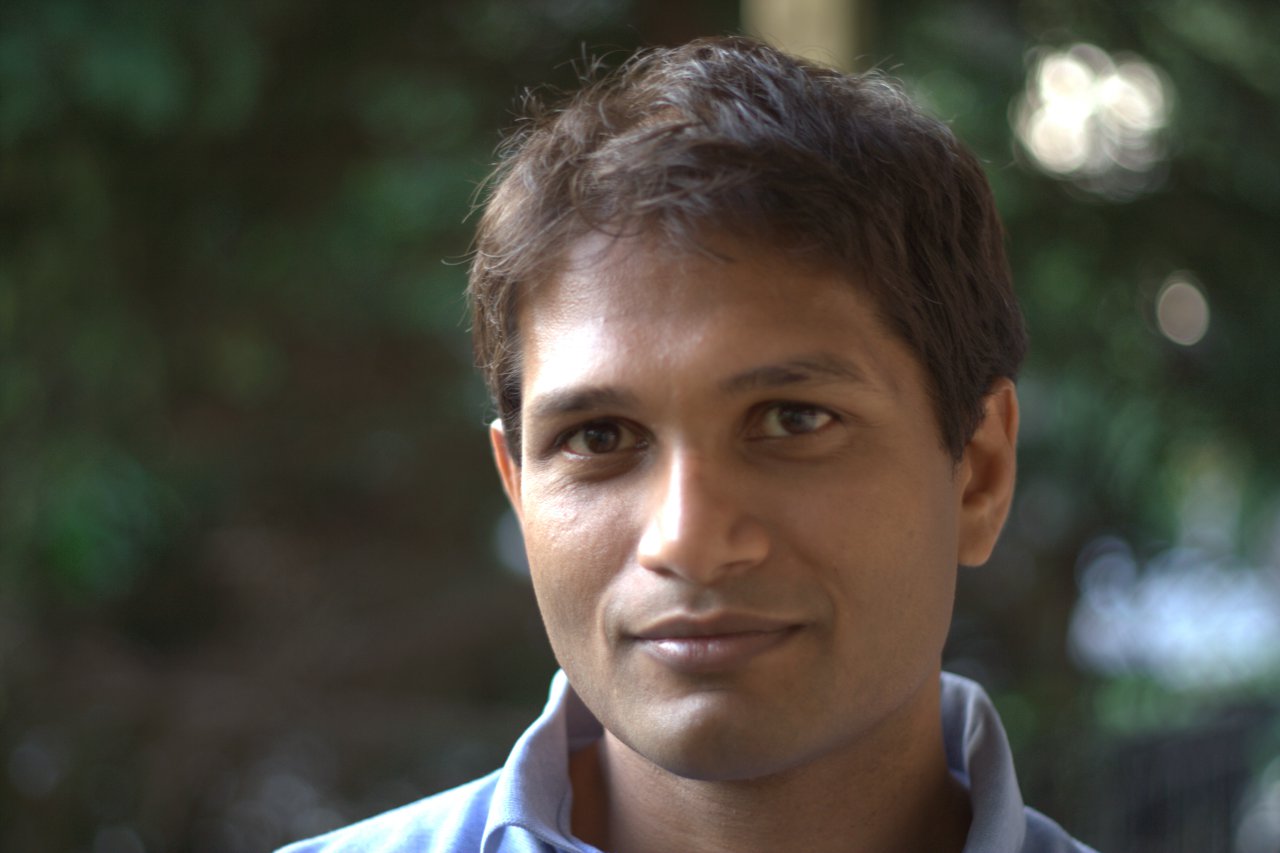 Kerry Panchoo: Mixing & Mashing Media
|
Have you ever wondered who created that infamous 'Dramatic Chipmunk', where the chipmunk pops up from one video to the next or that rather cute 'Sneezing baby Panda'?
Countless, animated clips have wormed their way into our personal, online viewing spaces, each with its own unique beginning. Addictive? Definitely! When working on a computer, for hours on end, as many of us are, a break is necessary and what easier way to "catch your kicks" than with the click of a button.
It seems a large sector of our population has taken creativity to new technological heights, especially when it comes to the web. These folks create cool video remixes using uploaded videos of themselves, movie and TV show clips, music videos, and just about anything out there that falls under the umbrella of media.
Once upon a time that used to be considered a very costly thing to do, but these days web-based technology is virtually everywhere and accessible to everyone. Sarolta Inc., is one such video editing company operating out of Toronto, Canada that caters to this demand in technological creativity, and is headed up by Trinidad's very own, Kerry Panchoo.
Born and raised in San Fernando, Kerry is steadily making a name for himself in the world of media and digital technologies with his starter company, Sarolta Technologies Inc. and its affiliate, MixandMash.tv.
Back in 2002, Sarolta initially started out creating tools for digital signage, but later focused strictly on web-based video editing/creation tools, designed to make video creation effortless, thus making them one of the most powerful web based video editors on the market.
Like most young, motivated entrepreneurs, Panchoo continues to work hard with a vision towards success, both personally and professionally. I sat down with him for the inside scoop.
O: How did you manage to move from Trinidad to Toronto and what type of business were you operating back home?
KP: I don't have the typical move-for-a-better-life story. In Trinidad, my business was doing moderately well, I ran a few things: a software development company and computer hardware sales with a retail outlet in one of the malls. My family kept telling me to leave because I was spinning top in mud and not doing as well as I could have. Within six weeks of arriving, I had two great job offers, one in the area of Artificial Intelligence, which I went to school for. I jumped at the chance of going into that again and stayed – now it's been 10 years. Time flies.
O: Many young people have dreams of starting their own business. What are some of the major stumbling blocks you were faced with during those beginning years?
KP: Where do I start? How about being completely clueless at the beginning about what I was doing. I'd say start off by taking some business courses. I had a small business in Trinidad and it did a lot to prepare me for what I'm doing now.
With Sarolta, I've faced every problem that small tech companies face. The biggest is financing, or lack of it. We've survived on a shoestring budget and still do. Developing new technology and introducing it to the market is very difficult.  Feeling out the market and getting the product tailored to its needs has been a major problem, but we seem to have started getting that right.
O: Some of your clientele include franchise and large companies with numerous locations, media companies with strong online presence and lately educational institutions. Could you briefly explain the various services Sarolta/ MixandMash.tv offers?
KP: Our product, the 'Video Factory', is a fully customizable video editor. The users' view of the Video Factory changes based on their application. Media companies use the Video Factory as a 'remix' and 'mash-up' tool, enabling their users to create remixes using the content they (the media companies) provide. Imagine being able to put yourself into a movie or TV show and then sending it to your friends.
Our corporate clients tend to use our simple step-by-step wizard that guides the user through the video creation process. They use it to customize existing ads, presentation, reports etc., allowing them to directly communicate with their customers, sometimes on a one-to-one basis. This is mostly in the areas of sales, marketing, communications and training. The cost of doing a single video could easily drop from hundreds or thousands of dollars to less than a dollar!
Our educational clients use the Video Factory in film, media and television courses for light editing and social networking.
We take care of the entire customer's/user's video processing. When the user publishes a video project, we do the entire heavy processing on our servers, leaving the user's computer free. The user is notified when the processing is completed via e-mail.
O: As we all know these are difficult times with many companies struggling to keep things afloat. Why do you suppose Sarolta/MixandMash.tv has been able to move forward as steadily as it has?
KP: Tenacity, patience, unwavering commitment and pure bad-mindedness. Failure is easy. All you have to do is stop and give up; success is hard, you have to keep going, regardless of how difficult it is. A lot of people are scared of success; it's daunting and difficult.
People often give up and are not committed to what they are doing. You do have to know when to cut and run, but if you truly believe in it and know it can and will work; you have to stick it out to make it a success.
O: Often times you hear that managing styles and work ethics/ environments could either make or break the company. What's your philosophy?
KP: I tend to keep the technical staff happy by having them focus on the research and creative aspect of things, even when the task at hand isn't necessarily research and creative.
We try not to micromanage anyone and rather than just telling someone to do or change something, differences in opinion are discussed and noted, this helps us know what the employees are doing and understand their thinking. Over time, we've found that conflicts usually occur because there are differences in what the outcome should be.
Our employees have flexible hours as well as core hours when everyone has to be in the office. For us, it goes a long way in retaining employees.  We mostly care that you get the job done by the required deadline.
Encouragement is always given for work done. Their knowing that you are interested in their work is a huge motivating factor.
Money is not the biggest motivating factor in a job; pride in what you're doing and knowing your efforts are appreciated goes along way.
O: So what do you enjoy doing with that extra time if there is any to spare?
KP: I do a range of things that interest me. My most consistent activity is Judo and Brazilian Jujitsu, which I also instruct once a week. I sometimes do boxing when I have the time and I'm also a documentary junkie; I tend to watch at least four to five docs a week.
O: Do you think you'd be able to have the same level of success that you currently do, in Trinidad?
KP: Simply, no. If I stayed in Trinidad I would be doing something else, businesses like mine would not be given the time it takes to develop, evolve and compete in the global market place.
O: Having had experience as an entrepreneur in Trinidad and in Canada, what would you say are some of the differences between the two?
KP: The business culture is definitely different making businesses like mine more likely to succeed. Canada has good support for entrepreneurship; it has it problems, but the support is there. There are quite a few government and private programmes that I've used to move my business forward. This includes financing, internships, consulting, and exposure to the global markets.
Added to this, you have a general culture surrounding entrepreneurship with better skilled people and a different work ethic when it comes to technology. Some of this exists at home, but it's not at a level where it can generate and sustain technology development. Additionally, there are other issues that play a role in this, such as security, technology infrastructure and work culture. Trinidad has a lot of potential, but there needs to be a stable environment that is able to create and sustain companies like mine.
To learn more about Sarolta Technologies Inc. and its affiliate, MixandMash.tv, visit http://www.sarolta.com, and http://www.mixandmash.tv.
Images courtesy Kerry Panchoo. Photography by Marina Reshetnikova.