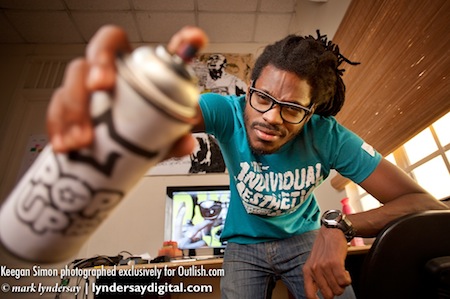 Keegan Simon: 1 Mysterious Individual
|
Who is Keegan Simon? That is the big question.
Chances are, you've seen him around, at an event or two, or at those spots where the young, innovative crowd tend to be. Or maybe you've seen his handiwork in the form of some of the most interesting T-shirt prints that grace the pages of Scorch Magazine every so often. Or maybe you were lucky enough to get your claws on Trinidad Lookbook's limited edition Team Anya T-shirt. Maybe you noticed his director credits for local singer, Mark Hardy's "Amma Trini" video. But still, you never got around to connecting the dots, and linking it all back to him.
This was my situation upon having a little sit-down with him at Rituals, Maraval Road, on a Saturday afternoon. I'd seen this dude before. He carried a demeanour that said he was not a spectator, but never did I think he was the man behind The 1ndividual Aesthetic – a T-shirt line that's wearable, contemporary art. And, from what I learned, he loves being a man of mystery. Just sitting back and listening to people talk about his work with no idea that he's at the helm is something he enjoys.
So who is Keegan Simon? The people I talked to before my chat with him identify him as an artist. But according to him, it's still a mystery, and he's set on keeping it that way. When I asked, "who exactly is 1ndividual?", he said,  "I don't know".
"You don't know?" I echoed.
"No, I don't know how to answer that."
Then, he paused. After some more "you're sure that's it" questions from me, he said:
"Nah man, keep them guessing. You know how many times I went out and people were talking about 1ndividual and there I was; no one with a clue I was part of it? I prefer to remain a mystery you know, kinda hush-hush. I'm just trying to survive; trying to be creative in whatever way I possibly can."
As mysterious as he may try to be, Simon is open to sharing how he became 1ndividual. Over the years, he realised he had a knack for art, thanks to a cousin who introduced him to drawing, and dabbled here and there, incorporating it with his liking for computers. From music videos to mixed media art – think of Simon creating a piece with immigration cards, paper, broken 45 and 33 vinyl records,  and newspaper articles – he's definitely found a sweet spot in the creative, but his clothing is what his brand is best known for.
"I only fully embraced my artistic side three years before leaving to study art in Jamaica," he added. "At the time I either couldn't afford or find the types of T-shirts I wanted, so I made them for myself. Then people started asking questions asking where I got those cool prints from, and the rest just happened."
After his time at the Edna Manley College of the Visual and Performing Arts, he returned to Trinidad, and became an intern as a graphic designer at Abovegroup, though only for a short time, ten days. He realised his desire to be the man in charge, not the mere employee.
"All due respect to graphic designers, but in my honest opinion they are like slaves," he explains. "You know what it's like to work hard, put your blood and sweat into a design, and then somebody comes along and just dissects your creation until it's like nothing you envisioned? No thanks, I want to be the idea man. But one thing I'm thankful for is the experience – experiences make life interesting…
"If I didn't start drawing, I'd probably be in IT or something – pushing pencils and paper all day. Life is funny, like that, isn't it?"
As for his choice of names for his brand, it took a bit of throwing around. The word "individual" stuck, and he went a little further by stylising it by replacing the first "I" with the numeral "1".
"But even though 1ndividual implies one person, it's really more than me," he quickly added. "There are a few people well behind the brand, plus there are the friends and supporters and well-wishers that helped along the way. And I like the sense of misdirection and mystery behind it, when people ask, 'Who or what is 1ndividual?'"
Outside of work, however, all 27-year-old Simon does is sleep. He says from birth to before his stint in tertiary education, he didn't do much of what we may consider work. But it was his placement in painting, instead of graphic design at college that changed all of that.
"I made up my mind to either get through or drop out," he said. "So I started working nonstop. As it stands, four hours of sleep is a vacation for me."
It's obvious that apart from loving the art scene, he draws inspiration from anywhere at any time. While we chatted,  he went to the other side of the room, picked up some more magazines and newspapers, and plopped them on the table we were using.
"I take it you're looking at layout design of those," I remarked.
"Yeah, I am," he replied, while shuffling through them. "It's to help with my designs. I always want to find ways to make it better and influence new ideas."
But he put down the magazines, when I asked him what he thought about the local media and their role as a conduit to promote art.
"The media… they do next to nothing," he explained. "The way they portray it, it's as if it's advised to do, like art is this big novelty."
This is a stark contrast to his observations of Jamaica, where, to him, they seem to embrace modern art fully, and have turned it into a full-blown industry, while back here it barely exists.
"As much as I love my country, art to us is very traditional," he added. "You go into a gallery and all you see are landscapes and stuff. And out of those landscapes 99 percent of them are acrylic. We do have some kind of modern art, but only in small percentages, in few places. And the media does next to nothing. The way they portray it, it's as if it's advised to do, like art is this big novelty. As much as we appreciate art, we're still afraid of accepting anything that's out there, menacing, or grand scale."
Be that as it may, he appreciates that small percentage.
"I love going to places like Alice Yard or Softbox to see what's new and edgy. And the people that love our art are some of the most awesome people. But as a country that appreciates art we have a long way to go."
As for what the future holds himself and the 1ndividual brand, all he said was that the sky's the limit. What he hopes for is to have his 1ndividual prints become commemorative items – much like how his Team Anya T-shirts for Trinidad Lookbook and T-shirts for Scorch's Flugtag team, for which "the feedback has been amazing".
"There are always projects in front of me to keep busy," he added. "And these days, you can't pigeonhole in one area – you have to be in everything to survive. So look out for paintings, more T-shirts, video, philanthropy, and music projects all at the same time. The key for me is to have a Lil Wayne complex – be in everything.
"I'm not much of a long-term planning person, but I want to be an influential juggernaut. But not only in T-Shirts or art – in everything. I want to establish a new point of view – a whole new aesthetic. There are already a lot of people changing the game, and I'm lucky to be rubbing shoulders and being among them. At the end of the day, I want to stake my claim in the greater scheme of things.
"The goal for me is not to be better than any other, it's just to stand out as my own brand. To be different."
Check out 1ndividual Aesthetic on Facebook,  Twitter @1ndividaltweet, or YouTube. You can also purchase 1ndividual apparel at William Duds – 45 Murray Street, Woodbrook.
Photography by Mark Lyndersay of lyndersaydigital.com.
Photography of 1ndividual pieces courtesy Keegan Simon.