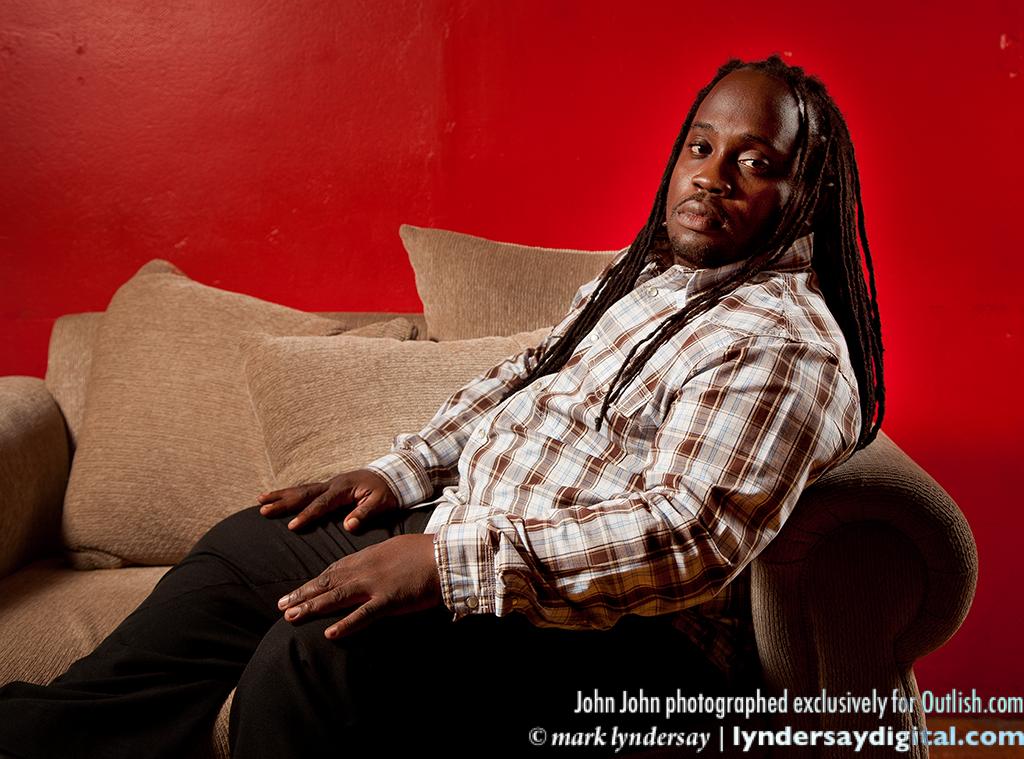 John John: Cita's Grandson does Soul
|
Growing up, everyone had their own experience with music, whether it was by learning to play the piano in primary school, playing pan in secondary school, or simply drumming on desks and singing their favourite songs during lunchtime. For many people, that's where their musical aspirations ended, but some went on to pursue careers. For John Francis, better known as John John, music is more than a listening pleasure. It's something he feels compelled to create.
In Trinidad and Tobago, most aspiring artistes focus on Soca, Rapso, Hip Hop, Reggae, or even Jazz, so it's not often you come across someone doing R&B, far less Neo Soul. With influences like local Soca artiste Ajala (from back in the day), and American acts Boyz II Men, Musiq (Soul Child), as a source of inspiration, John John has been trying to find his way in music for a while, and he's found his footing, in Neo Soul.
Having signed with local label Highway Records in 2009, and currently prepping his debut album "Cita Grandson", which should be released by August, he's become part of a movement. Working in a world where local radio is still actually slow to recognise local talent, while an artiste could have a successful video on Synergy TV, John John and his label mates are working to break the mindset of Trinidadians, that anything local is not popular. Highway Records has been trying to improve the viability of the local music scene for young talent outside of the genres of Soca and Dancehall.
He's managed to forge a way for himself, working with fellow local artistes, like label mate Chromatics on the Hip Hop joint "Cold Blooded", and spoken-word artiste Gary Acosta on his live DVD performance (Uncut and Unplugged). John John also recently recorded a single for a producer from LA, Hannibal the General, called "Freedom 1978", and plans to do a remix with an artiste from New York, Infinite Mind, from one of the break-off Wu Tang groups.
Like most singers would tell you, he started singing as a child, but it was hanging out in his neighbourhood that really piqued his interest in music. Growing up in the late 90s, when Kiskidee Caravan was popular, John John, then a student at South East Port of Spain Secondary school, listened to people from his neighbourhood in St Barbs, Laventille, but being a shy person by nature, he honed his skill singing to himself in his bedroom. One day, he approached a producer at Goose Music Firm, a studio in the community, and sang a Tevin Campbell song, which impressed the producer who invited him to join the group, Black Ambition, which mostly covered Boyz II Men songs at various functions.
When the group broke up, about a year after he'd joined he moved on to another group called Kings of Origin, where he experimented with Rap and expanded his singing skills, and eventually the Gospel choir Youth Pulse, in 1997, which bred other local talent, for example Audie from H2O Phlo and 2Intrigue. After the choir became defunct in 2000, he was left in limbo, until Neo soul rose to popularity, and motivated him to stop being a cover artiste, and write his own songs. He's also paid dues, performing at the Island Club Casino, as a lounge singer.
Now, at 32, John John pushes himself to create music that connects with listeners. When he's not making music, he's spending time with his three-year-old daughter and literally helping to save lives, as an emergency medical technician. His 'day' job, in turn, inspires some of his music, as he sees the results of the activities of the darker side of T&T. Topics life like in the ghetto, "trying to be a black man in Trinidad, and a Rasta from Laventille" – as he puts it – love, religion, and politics are some of the issues he covers in his new album.
Making what he calls "music for the world", his music has that depth of emotion you expect from a soul singer, and it's obvious that, while there's certainly room for John John to grow, he has the raw talent to take him further.
Currently, he's working the local circuit, doing small shows to build anticipation for his album. Outlish recently caught up with him to chat via Skype about his journey, inspiration and his thoughts on the future of Neo Soul in T&T. Here's what he had to say.
Outlish: There aren't many people doing R&B in Trinidad, so I know you are going against the grain. What's your experience been like, doing R&B in Trinidad?
John John: Well it's not really about going against the grain for going against the grain sake. It's music that I like and have listened to from small and could identify with, not just with the artistes, but the various topics as well. I didn't really study the fact that nobody in Trinidad does it. I just like music and that's what I decided to do. It wasn't really a big decision of whether to do it here, or whether people would like it… just a matter of, I like the music, and the vibe of the music.
Outlish: Do you find it hard to find people to work with in Trinidad, in terms of producers, and getting someone to help you create the sound you envisioned for yourself?
John John: There are producers who do Neo soul music where they mix the R&B and the Hip Hop production wise, but transferring that true, Neo soul sound where you need the live band recording is a bit expensive. Not that there aren't producers who will do it, but to get the live band sound that Neo soul has, it's kinda expensive to do a whole album of live recordings. But there are producers here who do production, Hip Hop, R&B, and Neo soul.
John John – "Freedom"
Outlish: What's the concept behind the name "Cita Grandson" for your debut album?
John John: I just coined that term, when I was young. Going through the neighbourhood people wouldn't really know your name, or they would see you as a small guy walking around the neighbourhood, and people would say, "Yeah daiz Cita grandson", or "Daiz Lynette son". Daiz how they would identify you back in the day, when nobody didn't really know your name, when you was small and trying to identify who you were. That's basically where that came from. It has a deeper meaning too, where she was the first person who told me I was kinda grown up for my age. She used to call me "big man", because I always tried to make myself seem more mature than I was. So that's why I used her rather than Lynette son, because of that thing that she told me years and years ago that stuck with me ever since.
Outlish: So how will you translate this maturity you talk about into your music?
John John: Well, the topics that I choose to do. The songs basically are a wide variety of genres. It's not just Neo soul. I do dabble in a couple of reggae (songs) on the album. So the songs range from "Angel", a love song, which was my first release last year on radio, to my new release "State of mind" – basically a song about my state of mind at the time when I wrote this song… about the choices in life, with religion, relationships, figuring out things that didn't really make sense.
Plus I have a song called "Ghetto", speaking about the murder rate, because I live in St. Barbs, Laventille, which is one of the high crime areas, well back in the day, not so much now. I also have a song "Soul", which talks about some changes that I was going through and asking God about those changes, religion wise and relationship wise, and knowing if I had made these changes, there was no turning back. I also have a song called "Stop sleeping on Reggae", talking about that same thing,
John John featured on the Chromatics track, "Cold blooded".
Outlish: Would you say that Highway Records has been able to mould your sound and help you grow?
John John: Yeah, well you learn a lot from people like Matics who've been around and doing music. People like Beebo (he is not with Highway Records anymore), producers, people in music who appreciate that sound give me advice from time to time. You learn as you go along. So my whole project is basically trial and error and picking the right songs, and  notes, and getting stuff done and live shows. Putting together a show and having to deal with that, it's always a learning experience for me. I put together one last year, and it wasn't that big, but it had a good lil turnout.
Outlish: How are you relating your status and the positive things you are doing now with the people around you in your neighbourhood?
John John: Well people seeing me on Synergy and stuff like that and hearing me on radio, people come up to me and say "Yo, I heard you on the radio, and daiz what we need, that kinda positive vibes". I don't know if plenty people learn from it, or are inspired. I think they relate to it as it does be nice seeing me, a boy from the hill doing good stuff, yuh know. So I get congratulated for that, but is it inspiring to some, or inspiring to none, I wouldn't know.
Outlish: As compared to five or ten years ago, are you finding that radio more open to somebody singing R&B? 
John John: Yeah, it's opening up. As Carnival is over, the radio stations now looking for local talent in either reggae, or Hip Hop, or R&B. So the opportunity is there to go to radio stations and present your song to get played.
Outlish: You think the new stations like Synergy, and other local stations, had a big part to play in it as well?  Or was it an afterthought, like after you do the radio stuff, then you look to go into those places?
John John: No actually.
Outlish:  Why? 
John John: Basically it's the mindset of Trinidadians, actually, that anything local is not really good. People listen to music, not because they want to hear good music. Music in Trinidad is a popularity thing. Jamaica has it too. Dub has been popular ever since I was small, so we gravitate to Jamaica or the US, so they see somebody doing local R&B or local Hip Hop as weird, or they would hear it and say it sound good, but they still want to hear the popular songs. Yuh know what I mean? Everything is about popularity and what's playing now. So people might not have liked dance music some years ago, but now everything is dance orientated and everybody find it sound bad.
Outlish: So do you think that the Neo soul genre will get big locally? 
The world is not closed in again, so we have you tube and stuff like that. Not that I am not doing music for Trinidad, but I am doing music for the world… yuh know what I mean? So whoever grasp, grasp at it and love it and whoever don't, they don't. A lot of people say it too slow, Trinidadians like everything at a certain RPM.
Not that I'm hating on Soca. I does be in town for Carnival, it's our music. Music is a universal language. Some people like to say, "Aye, yuh not doing Trinidad music". I guess, to each his own. But I don't really hate on somebody for doing Soca or Rapso, or whatever, because I love music in general. I'm not saying I wouldn't do it (Soca). It's just that the right beat ain't come yet and the right opportunity ain't come yet.
Outlish: You obviously have a space that you can call your own or at least you're only sharing with only very few people in T&T. So tell me about the future of that and what you see, your ability in terms of what you want to shape that into.
John John: The genre in Trinidad and Tobago will go as far as we take it. So if we keep doing videos, and doing shows and trying to increase our fan base, then we would see artistes coming out of the woodworks. So the more people come out of the wood works, the more it would grow, because a lot of people do it, but they wouldn't really come out and start to write, because they don't see it as being successful.
Everybody wants to go into something that's successful because they seeing money behind it. There are a lot of people who do covers in T&T. In a lot of casinos at night or a lot of restaurants you see a lot of people doing covers, but they don't actually sit down and write songs, and conceptualise ideas and put them together. There a lot of talented singers in Trinidad. So I wouldn't say I am the steward, but it would be based on how successful we all are at it.
I don't really 'beat up' in the sense that, I wonder if a million people like what I do, but I have a message, and I have a good voice, and with hard work it should pay off in the end. At least that's what they say, hard work does pay off in the end (chuckles).
To keep up with John John, check him out on:
Photography by Mark Lyndersay of http://lyndersaydigital.com. Mark is a professional photographer and writer working in Trinidad and Tobago since 1976. His column on personal technology, BitDepth, has been continuously published since 1995. He is currently pursuing a photo essay series about how Trinidad and Tobago pursues its culture and festivals called Local Lives. Both series are archived on his website at http://lyndersaydigital.com.