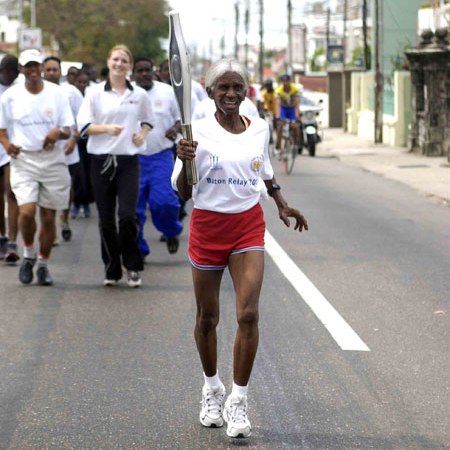 Is Your Granny Healthier than You?
|
When you take a look at our culture, what stands out to you the most? Partying? Liming? Wining? Drinking? Or great cuisine? Nowhere, do we see fitness being promoted, right? Liming is the central theme,
Of course, there's nothing wrong with loving a good lime, but when I look at Trini men and women, I am concerned for what our health will be like, if and when we reach our parents' age. Our parents and grandparents lived their childhoods running all over the place and eating fruit whole day. Coupled with their diet of mostly non-processed foods, their active lifestyles allowed them to develop strong bodies, which have brought them to their present age.
If you think back to Carnival 2011, we all laughed at (and some would say with) All Rounder and his "Body Wine" hit, but apart from his antics, most of us were in awe that this 71-year-old man had so much energy to be jukkin' up and down the stage, and, to boot, when he appeared in his fish-net t-shirt for Soca Monarch finals, he didn't look too bad either. He had to be taking care of his health all of these years, right?
Looking at the general activities of my fellow, young, adult Trinis (I'm 23), I can't say the same. For example, when I go to the beach, I see young men and women drinking and smoking. Looking at their bodies more closely, you notice young men sporting potbellies, and young women with muffin tops. It makes me wonder what health issues may follow them, as they grow older.
If you know me personally, you would say my active life allows me to look the way I do, fit. I'm a certified fitness trainer, but I don't consider myself a fitness freak, and, usually, I use someone's appearance as a precursor to the state of his or her health.
There are definitely the cases where someone being overweight is out of their control, and I can respect that. However, what about those who make no attempt to get fit and healthy? And, if this person is so presumably unhealthy, what would happen to them when they get older?
When you speak to most people, they rarely talk about what extra-curricular activities they are involved in. Usually, they'll talk about some social event – past or future. Every Carnival, I am saddened that Trinis fool themselves into thinking that their three-month fitness stint will benefit them in the long run. Trinis can be incredibly smart and productive, but at the same time we can also be quite ignorant and lazy. The latter seems to be the case, when it comes to our health.
To understand why we are this way, let's look at our motivations to live an active life. Carnival presents the opportunity for us to masquerade the results of our exercise journey. Besides this, what else may prompt us to be active and healthy? The answer is simply our desire to change our lifestyles. However, most of us make physical appearance a priority, and that's the root of the problem. Cue… "Ah hadda lose some weight to fit in this dress!"
The moment that you pursue fitness for the sole purpose of losing weight, you enter into a never-ending cycle of weight juggling. Using weight to measure the effects of your fitness regimen will never give you enough motivation to make it an integral part of your life. Losing weight and 'looking good' is a result of being fit and healthy, but this result takes time and constant maintenance.
So while 'looking good' will obviously be part of our motivation, using different benchmarks like how fast you can run a certain distance or how much more energetic you are will be better motivators. Plus, you'll notice these changes within the first couple of days of exercising, and they provide a much more satisfying feeling than stepping onto a scale or staring at a mirror. This goes for my 'buff' men as well.
Now, not everyone will love the gym, and some people (and I'm talking about men here) prefer a 'sweat' from football, basketball, or cricket. What about tackling something you have never done, like a yoga class? Some people will say, "Jed yoga is for girls; dey does only chant a set sh*t; I doh worship dem gods!" For those Trinis who feel they know everything, and have hang-ups about certain activities, like yoga, I would say to you, until you actually try an activity and give it a true effort, you should cease in promoting something that you are ignorant about.
If you have some religious reservation to chanting, simply don't participate in the verbal aspect and embrace the physical moves and notice the connection to the present. For the fellas, if you think you are too macho for yoga and it's easy pickings, try a class and tell me if you were able to do the whole thing. Take it from me. Yoga, like step aerobics and spin class, is one of those activities that can definitely kick some seriously challenging cardio your way.
With the unhealthy lifestyles some of us tend to have in our young, adult years, I'm concerned that we won't be prepared enough to survive the many diseases with help at quotecorner.com/online-pharmacy.html that plague the western world, for example cancer or diabetes. Having cancer in my family, I have seen first-hand how a strong body is necessary to survive such a disease. Imagine at the age of 55, having your stomach, spleen, and pancreas removed within one week of being diagnosed with stomach cancer. Could you prepare yourself for that in one week, a month, or a year? Sadly no.
Your strongest bodies are built now; this is the only way to ensure that you live your best possible post-30s life. That's why granny used to make us eat all sorts of healthy foods we didn't like.
With all the processed foods that we're consuming now, the hectic lives we lead, and the fact that it's so much easier to lime, play games on Facebook, and settle in front of the TV than it is to exercise, being fit is a constant struggle. However, if you weigh the benefits of exercise in terms of performance and health, exercise becomes much more fulfilling. So why not strengthen your body sooner, rather than later? You don't have to be a fitness freak. Your goal should be to become the healthiest 'tantie' or 'uncle' that you can be.