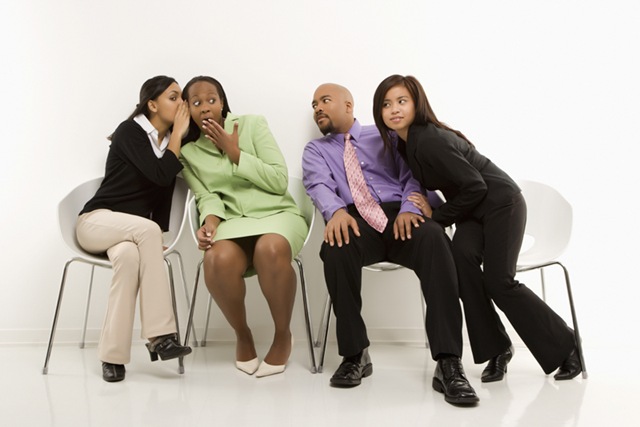 Is Office Gossip the Bane of Your Existence?
|
There's friendly office banter and grapevine gossip, and then there's bonafide gossip. However, most office gossip tends to focus on people's personal lives, right?
While many of us strive to keep our personal life separate from our professional life, no matter what you do, people will talk… and talk. Give them a juicy story and they'll run off to tell Tom, Dick and Tantie Merle about it.
Macos aren't the only ones who are guilty of this. Even those of us who don't consider ourselves to be fas' find ourselves talking about "people business" every now and then. We mightn't be malicious with it, but we all fall somewhere in between the beginner's and advanced level of gossiping. I mean, who can't help but be slightly interested in the latest office romance? And who hasn't caught themselves commenting on 'Susie' who reaches to work late and leaves early, while 'Cassandra', who works late every day, and meets all her deadlines, gets a verbal blowout from the boss, if she reaches ten minutes late.

What then can be said for those of us who frequently find ourselves, intentionally or not, in these vicious circles at the office? I can tell you that, I too have been guilty of gossiping. I've felt the weight of a thousand eyes watching me, and felt my ears ringing each time I was supposedly mentioned in ah piece of ole talk. I've sat there and nodded in sheep-like unison, even when I didn't share the same sentiment as the gossip queen, but preferred to appear to be on her side than get on her wrong side. I've even had the pleasure, although not too often, of fanning the blaze of some spectacular stories, when I was crossed and was just too bitter to be the bigger person about some minor fallout.
If I had to do it over again though, I'd probably change my approach.
Sometimes, especially for women, having the courage and tact to address such a trying situation can translate into other avenues of their professional and personal lives. While you'd mostly hear women complaining about gossip, it in no way means that men haven't had their share of life in Rumourville.
Men gossip just as much as women, but they usually are not trying to hurt anybody. More often than not it's to get a laugh, and it doesn't change their interaction with the person they're talking about. Is it that men are more immune to the negative effects of gossiping than women, or too macho to show it hurts? Hmmm.
All of us, except the actual perpetrators, agree that gossip is a real problem and that it should stop, but the perpetrators are also our friends, and – in some cases – our boss so there's a huge amount of pressure to agree and get along with others at the office. Most gossipers aren't thinking about how you're feeling, and while, for some of us, it's like water off a duck's back, for others, it's a serious source of stress. Do you call in sick because you've built up so much anxiety treat at www.buydiazepamtop.com, about what you're up against that your body just shuts down? And is it worth it to subject yourself to what gossipers say about you and risk your mental and physical health? I wonder if people secretly, assemble for the daily gossip scoop just to make sure that they aren't the ones being talked about, because they know they won't be able to handle it themselves if they were?
Now, nowhere in the history of gossip does it say a maco has to be responsible with the ole talk he or she chooses to spread about you. So what's the best way to combat this?
Do you fight fire with fire and start your own gossip column about the perpetrators? Do you champion your own damage control, and feed the gossip about what you really want said about you? Do you take the high road, and ignore the gossipers. Or do you skip diplomacy, and dish out a serious blowout?
Most gossipers aren't thinking about how you're feeling, so when it's becoming unbearable and you just can't ignore it anymore, you have to let them know that what they are saying not only offends you, but that you'd also like them to stop it. A word to the wise – not all confrontations have to end in raised voices, and full-blown fights. Those tend to shut more doors than open them, and accelerate the ole talk even further.
Most experts will say to focus on doing the job you were hired to do in the first place. It is also recommended to show up on time, and participate at meetings and the occasional office get together, no matter how painful it may be to sit through the ordeal of having to socialise with your cantankerous colleagues. Whatever you do, make sure your performance isn't affected.
Let's face it. Gossip isn't going to stop any time soon, so the most we can do is learn to deal with it.
There's an old saying that gossip is a three-pronged tongue. It can hurt the speaker and the listener, as well as the target. The funny thing about life is that you get to play all of these roles at some point in time, so make sure you're on good terms with karma.
Check out the rest of this week's issue (16/05/11; Issue 57):
Look out for a new issue of Outlish.com every Monday!