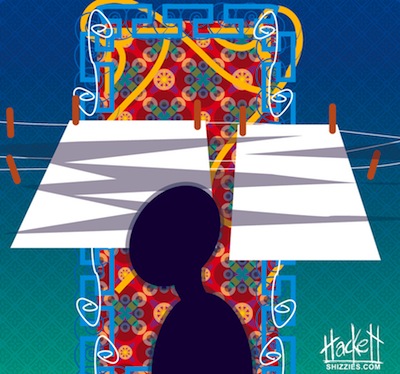 In Defence of Creole: Loving our Dialect
|
I doh know bout alyuh, but I love to talk Trinidadian Creole English all de time. Green verbs. Yellow verbs. I love to colour my conversations. I doh care if people say I 'talkin' bad'. I know that when the need arises, I can speak better English than the Queen herself.
I take an almost perverse pleasure in using 'bad English' or 'broken English' – as some people have dubbed Creole – most likely because it's a great escape from the Standard English that much of my daily work is mired in. A friend says no one would believe I have a master's degree, when they hear me speak in relaxed settings.
I think it all started when I went to England to study. Speaking Creole was my form of personal protest. Unlike some Trinis who prefer to adopt a cockney accent (Dwight Yorke I see you), my reaction to the new environment was to prove I wasn't from there. Much like many generations of migrants, I held onto it because it was a symbol of identity. As author and linguist Merle Hodge says, it's our "mother tongue".
Creole is used actively or passively by all Trinbagonians, of all classes. We also hear it in our music – most notably Calypso and Soca, even Chutney – and everywhere we go. And even though I'm supah dupah happy to see Trinidadian Creole English listed as a language option on Facebook, I don't know whether when people click that button, if it really drives home the point that our Creole has its merits.
"Creole is used actively or passively by all Trinbagonians, of all classes."
Now, when we hear Creole, some of us have different interpretations. We may immediately think of Patois or Kwèyòl. However, the Creole I'm referencing is Trinidadian English Creole.
In the Caribbean, Guyana, Jamaica, St. Vincent, Grenada, Trinidad and Tobago, and Suriname (with its Sranan Creole) all have markedly different creoles. Interestingly, Tobago's Creole is not the same as Trinidad's. As a matter of fact, it's said to be very similar to Jamaican Creole, according to academic sources.
In linguistics, Creole is a technical term, a language, created out of two or more languages. According to Hodge, however, it is just as easy to claim that the Creole language is a dialect, as a dialect is defined as a "subordinate variety of a language with non-standard vocabulary, pronunciation, or idioms" (Concise Oxford Dictionary), or "a form of a language that is considered inferior" (Collins Concise English Dictionary).
In the case of Trinidadian Creole English, some would veer towards calling it a dialect, since the larger percentage of it is derived from Standard English, while the more linguistically inclined may argue for its merit as a language of its own, with its own structure and grammar – whether or not some may consider it to be 'broken'. I can see why.
I remember when I had an exchange student from Guadeloupe when I was in Sixth Form. Valerie had a great command of English, but switch to Trini English and she'd be totally lost. Similarly, most of us know that when we talk to a foreigner in Creole, they're lost – as if we're speaking another language.
"Growing up, how many of you got 'boofed' for speaking Creole?"
Although academics and linguists celebrate Creole, and prominent scholars of English, like Merle Hodge and Gordon Rohlehr, regularly use Creole during their lectures, it doesn't share the same reception in everyday life. Growing up, how many of you got 'boofed' for speaking Creole? And how much more confusing was it, when you'd just heard your parents speaking Creole just a few minutes before?
You learnt that you speak Standard English in the classroom and professional settings. Between home and work or school, we all learned the need to switch between the two. And while some of us would say that we see nothing wrong with reverting to informal, Creole speech, how many of us have perked up our ears when we hear what we consider to be too much Creole when we hear someone speaking, or feel self conscious when we need to switch from vernacular to Standard English in a formal setting? Somehow, we relate it to our level of intelligence or education. However, the ability to switch between the two codes is the real problem, I think. Not Creole.
Depending on who you talk to, there's a certain level of disdain for Creole and a never-ending depiction of its inferiority as 'bad English'. The feeling that Creole is somehow 'less than' the Queen's English has been perpetuated from colonial days to now. Negative associations include being part of a lower, economic background or not being highly educated. Throughout the years, being able to speak and write Standard English is a gauge that has been used to mark our level of 'broughtupsy'.
"Standard English is a gauge that has been used to mark our level of 'broughtupsy'."
I remember being labelled as a ghetto girl by a friend's brother (in his 20s), because he had heard my 'broken English' voice message she'd listened to aloud on BBM. Now, I know I have a sweet, girly voice, so there's no way I sounded like a wajang. And so what, if I did? But yuh see how my English construction immediately got me labelled – the same way someone would judge someone by their speech, and call them a wajang.
So although some of us would say we don't see anything wrong with the vernacular, and that it's a part of our identity (which it is), unconsciously it causes us to view people in terms of class and education.
According to Dr. Winford James, co-author of "The Creoles of Trinidad and Tobago: Phonology", and UWI lecturer, this may be because of our negative history as slaves, a traditional attitude that Creole English is not a genuine language because it is a 'corruption' of English vocabulary and grammar, that English is used for formal (aka important), social functions, and Creole for informal (aka unimportant) social functions, and that it lacks the international prestige of American and British English.
Like I said before, I think the real issue in our society though isn't so much about Creole, but whether people can switch between Creole and Standard English appropriately, especially those coming up in the school system, who, in addition to having to balance the informal Creole with Standard English, now have their language skills corrupted by the digital language of "u", "lol", and "gr8".
Older folks would say that their concern is that the overuse of Creole is related to illiteracy in primary and secondary schools, and poor reading and comprehension among school graduates (tertiary included), because of what is engrained at home, and some teachers' inability to help students understand the differences between Creole and Standard English.
Nothing is wrong with children saying, "Aye boy lewee go ride bike". The problem is not teaching your child how and when to switch language codes. Other countries have embraced their Creole languages and incorporated them into their society formally. In Guadeloupe, Creole and French are taught in schools. Maybe we should do that in Trinidad and Tobago too.
An educational approach to Creole must start by raising the level of awareness of what Creole languages are, how they came into being, who speaks them and what their relationship is to other languages. Linguistic study does not make value judgments, so why should we? Context is key. Using high-register English in an informal setting can be as poor a communication choice, as using Creole for a classroom presentation.
When we begin to place importance on our own culture, others will follow. In January of this year, a charter on language policy and language rights in the Creole-speaking Caribbean was signed by pro-Creole advocates, at The Knutsford Court Hotel (Jamaica), with plans to present it to Caribbean governments. The charter seeks to nationalise Caribbean Creoles, and a council, with the aid of The University of the West Indies (Jamaica), will be writing a right for the freedom of language discrimination for the constitutions of Caribbean countries. So, we'll see what comes out of that.
The regional council has also launched Caribbean Language Day, which will be celebrated on October 24, and will be promoted in all Creole-speaking countries in the region.
Creole is part of our identity and reflects our culture. Sometimes an experience is so sweet that the only way to really convey its sweetness is to buss some good ole' Creole. Like everything in life, it's simply a matter of knowing appropriate usage. What are your thoughts on Trini Creole? Have you ever encountered any stigma about it or feel self-conscious when you have to switch between Creole and Standard English?
Illustration by James Hackett of shizzies.com.