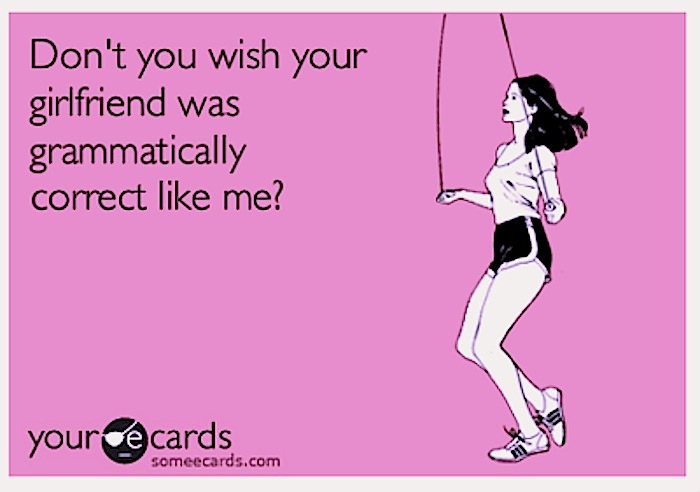 I'm Too Sexy for Bad Grammar
|
If a guy has poor grammar skills, that's a deal breaker.
"Karel you stupid eh," said my friend, laughing.
"Hahaha…imagine telling a fella, 'Sorry, but I can't date you because you don't know the difference between it's and its'," I replied.
As much as I was joking, I really wasn't. I know that I would really judge someone who couldn't construct a sentence properly. I write for a living. Can you blame me if I think that great grammar skills are sexy?
Once, a guy was writing something for me, like right in front of me, and, when he started to write perfect sentence…after perfect sentence…I started thinking dirty thoughts. I lie not. Okay…he was especially charming and good-looking too, but the writing was the cherry on the top.
Call it a fetish, if you want.
Call it a fetish, if you want. All I know is an English professor would soooo want me. I'm a writer; you know what I mean? And I love to see verbs doing nouns the right way, that is…agreeing with them. I love commas, full stops, correct word usage, and complete sentences.
You don't understand how much discipline and tolerance it takes, if a guy messages me and I see poor spelling and grammar. I apologise for my discriminatory ways, but how hard is it to understand that it's means it is, and its is a possessive pronoun?
If a person uses u or ur, I know it's a texting shortcut, but when you spell it out, and spell it incorrectly, I know you didn't take your vitamin G. I want to say hey, you meant you're – not your, their – not there. But then I don't want to make people feel 'ahow', or look like I'm being a nag or anal, so I don't. Imagine a fella telling his friend, "I couldn't handle Karel nah…She used to correct my English too much."
On the bright side, this need to edit people comes in handy, when friends and family want me to vet documents. But, a few months ago, I knew things were getting bad, when I read a Bible verse, and wanted to correct something I saw. Father…forgive me.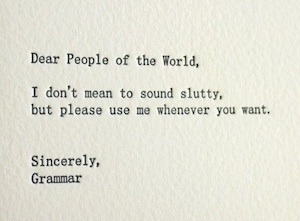 My mind is trained to zoom in on errors first. Blame a childhood love for Word Search, a subediting stint at a publishing house in London, and my many years of writing.
I felt compelled to write about this, when a friend wrote on Facebook, "If Grammar Police was an actual job, I'd totally do it. With glee. And tasers and cuffs."
Right now, I'm just an undercover cop, but I want to free the world from grammar deficiency. I'm sure that those of you who actually bothered to pay attention to your teacher's talks about clauses and dangling modifiers can relate.
I'm not unreasonable. I don't insist that we always use the Queen's English. But ah mean…when I'm writing poor grammar or Creole (which I do not consider to be poor language), I make it obvious dat ah writing how ah want becuz ah jes feel like it. That's a huge difference from the repeat offence of writing three sentences in one.
Maybe there's a plus to my compulsive ways. Let's say one day I become a parent; my English expertise will come in handy. My children will ace English Language, Comprehension, Composition, Vocabulary, and English Literature.
Projecting such a scenario makes sense. Why? I calculate the workflows involved with raising a child. One of the big workflows is homework. (Yes, my mind does reach far.)
This leads me to my arch nemesis – mathematics.
This leads me to my arch nemesis – mathematics. I hear about parents who need a friend or godparent to help with homework, because it's overwhelming for them. I don't want this to happen to me.
But I suck at maths. I suck so badly that I flunked it at CXC (I got a Grade 3, then a 2, when I repeated it the following January). I suck so badly…I can't remember most of my times tables. I suck so badly, that just last week I used a calculator to subtract 11 from 32, because my brain was too lazy.
It's dawned on me that the same way I'd judge someone's grammar skills, someone could judge me about my poor math skills. So a barter is in order.
I won't judge a man about his English skills, if he's good at math (I still want him to know the difference between its and it's, though). That way, I won't have anxiety attacks, when my child brings home trigonometry. I can't have my child go to school, and be embarrassed because he or she got all the sums wrong – all the sums mommy helped with.
So being of a reasonably sound mind, I know that I can't make grammar a real issue. The reality is that we learn most of the basics in primary school, and if you didn't catch it then, it's hard to understand the technical construction of the English language, later on. So does it make sense to try to change this in adults?
Besides, I'm sure there is some man out there who can sweep me off my feet with love letters that say:
"Baby you so sweet…you giving me rotten teeth. Ur so cool, ur so fly, your the only one in my eye. Being with u its like heaven i never felt a love like this before. I want to make you feel like your the only girl in the world."
If I want someone to accept my lack of math skills, I've got to subtract my judgemental ways. I won't write off someone because he's not a grammar god. Will I continue to silently cringe, when I see serious typos, caused by repeated grammar deficiencies, and not laziness? Yes. But, by the power invested in me by "New Junior English Revised", I will find a way to keep the sexiness of grammar alive.