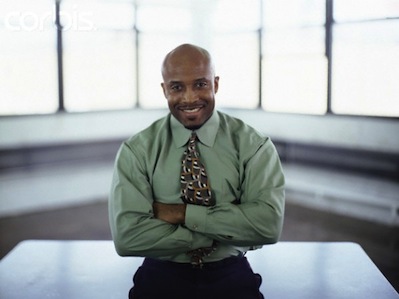 I'm Afraid of Black Men
|
Growing up in cosmopolitan Trinidad and Tobago, for me, the benefit of such a society was the ability to overlook race, creed, ethnicity, and, especially, colour.
Like some families, mine is mixed – with black, Indian and Spanish blood running through our veins. My father was the visual representation of a 'coco payol' – a latte of sorts – his skin tone the darkest of all his siblings. None of this mattered to me, as a young child, for a long time. Who noticed that there was a difference in our skin?
I remember sitting on my father's lap when I was about eight years old, and he told me he had something important to teach me. He wanted to teach me a nursery rhyme – one unlike any other I had ever heard, and one that bears a distant echo in my mind today. It goes like this:
If you're white, you're alright
If you're yellow, you're mellow
If you're brown, stick around
But
If you're black, stay back.
I remember laughing and asking my father where he came up with these silly expressions, and paid it no mind. However, these words found a place in my subconscious mind, and remained deeply planted into my adulthood. By the time I was 16, and was allowed to date high-school boys, I noticed a pattern in the men I chose. None of them were darker than my complexion. In fact, the closer they looked to black, the less I was interested.
"I was given eyes to identify differences."
Despite the undeniable mix of people in our society, who provided a cultured blend of Black, Caucasian, Asian, Indian, Spanish, French, Dutch and English, I was given eyes to identify differences. I began to notice shades of brown and white – further sub-categories of 'red' (yellow), light brown, dark brown, and light skinned (white looking, but not Caucasian) – a kaleidoscope of colour parading before my eyes.
I used to convince myself that I was simply more attracted to men who were lighter skinned, and that I wasn't making a conscious effort to eliminate darker-skinned men. Black was okay, as long as it wasn't dark chocolate.
When I was 19, I moved to the US, and this world of shades and grades took on a new meaning. It went from being a superficial visual stimulation to a visual representation of dislike and distrust. I was a foreigner in the United States, and it was 'us' against 'them' – Trinidadian versus African American. I didn't identify with the African American culture, but because I, too, was black, it was my assigned "box". Suddenly, I forgot the shades of black or white in favour of being a Trini.
In 1995, someone close to me, and not unlike me was raped. Date rape. My friend's perpetrator was not a stranger, and he was not a man with 'obvious' problems. He was an African American male, five foot seven, educated, aggressive, and dark skinned. This was my first, negative reality in America, and here was the reality. It could have been me. I could have been violated by "a brotha", the same identification of that box I was forced to tick. I could have been violated by the universal bond of black, violated by the very people who are encouraged to love and respect their Nubian queens.
So, he was one bad apple. Does it mean he has to affect the whole bunch?
For many years following my friend's incident, the mere thought of a black man close to me made me nervous. I didn't trust 'them'. I became one of those old, white ladies who would clutch their pocket books when a black man was within two feet. I wouldn't go to clubs that were predominantly black for fear of being stabbed, shot or God forbid – spoken to. I wouldn't listen to Rap and Hip Hop music because that potentially made the wrong statement.
"… the mere thought of a black man close to me made me nervous."
I refused to buy anything Tommy Hilfiger, Enyce, or Baby Phat because that was what the black girls wore. I wouldn't dare think of putting extensions in my 'good' hair nor would I speak loudly since that was a 'black' thing to do. I avoided any black vernacular, and alienated any possibility of encouraging relationships with black men or women.
As a result, I had many Hispanic and Caucasian friends. I was heavily criticized for the company I kept, but I rationalized that those who had the most to say were jealous because I was capable of diversity within my so-called inner circle. I kept telling myself that I didn't see colour in people. I was attracted to good karma and genuine personalities. I was open-minded, and if I chose to, I could have black friends. And I do.
Of course, I was mentally tangled and soon to be tortured in my own web of deceit. I couldn't see a black man without wondering what our children would look like together. I'd look at his hair and skin tone, consider his intellect, and begin some fantasy of a genetic creation, but no matter how good looking he was, something would come up short. It had to. There was no black man good enough for me (was there?). There was no black man who could treat this woman right. What I was saying to myself in the unhealthiest mantra was that I was too good for any black man, and he couldn't ever be worth my time.
"There were West Indian, black men, and then there were African American, black men."
Without any consciousness of how I was programming my subconscious mind, I was a hater of my own race, but still I didn't see us as one race. There were West Indian, black men, and then there were African American, black men. Admittedly, there is a difference in the value system in terms of the way both are raised and what values ultimately become important. They are taught different ways to demonstrate love and respect.
Historically, African American men have grown up in more hostile environments because of the high influence of race discrimination in the United States. For me, that translated to anger, insecurity and being judgmental. They were used to being victimized, and were often on guard for retaliation against masked, white supremacists.
I was on guard against them. I noticed that I became highly critical of black men almost to the point of absurdity. If a black man sat next to me with dreadlocks, I immediately turned my head away because I felt they were 'inappropriate', and that such a person could not be gainfully employed since he didn't fit the mould for corporate America.
A black man who stared at my breasts was likely to receive a harsh reprimand, while the same act would be received as flirtatious and appreciative from an attractive non-black man. A black man who ordered Scotch was trying to score, while a non-black man was cultured with refined taste. My biggest discrimination was probably against those who never travelled outside of the USA. I thought they were narrow-minded simpletons who had nothing to offer me, and having travelled to Europe, the Caribbean, and Africa, I believed that new cultures expanded one's thinking.
So why did I only see these faults in predominantly black men?
The fault wasn't the men I saw. The fault was the unhealthy programming I responded to. Maybe I was so hung up on what was wrong with these men that I never saw the ones who demonstrated all the right things.
There are brothas who treat their black sistas with the kindness and respect they deserve. I have an older brother who, despite his bravado, is quite chivalrous and although he chooses to live a more humble lifestyle, it doesn't make him less ambitious.
Perhaps it was because of my own perception of race and colour, tainted by media presentations, and my own experience of cultural clashes that I had a hard time seeing anyone for who they are regardless of the skin they lived in.
In my travels, I have seen such variety, and such pride in tradition, heritage and culture, that skin tones now cease to exist to me. I have gained an appreciation for difference, and a general acceptance of idiosyncratic behaviour. I am neither judge, nor am I jury. The observation of difference has led me release my ethnic burdens to see that, at heart, most of us are very much the same. We are all human beings seeking to express love for the duration of our assigned lifetime. Everything else is an illusion.
Related article: African Identity and the Man in the Mirror
Check out the rest of this week's issue (23/05/11; Issue 58):
Look out for a new issue of Outlish.com every Monday!