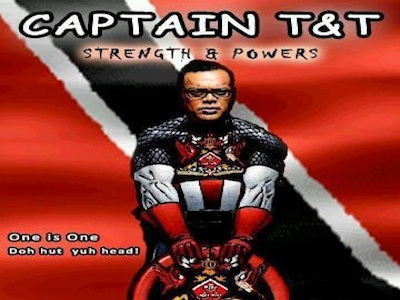 Ian Alleyne: Less Batman, More Booster Gold
|
Batman didn't become the most badass of super heroes because of his gadgets, or his ability to 'beat up' psychopaths, crocodile men, and high-level gangstas, while wearing skin-tight, leather leggings, and a bulletproof jockey shorts.
Batman is the most badass super hero ever (barring competition from Wolverine), because he has no super powers, yet his intellect, detective skills, tactics, and ability to intimidate are unparalleled. And the man has character.
Bruce Wayne, Batman's alter ego, chose a caped crusader as the medium to tackle crime and corruption in Gotham, because, as badass as he is, Batman knows that it's way smarter to don a masquerade, maintain a low profile, and not reveal his true identity, than to casually walk through the streets, mike in hand, dressed to the nines in a suit, while talking to a camera crew.
Ian Alleyne, the latest media personality Trinis have come to love or hate, depending on your worldview, obviously derives no satisfaction from quietly conducting intel from a bat cave under his house. While the thought of comparing Ian Alleyne and Batman is preposterous, even to me, I still get some sort of kick about doing it, being the comic fan that I am.
Now, there are different depictions of the bat. In some depictions, he's almost psycho, seeking vengeance over justice; in others, he's softer. I'll go with the Saturday cartoon version, as most people would be familiar with this. The darker Batman was too gritty and grimy for kids… kind of like "Crime Watch" – with its footage of dismembered body parts and the raping of a minor.
"Crime Watch" has become "The Ian Alleyne Show" – less about reality, and more about show. That's why I say Alleyne might be more Booster Gold than Batman.
If you're unfamiliar with the world of comics, here's the background on Booster Gold. One of the lesser known DC heroes, he's a glory-seeking character from the future, who uses his knowledge of historical events and futuristic technology to stage high-publicity heroics. He has no real super powers. He is a shameless self-promoter who is obsessed with fame and wealth (sounds familiar?), and only went back in time to seek them, because he's a failure in the future. Eventually, he realizes that he can't be a hero who's just looking for fame, and decides to become a true hero, because action, and not praise, is where value lies. But it took some personal tragedies and humility-inducing events to bring him to this realisation.
When "Crime Watch" first started, it offered a ripe platform for Alleyne to empower people, and be the crime fighter we'd love. But then the showmanship took over. Why? Because he thinks he is Batman. However, his story has more parallels with Booster Gold's. Whether he'll come to the same realisation as Booster remains to be seen. Whether TV6's suspension of his show will be a humility-inducing event for him seems doubtful. Right now, he's busy inviting his supporters to sign a petition get the show back on air ASAP.
But here's where he can take a page from Bats.
Batman, in all his "doh mess with me" persona, never compromised doing what's decent. He was always aware of the potential effects his actions had on the less fortunate and the victims of villains, because his very being was a direct result of understanding what it felt like to be powerless and in their shoes.
Batman is a vigilante, no doubt about it, but he's a lovable one. He does his job quietly, and hands over the criminals to the police. That's why no matter how much people paint him as a vigilante, he's a hero to most.
Some call Alleyne a vigilante. Some call him disgusting. He thinks you all are just jealous. And what boosts his belief are his blind fans who think he can do no wrong, including the 297 plus, who, up to last night, professed that they were missing the show, life is boring without "Crime Watch", and that people were trying to tear down the forces of good.
This perception of him being a saviour, a de facto minister of national security, restoring balance to the plains of good and evil in Trinidad on candid camera, makes him relentless in his pursuit of justice. Doh hot up yuh head. The hunt is on. But now that it's off – at least on TV6 – his mission has been thwarted.
Amidst all the brouhaha, no one doubts that Alleyne has ever done any good whatsoever. But when a man hallucinates about which level of super heroism he's at, and forgets that the means do not justify the end, someone needs to show him the bright lights. Director!
We could say that he has to resort to alternative tactics, because – unlike Batman – he lives in a country where the police commissioner doesn't even begin to compare to Gotham's Commissioner Gordon – a cartoon character! The sort of red tape and inefficiency he may encounter must surely frustrate him and cloud his judgement.
But any champion for the people, super hero or non-super hero, can never let his cause be about him. The very nature of his mission requires that he strip personal pride, and not seek praises. I mean, Mahatma Gandhi never got up during one of his fasts to thump his chest and say, "Allyuh should be thankful for me because I doin' what half ah allyuh not brave enough to do".
No, a champion for the people goes about conducting missions, with humility, compassion, and grace.
On his Facebook page, Alleyne says, "I don't live for friends. I live for justice". If he gets back on air, hopefully he'd have learnt Booster Gold's lesson by then, and will maximise the potential a show like "Crime Watch" has to do good – without the theatrics and disregard for how it affects members of society. The question is, will "Crime Watch's" host change his approach, if given a second chance?
Update: Today (Novmeber 14, 2011), via his Facebook page, Ian Alleyne announced that "Crime Watch" will be back on the air, starting today.
Check out the rest of this week's issue (14/11/11; Issue 81):