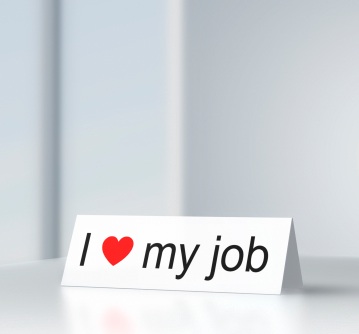 How to Find a Job that Makes you Happy
|
Whether you have just finished school or you're in between jobs, it's time to dust the cobwebs off your résumé and find that job with your name on it.
Finding the job that is best suited to you is not something to be taken lightly. It is hard work, and because you don't want to end up miserable and unhappy in a dead-end job, you've got to be patient and persistent in your quest. Here are some tips to help you make that transition, and land that job of your dreams.
Knowing what you want
You have to know what you want, and what you bring to the table. You need to know yourself inside out. Being fully prepared to tell your story will come in useful not only at the interview, but also as a gauge to see where you fit best. Do you like to work alone or in teams? Where are you most comfortable – at a desk job or on the field? If you prefer to be on the go, you may want to consider jobs in sales, social work, debt recovery or news reporting. Can you work flexible hours, including long hours, weekends and public holidays or do you prefer fixed, working hours? If you prefer the latter, then a job in the media, protective services or medical profession is not for you. Do you feel comfortable being supervised or do you prefer jobs where you can more or less work on your own and submit reports? These are some questions you need to ask yourself.
You may also want to compare your goals with that of the organization you seek to work at, and determine whether they are aligned. This is reflected in the company's mission and vision statement. You don't want to start a job and then realize that you are going in different directions, for example profit maximization versus adding value to society. Although it is not always possible to 'pick and choose' which jobs you want, when thinking about your long-term goals, you can make a decision based on your likes and dislikes, and strengths and weaknesses to determine which companies you need to research before sending out those résumés.
Research, research, research
If you want to find the job where you will spend the next few years, share your ideas, acquire experience and receive acknowledgement for your work, you will need to know what kind of company you will be working for and to find it, you've got to do the work. See what information you can garner online. In addition to googling the company or scouring its website, another useful website to check is Who's Who in Trinidad and Tobago Business.
Based on these results, you will determine what's your next step, which companies you want to scratch off your list or the ones you want to get more information about. If the latter holds true, then you may want to call, email or even drop by the organization to gather even more information so as to answer any burning questions that you may have.  You need not even go beyond the receptionist who may be capable of providing adequate information. You may want to observe little things like how the staff is treated, and if they appear to be happy or disgruntled. A receptionist who answers the phone in an offhand manner, and is reluctant to share information on the phone is not a happy camper (although her attitude may not necessarily be a reflection of the company's culture). Whether the company has a reward and recognition programme or staff appreciation day is another indicator of whether management values the input from staff. The published profit and loss statement should also indicate the success of this company, and whether you would want to invest your time in such an organization.
Networking
Networking is key to career mobility. You may want to join groups and associations so as to keep abreast of recent developments in your field, receive job alerts and tips, and socialise with other professionals – who are often great leads for job opportunities. Even within your own social circles, you can ask questions and keep an eye and ear out for possible job openings or information about a company that you may want to work for.
Knowing what you want out of your career is crucial when starting your job search. The worst thing that could happen is you find a new job, and then discover it's far worse than the one you just left. That's why you've got to be extremely patient and ensure that you pursue job leads that will most likely lead to a happier you.
Carolyn K.  Correia is a Human Resource and Communications professional with over five years' experience. Follow her at http://inspirationescape.blogspot.com.
Image credit: The-Lane-Team