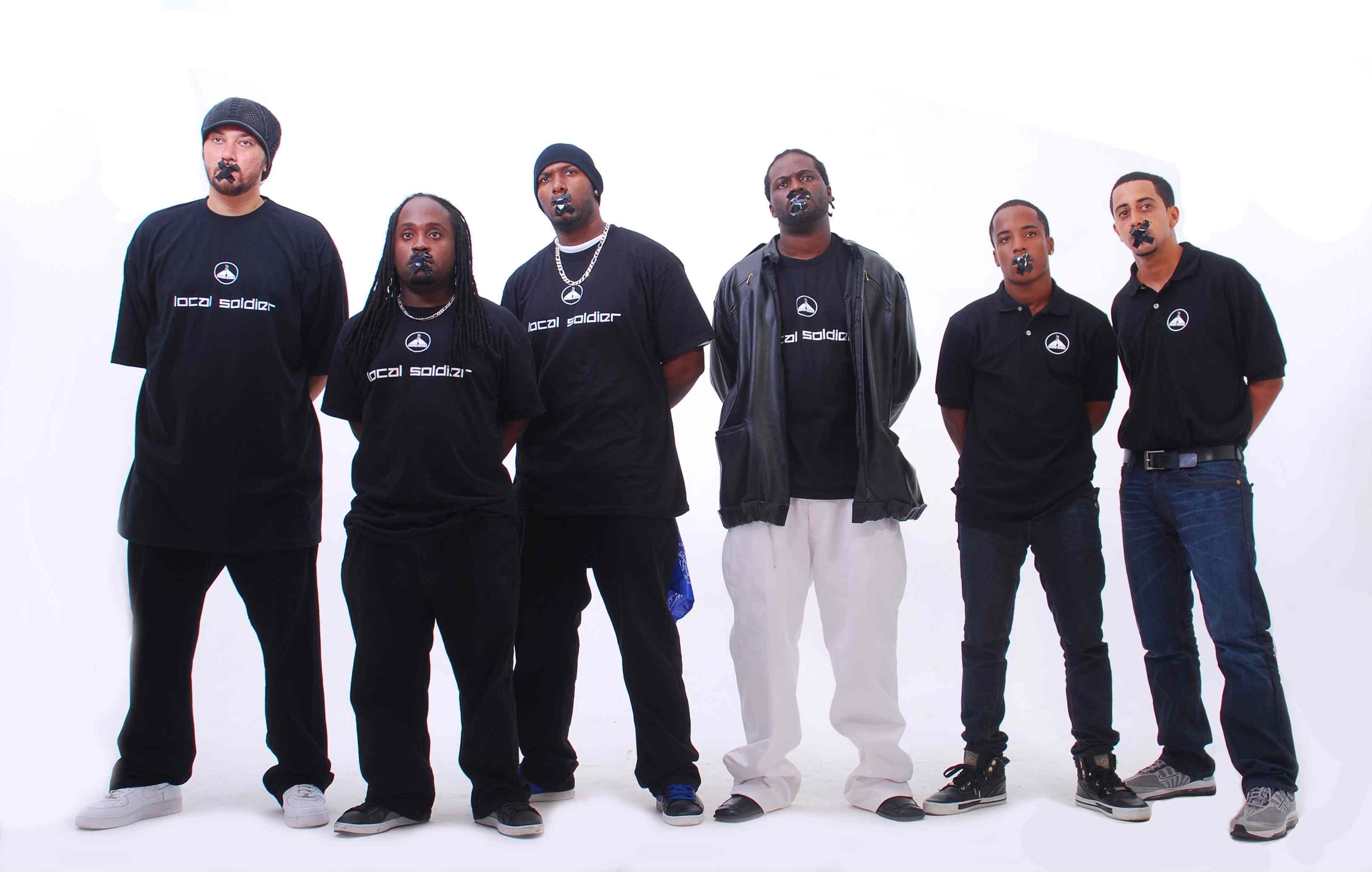 Highway Records: Fighting for Royalties
|
From L to R: Chromatics, John John, Kane, Andre Prescod, Lil' Saint, and Stuart Fortuné.
Fight down, fight down, and more fight down. That seems to be the life of the local artiste.
Most recently, the frustration that local musicians feel was openly aired on Facebook, as Highway Records, most known for their Hip Hop and R&B acts, let the world know about a recent decision taken by the Trinidad and Tobago Publishers and Broadcasters Association (TTPBA), which allegedly paves the way for radio stations to not pay royalties to their collections agent of choice, Awesome Limited.
Highway Records cofounder, Stuart Fortuné, has strong views on the situation, but here's a background before we head straight into his interview.
While the Copyright Organisation of Trinidad and Tobago (COTT) remains the largest and most familiar of copyright agencies for local artistes, there are others. Awesome, headed by Sherwin Fortune (no relation to Highway's Fortuné) is a much smaller agency that was chosen by Highway Records, because of its quality media tracking capabilities and accounting practices, which digitally log every time a song from Awesome's playlist of artistes hits the airwaves.
In a letter, dated July 23, 2010, the TTPBA – a non-profit organisation, which boasts a membership of forty radio stations, ten television stations and three newspapers, and was designed "to share concerns, resolve issues and develop the media industry in a way that would be beneficial to all parties" – informed Awesome that the music it published was "not generic to all of us (TTPBA members) and is really targeted to specific niche markets… Your company does not represent more than 5% of any of our joint membership's repertoire".
However, this seemingly made it okay for radio stations to not pay royalties to Awesome.
"We are not here to blacklist people."
"We are not here to blacklist people," Kiran Maharaj, President of TTPBA assured me in a telephone call last Friday.
Maharaj likened the situation to this.
"If I belonged to a club house and I was paying to use the club, but then I'm not using the facilities, why should I continue paying?"
That's how some members felt. Except in this case, the 'club house' was Awesome's music, and the defunct 'club member' was the membership of TTPBA. Maharaj explained that a few of TTPBA's members played Chromatics (Highway's other cofounder) and other Highway Records artistes, and she was aware that at least one member was a paying user. The TTPBA does not pay royalties; the radio stations do, so if Awesome is having a problem collecting royalties, they should address the radio stations, which is exactly what Awesome did.
The TTPBA's letter came after Awesome had approached radio stations for royalty collection with proof that their (Awesome) music was part of stations' repertoire. The same day the TTPBA's letter was dispatched, all radio stations, except for 94.1 FM Boom Champions, discontinued airplay of all artistes on Awesome's roster, which wasn't as much as international acts get anyway.
"This situation is not a good motivator."
"I am a bit concerned about the development of the local music industry when you have quality artistes being treated this way because of their copyright affiliations," says Awesome's Vice President, Sherwin Fortune. "It is just wrong and should not be allowed to continue because Trinidad and Tobago's economy needs these local artistes to continue to create great music and this situation is not a good motivator."
Besides Highway Records artistes like Chromatics, John John, Andre Prescod, Kane, and Lil Saint, Awesome represents artistes from a slew of genres, including Reggae (Daniel Bless and Abba International are just two of their reggae artistes), Gospel (Professor Noel Richards, and Pastor Terance Baynes), Calypso (King Simon and Percil Nock Boyce), Soca (Mr. Lee and Gary Hodge), and Classical (Charles Brunner). So this situation doesn't affect just local Hip Hop.
The removal of songs by radio stations is no urban myth either. In a letter dated August 16, 2010, Louis Lee Sing, Executive Chairman of Citadel Limited, which operates popular, urban, youth station 96.7FM told Awesome, "Kindly note we have taken steps to ensure no further airplay of the artists provided on your list. I do hope this settles the matter".
So by discontinuing airplay, the matter has been settled?
While other stations did not issue official correspondence to Awesome, according to Stuart Fortuné, of Highway Records, unofficial whispers from other stations was that the music had been removed – a point proven by Highway Records seeing a decrease in airplay for their label's repertoire from approximately 17 to 18 plays a day, to one, if so much. And finally, as it becomes less conspiracy theory, and more slow-motion-crash-scene, Highway Records artiste, Chromatics and John John's song "Cold Blooded" went from being number one on Synergy's "De Scene" countdown, for the entire month of June, to totally disappearing from the lineup.
"Cold Blooded" by Chromatics and John John.
Although the TTPBA states that the reasoning behind the letter was to avoid royalty collection from members of TTPBA who do not play Awesome's repertoire of music, the result is that Awesome's artistes have inadvertently become victims of 'the system'. Furthermore, Awesome has not been able to collect royalties for music already played, and artistes are stumped in their career development, as they no longer have a local market to shop their goods, with some of them, such as Highway's 18-year-old Lil Saint, having to halt production on new work.
Maharaj notes, "It took us ten years to get a relationship with COTT". Hopefully, it takes less time for the TTPBA and Awesome to resolve the matter.
In chatting with Maharaj, she gave her view about the workings of radio land. According to her, local music is not profitable. The impression given is that most local music is sub-par in engineering and production quality. Everyone was 'trying ah ting', and unfortunately it was not radio-worthy. It had something to do with T&T not having a national school of music or school of production and engineering. It wasn't the media's fault that these fundamental facilities were not in place to produce artistes who can deliver international standards of production.
However, can a financially 'broken' musician produce the sort of engineering and production quality of a Swizz Beatz or Kanye West? According to Highway Records' Fortuné, they still manage to produce high quality production, despite the odds.
Interestingly enough, the TTPBA is very much interested in staying abreast of Awesome's media intelligence technology.
Fortuné, cofounder of Highway Records, sounded off on what's at stake, and, more importantly, how Highway, via Awesome, will seek to collect what's owed.
O: So, this whole situation with TTPBA, did you guys see it coming?
SF: I honestly did not think a situation like this would ever arise in a paradise like Trinidad. I was totally blindsided by their decision in light of the fact that evidence was presented to them for use of the music by their members.
O: And fundamentally, what they're trying to say is that the music coming out from Highway Records is not relevant to radio listeners?
SF: What they are saying is that Awesome's repertoire is not relevant. Yes, Highway Records is included, but they are not singling out Highway Records specifically. It's probably just a coincidence that as soon as we asked for our money, the TTPBA gave their directive, ent?
---
O: Do you know if COTT has received a similar letter?
SF: I really can't answer that question.
O: Even before this incident, with Awesome having a smaller percentage of local music publishing compared to COTT, how was it to get your artistes airplay?
SF: Things were terrible back in the day, too many stories. It is difficult in every country for a local artist to get airplay. Some radio stations consider airplay as a three-minute advertisement for the artist and that he/she should pay, in some way, and other stations think differently.
Chromatics has been doing this for more than ten years now, and yes the earlier years were a major challenge, but those were the years that he needed to find himself as an artist. Within the past few years, Chromatics has performed in Toronto, the UK and USA. He has fans on every continent, and his music is very good. His stage presence, quality music and never give up attitude are why his music was so heavily played. He received so much airplay that he was able to successfully introduce four other artists to the market (with over 1000 combined plays). At least they didn't have to go through what we did.
O: Currently, what is the percentage of international music vs. local music on airwaves?
SF: I would roughly say 80-90% international with the remainder being locals.
O: So Awesome and furthermore Highways Records and its artistes, are fighting for a very small slice of the pie?
SF: I don't know about any pie. We are fighting for what is ours. Producing these hits cost lots of money, and as a company we need to maximize all streams of income to recoup these costs. Royalty collection is as serious as it gets for creative persons.
O: As a born & bred Trini trying to make your mark on the world, how does it feel when another Trini says your music is, "not generic to all of us and is really targeted to specific niche markets.."?  I mean, if it's made by you, and you're a Trini, isn't it Trinbagonian in some way?
SF: All I would say is that Awesome's repertoire consists of publishers, authors and composers of many various genres. That comment stomps me.
O: How do you think the DJs feel about this controversy?
SF: I know for a fact that many DJs are upset about this matter, but what can they do? You can't expect them to risk getting fired now.
O: How has it affected your artistes?
SF: This has actually galvanized the entire team. It has provided a lot of material for any artiste to work with. Hopefully something beautiful might come out of it.
O: So besides sending e-mails and posting it on Facebook, what other action is Highway Records taking?
SF: Well actually I'm currently doing an interview for Outlish Magazine… just kidding. We have our plan, but I really can't discuss it.
O: Some are saying we can petition stations to play your music, but what you really need addressed is the issue of payment. What are the rights of broadcasters vs. performers?
SF: Any song played in a public broadcast such as commercial radio has to be licensed, that's the law. We have over 1,000 documented cases of our music being used on-air. Furthermore, some of the songs were even used in commercials without any fee being paid. I guess the broadcasters have all of the rights.
O: This literally means that you and your artistes will not be paid royalties. The payment of royalties has always been an issue locally. What sort of redress is available for Highway and Awesome?
SF: The laws of Trinidad and Tobago. We have signed intellectual property treaties. We even have an Intellectual Property Office in the Government. Well at least that's plan A.
O: They say you only represent 5%, but what are the rules exactly where percentage of plays impacts payment? Are there any? Should percentage even matter?
SF: If my song is played once, you have money for me. It is against the law to have unlicensed music broadcast to the public. To make the song legal, you must pay the fee. Other than that, you're no different to a pirate on the street.
O: If the 'underdog' wins this one, what would the outcome look like?
SF: Picture this. Back in the 1930s to 1950s, Trinidadian music was the music of the world.  When this is over, I hope to see a second coming of that era. An era when culture is encouraged and our youth can prosper. An era when artists are valued and intellectual property is respected.
O: Any other thoughts you'd like to share with the people out there supporting Highway Records and more importantly, supporting local artistes?
SF: Culture solves crime. We must encourage our youths to pick up a guitar as opposed to a gun, and allow them the chance to make a living off of that guitar, so that they are not tempted by that gun.
**As the legality of this matter is being worked out, Maharaj made it clear where the true power of the media lies, the listeners. The easiest way to ensure local music is being played and that it is financially viable for our talented youth to become full-fledged artistes is to request them. Request local artistes! Support your own.**
To check out Highway Records, visit www.myspace.com/highwayrecordsltd and their office in Curepe, directly opposite the Priority Mall, to purchase music or call 868-383-2042. You can also listen to and purchase their artistes' music at the following links:
Chromatics: http://chromatics.bandcamp.com
Kane: http://kane.bandcamp.com
Lil Saint: http://lilsaint.bandcamp.com
John John: http://johnjohn.bandcamp.com
You can also check out Awesome at http://awesomelimited.com
"Basement Party" – Chromatics featuring 12.
Images courtesy Highway Records.