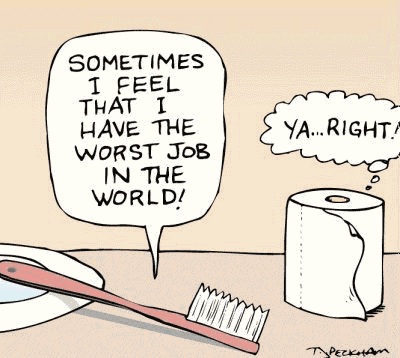 Hate Your Job? Or Hate the Routine of it?
|
Office politics, heavy workloads, low pay, long commutes, limited potential for growth, and, of course, 'Dragon Lady' the supervisor to contend with. Is it any wonder you hate your job?
Okay, maybe not everyone has been slapped with the misfortune of having to drag themselves to a miserable workplace Monday to Friday, but others liken this simple act of going to work to that of being 'sentenced' – sentenced to life without any chance of parole.
To make matters worse, the problem of job dissatisfaction has been compounded with constant reports of our failing economy. Everything from the recession, rising food and gas prices, and the growing unemployment rate have been analysed, criticised and publicised, leaving us all scratching our heads and crying out for a damn break!
Now I'm not saying that we're a depressed society, but being on the receiving end of constant 'bad news' does take its toll psychologically. It has moulded us into thinking that as long as we have a steady pay cheque coming in each month, along with health benefits and a growing UTC retirement plan, we have nothing to complain about.
But listen. Do the ends justify the means? Is this it? A steady 9-5 job, regardless of how badly your supervisor may be treating you or how dispassionate you may be feeling about what you do each day? I'd like to think the answer is, "HELL NO"!
Sometimes, what we hate most about our jobs is the daily irritations and nothing to distract us from the mundane routines. Realistically, we can't just 'drop' everything and quit, so it's all about developing coping mechanisms, and with careful planning, a bit more ambition, and little reverse psychology, the situation at work can be improved. Here are a few suggestions that might ease your pains.
Gain clarity
It really doesn't make sense to waste substantial amounts of energy maintaining misery in one's life. Instead, channel that energy to your own advantage by creating a plan of action. Identify five things that may have caused you to feel dissatisfied with your job, and then knock out each issue, not the supervisor mind you, just the issues. Having insight on the things that make you feel miserable on the job provides clarity and clarity, folks, works best when properly organised!
Tap into employers' resourcesZig Ziglar wrote, "It is your attitude, not your aptitude, that determines your altitude". Okay, so maybe this attitude thing is easier said than done, but the fact is, one's attitude is a key player in alleviating many negative feelings associated with job dissatisfaction. Get your 'Sherlock' on and try to find loopholes that may improve the situation. Many companies for example offer to pay for education. Tapping into those resources could help you maintain your competitive edge, and, in turn, open up other lucrative opportunities in the future.
Create a side hustle
Furthermore, it never hurts to be one step ahead of the game, especially if you're feeling stifled on the job, and thinking there's limited potential for growth. Maybe this is just the opening you need to pursue some of those long-time dreams.
Now I'm not saying to do so on company time cause that would be plain wrong. Rather, use your spare time efficiently to help propel yourself to where it is you want to go, be it online with a business venture or with something more tangible that involves your creative side, like cake making or makeup services. This would also put some fun in your life, making it a bit easier to cope with stress on the job.
Be nice. Improve the atmosphere at work
I know some folks would swear that their co-workers are related to Lucifer himself, and they maybe convinced of that, but in all likelihood that is not so. You see, like yourself, many people are walking around with pangs of frustration, trying to cope with life as best as they can. Seeing this as an opportunity to do something that could improve the office environment makes you stand out from the pack, and sets the bar for everyone else to aspire to.
Compliment someone on a job well done and continue to think of ways to improve the atmosphere at work. Bringing  snacks and goodies has always been a power play in matters of the mind and if dished out carefully on a Friday, chances are, all those 'stiff necks' might come around (especially if it involves a pelau with a bess cole slaw). Okay, maybe only for just one day, but still, one less miserable day on the job, I'd say, is well worth it!
If you've tried all these tactics, and, after a great deal of introspection, concluded that the problem is your boss, don't be a coward, which is not to say you should go Mike Tyson on management. Deal with matters like an adult. Trying to sort things through in your most professional, straightforward, yet humble, team-player face is key to conveying your frustrations.
The last thing you want is to be misconstrued as being insolent, so choose your words carefully when talking about that pay raise (if it's overdue) or the heavy workload you're burdened with, while maintaining professionalism. Remember, if at any time you're tempted to lose your cool, take a chill pill! Be proactive and find ways to make your work life more satisfactory.