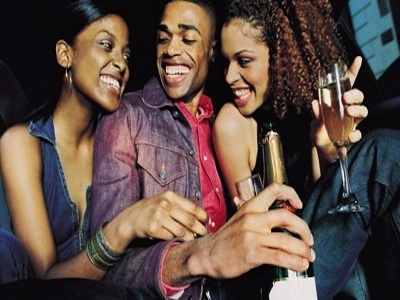 Groupships and Friendships: Can you move in a clique?
|
Friendships can be tricky at times. Ultimately, a friendship is a relationship, and we all know that some relationships are made in heaven, and some are destined for hell. Add a clique to the mix and things begin to get a bit sticky.
I don't know how it works for guys (or mixed cliques), but especially when women-only groups are involved, history has proven that drama can erupt from the least expected of places. And having been a woman for the last 31 years of my life…and having heard stories…and having experienced things myself, I don't think that's an overgeneralization.
This is not to say that guys don't have drama of their own. I know of one clique where at least more than one homeboy has tapped the ass of another friend's ex. Somehow they managed to work it out, and though everyone is still cool with each other, there's no doubt it has put some wedges in the clique.
But let's leave gender out of the discussion for a few sentences.
When you have a one-on-one friendship, it's easier to connect, and, as social creatures, humans naturally gravitate to each other. Some of us end up becoming friends or acquaintances with friends of friends, and so cliques are born. Sometimes the clique is tighter than tight, and all members of the crew genuinely have each other's back. But not every clique is functional. Sometimes, a clique is just a unit of convenience. Which brings me to the question, can you move in a clique?
I know I can't. And I was reminded of this, when a friend recently mentioned some drama that erupted with some of her friends. So I got to thinking about the factors that come into play with a clique aka a groupship vs. one-on-one friendships.
Group think vs. a mind of your own
Remember in secondary school and primary school, when people wouldn't talk to someone because one of their friends didn't like the person, even if the standoff was based on pettiness? That was serious group think at it's finest. But somehow this transfers to our adult years as well.
Some people think that being friends means doing what they say, agreeing with them on everything, telling them all yuh business, or spending quality time together every week. If you don't pass your life decisions by them, or give them the details of your current romantic rendezvous…they have a problem. However, knowing the intimate details of someone's life isn't your right. It's a privilege, and a sign of trust.
As you get older, you find that some crews stick together. Some stay in touch constantly. Some grow apart. Some don't move as a pack anymore, and live their own lives, but are just a phone call away if help is needed. Still, there are some people who have a real problem when you move off and don't spend much time with the clique anymore, even if it's for a good reason. Cue big, 'hard back' women who complain because Rebecca won't join them for a night out at Levels, or the guys who complain because their homie doh lime with the boys anymore because he'd rather stay holed up at home with his wife and two year old.
Which leads me to…
Dictatin' yuh pace
Just the other day, a friend complained to me about her clingy crew…wait…two friends complained. The first wanted me to join her on an outing her liming crew of, because she needed someone who she felt she could have real fun with, and who wouldn't judge her 'wileness' because her crew was 'stiff'. My response was, "No". Plus, why lime with people who you can hang with, but can't be yourself with?
My other friend complained about one particular member of her clique who insisted on being the planner, and "the one to say go and we jump", as she put it. They wanted to make a girls trip, and she couldn't make it.
"Dey doh appreciate when you want alone time," she says.
That same friend on Facebook blocked her, all because she declined to go on a trip with them… and these are adults in their late 30s and early 40s we're talking about.
That's the thing with crews. There will often be someone who will get upset, say yuh doh want to lime wid de crew and yuh messin' up tings, and mumble because you lime stronger with only two people in de crew. Thankfully, I haven't been in this sort of situation since my teen years because I only 'move' with my close friends, and not a crew per se.
Which brings me to…
Real friends vs. liming buddies
Ideally, a clique should be like Ross, Rachel, Chandler, Joey, Phoebe and Monica on "Friends", or Carrie, Samantha, Miranda and Charlotte on "Sex & The City". Your clique should be able to lime together, ketch kix together, support each other, not 'bad talk' each other, and keep everything 'corpasetic' (that means everything jes cool).
But, sometimes, not everyone in the crew is your real friend. You might only really like or trust two or three people out of a crew of six people. To me, a real friend doesn't count how many times you lime, or only think of you when they're looking for company. And when you're in a clique, unless you're in the most ideal and closest of cliques, you have to be careful about who you share your personal business with.
In a clique, you don't know who's real, until a test comes. And when that test comes, you realize who will spread yuh business without batting an eye, who will judge you, who will genuinely be there for you, and who will leave you stranded.
Some people are lucky enough to have a crew they can depend on, as well as separate 'ride or die' friendships. To you, I say count your blessings.
Balancing personalities
Cliquing by accident happens to all of us. In becoming friends with friends of a friend, you're bound to meet strong (or meek) personalities with whom you may clash, or who don't share your interests or values. The trick is keeping those clashes to a minimum. True friendship is like a relationship, so it's a matter of compromise, and understanding personalities and how to deal with them.
If your clique has continuous drama, then maybe it's time to make a change quicker than a prime minister can say, "Reshuffle".
Still, even with all the potential drama cliques can bring, I do think that if you find the right mix of people, a groupship is a beautiful thing. I just prefer to have my 'ride or die', one-one-one friendships. Plus, you can always mix your clique and your individual friends. All of my friends know each other, and if you put us all in the same room, we'll have epic limes.
When it comes to groupships and friendships, what's your preference? Can you move with a groupship that just has to do everything together, or do you prefer having a few good friends where everyone does their own thing?