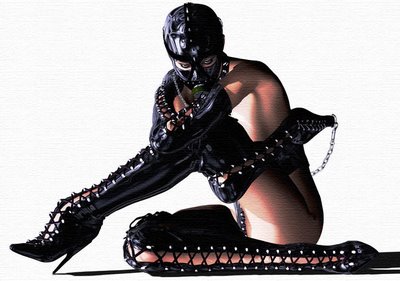 Fetishes: Why We Hide them from Ourselves and Others
|
Can I tell you a secret? The person you're dating probably has a fetish you don't know about, and I'm guessing you probably have one of your own.
There's a girl in my class who claims she can't get off without seeing, wearing, or thinking about sneakers. At first, it sounded a bit weird, but after a few seconds, I presumed it made sense. Sneakers were her fetish. Now, before we pull out the holy water to sprinkle on the poor thing, let's take a look at fetishes.
People can turn anything into a fetish.
People can turn anything into a fetish. Some of us are a bit mild with it, while others take it to the extreme. The simplest way to define a fetish would be something that becomes the centre of someone's sexual universe, that is… they can't experience any type of pleasure or climax without said object present. If you have a fetish, you obsess or fixate on an object or a body part. You need to fantasize about it. A fetish isn't simply a preference. It's something you need… like how my classmate who needs sneakers to get off. So, ideally, homegirl won't be able to get her groove on if, say, someone were to swipe her precious sneakers… bad thought, bad thought. Stop, Joshua.
Seriously though, do you think fetishes are bad? Let's take into consideration that society has a way for marginalising sex; mainly, you're only supposed to assume the missionary position and pop out babies when you knock boots. And, as with anyone different, people with fetishes are often made to feel inadequate and embarrassed about it. But in reality, a fetish could be a unique part of someone's erotic signature, like a fingerprint, perhaps.
"… a fetish could be a unique part of someone's erotic signature."
There are many kinds of fetishes, from the animate to inanimate. So they can range from anything from having a thing for douglas, watching porn, or women with huge breasts or butts to leather, stilettos or piercings to get off. For some of us, a fetish may be something seemingly weird… like sneakers. On the other hand, it may be having a thing for sucking toes (or fingers), which mightn't seem so weird to some.
Here's a question: who amongst you would reveal to the person you're currently doing, dating, or married to that you have a fetish? Would you hide it for fear of being considered a freak, or be like my darling classmate and share it? I guess it may seem easier to wait until the other party reveals his or her kinky nature before you come out with your own secrets.
Some of you may say, "But I don't have a fetish?" or "How do I know if I really have a fetish?" Take me for example – once you're mixed, you could definitely get a bligh, wink wink. In all actuality, though, this is not a fetish, but more of a preference of mine. If I weren't able to become aroused without being with a mixed person, then it would be a horse of a different colour. Basically, once you can't get off without thinking about, looking at, touching something, then more likely than not it's your fetish.
"Men make up the vast majority of those affected by fetishes."
Now for some science… Research has shown that men make up the vast majority of those affected by fetishes, and that the fetish is usually formed sometime before puberty. How are they formed? Well, there are two theories. The first is that it's a psychological thing, whereby experiences of arousal are linked to an object, and over time the line between the two are blurred until the person can't tell the difference. The second theory deals with more of a biological nature, where there are some wires crossed in the brain. The strongest case for this would have to be foot fetishes, where the nerve endings for your feet and your bits 'n pieces are so close, the brain can't tell the difference between the two.
Still, these are only theories, and we still have no idea what the exact cause of fetishes is, or if they could be changed. The vast majority of fetishes are not dangerous, except for autoerotic asphyxiation (self-induced asphyxiation, sometimes to the point of near unconsciousness). However, the moment it impedes on your love or sex life, or requires the violation of someone else's rights, then it may be time to seek some professional help.
And, I'm not gonna leave you hanging; I've scoured the Web and found some interesting fetishes. Here are a few of the popular ones, and some you may not have thought of:
– Like fire? If you're a pyrophiliac, you won't mind getting burned.
– If your partner loves to do the do when you have a flu, they may have mucophilia, an obsession with mucous.
– Autagonistophilia is a fetish for being on camera. It's probably how the first porn video was made.
– Love nature, especially doing it under trees? Maybe, just maybe, there's a bit of dendrophilia in you.
– R Kelly is infamously associated with this one… urolagnia – arousal from urine, or simply golden showers.
– Then there are those who are into furry fandom, also known as furrydom, furridom, fur fandom or furdom, dress up in animal costumes, and do it like they do on the Discovery Channel.
– An interesting one is the 'burning bush', where a guy dips his wiener in hot sauce, and then penetrates. One word – spicy.
– The opposite of this would be the 'frozen pudding pop' – sticking ice up into the orifices, so that the muscles contract for a more snug fit.
– And there's the fabled 'red wings' – cunnilingus on a menstruating woman. Oh, bloody hell.
… and, if you were wondering, I'm an olfactophiliac; nothing excites me more than the smell of cologne or perfume when it adheres to the skin.
"Sharing your sexual fetishes and preferences would be a weight off your shoulders."
Fetishes aren't something people often discuss, along with sexuality and other topics. We get a little self-conscious and afraid that if we share out little sex secret, we'll be considered freaks. But here's a little food for thought. Sharing your sexual fetishes and preferences would be a weight off your shoulders, if you were honest with whoever you're with or plan to be with instead of subscribing to the societal "norm" of the missionary position, once-a-month, only-when-you-get-married, only-to-pop-out-babies style of things, because there is so much more to you as a human being when it comes to sex.
I'm not saying it's necessary to broadcast what happens inside your bedroom (or car, on the kitchen counter or under the tree in your backyard) to the world. At the same time, hiding something that's as personal as this from your partner won't make for a good sexual experience for yourself, or anyone involved, and you'll always be left wanting that little extra something that can take things up a notch for you.
A fetish is in no way a form of sexual deviance, or whatever else you may have heard. So… will you share your secret?
Image courtesy sodahead.com.