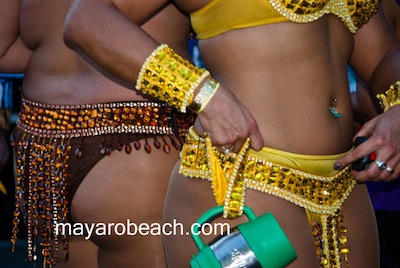 Fetenomics: Your Carnival, Your Money
|
I can't claim to be a true Carnival baby, but I do like Carnival. I like the idea of Carnival, and I enjoy the release that spontaneous wildness brings. I'm convinced that our ancestors on the African savannah dressed in zebra loins, instead of wild boar hides, at least once a year, just to free up deyself a lil bit.
I enjoy pan yards, especially listening to my brother ramajay, and, one day, I trust I will fulfil a life goal, and sing Kaiso in a Calypso tent. As much as I like Carnival, the socialist in me worries that the new economics of Carnival – call it fetenomics – brings to the fore a few of the social maladies that pervade our still-developing nation.

One of the most striking things about Carnival, to locals and foreigners, is just how much it can cost participants. I will be upfront and distinguish that Carnival can break your wallet, or, on the other hand, can be free (as any good stormer, radio personality, friend of a committee member, or man with a large enough camera and a press pass knows).
For a festival with roots in slavery, one popularised by masses of poor people looking for a chance to wine and jam and forget the oppression that they faced (economic and otherwise) at the hands of the elites, it is ironic that it can be an expensive, and, by extension, exclusionary affair – especially for people who feel the need to be, as K-Rich would put it,  "by de bess bar, de bess lime, in we bess clothes".
Carnival, and not Christmas, is the time of year when the gap between the haves and the have-nots becomes most evident.
 Carnival, and not Christmas, is the time of year when the gap between the haves and the have-nots becomes most evident. I personally feel it when playing in large bands, and I consider the fact that it would take someone earning minimum wage three months to buy a frontline costume in the same band.  In other words, many Trinidadians would need to sacrifice food, shelter, clothing and more for months for the privilege of a two-day party.
I have spoken to many foreigners who, upon hearing my description of Carnival, are very excited to come, only to be later disappointed when they discover that they cannot afford the cost of the experience. As an illustration, let's say you were a Londoner coming for one week to play in a large band, and hit a couple fetes, and that you were fortunate enough to have a Trini friend to house you. Your flight (ballpark £600), costume (£300), and food and fetes (£300) could have otherwise bought you a round-the-world ticket with stops in Hong Kong, New Zealand and Los Angeles!
It is not only playing mas with large bands that can set you back a pretty penny, but also many of our fetes. Consider that we pay as much or more than concert prices of the world's best and most popular artistes. A ticket to Rihanna or Drake at the O2 or Coldplay at the Emirates, both iconic London venues, will set you back around £50 this year. The difference of course being that the Londoners make pounds, and Trinis make red dollars, yet still find it in their wallets to shell out $1000 for a (certain) all-inclusive fete with no live performances!
But how much of a problem is it that certain Carnival events are expensive? One could argue that in all countries there are clubs, concerts, festivals and products that cater exclusively to the wealthy. Maybe it is just that there are so many rich Trinis these days that promoters and bandleaders have every right to tap into their enormous willingness to pay.
I have my doubts though, mostly because there seem to be many Trinis who seem bent on being a VIP, to the extent that a recent New York Times travel article made note of not only our VVIP sections, but also, apparently, our VVVIP sections!
I understand the concept of VIP sections, and paying more for a better ticket or experience – price differentiation is a basic business concept. But the fact is, in Trinidad, in many fetes the view or experience in VIP is not significantly different at all to "general".
Rather, it seems that the more exclusive we make events seem, the more worthy they are of our custom.
Rather, it seems that the more exclusive we make events seem, the more worthy they are of our custom. We ram out the VIP sections of our fetes, and I am always left wondering, how is it that as many of half of us at any one time are "very important people"?
The bottom line that I hope VIP-goers understand is that whether you see Machel from the left-hand side of the stage, or the right-hand side does not make you more important than your brother or sister. The more people think they are better than others because of the brand of rum they drink in a fete is the more, as a people, we would be willing to expect a second or third-class citizenry. If we can divide ourselves with the flippant, we can easily do so with the important.
So, if like me you refuse to take a loan for Carnival, what are your budget options? Well, fortunately there are many.
There are always free pan yards and pavements (everywhere!), fetes are now streamed online, and when you want the real thing, a relatively less expensive cooler fete is a good option. And if you don't have a cooler, as Swappi say, yuh could bring yuh bucket. Your bougie friends may not be quick to join you, but there are also bands that you could play with that are far less expensive.
J'ouvert is the perfect occasion to buss a lil storm, and, for mas, choose bands you could vibes with on the pavement, walk with a bottle of rum, and enjoy the flexibility of roaming free from band to band.
Even if I am put off by the current commercialization of Carnival (or maybe I'm just bitter because I am stuck in cold London this year), I see no point in boycotting it. As consumers, we do have purchasing power, but Carnival is our lifeblood; it's like water. We will do what we must to enjoy the epicentre of our cultural identity. For that reason I won't be shunning Carnival any time soon, but I want to eventually participate in a way that feels a little less divisive, and a little more all-inclusive in the truest sense.
Image via akalol.wordpress.com
Look out for a new issue of Outlish.com every Monday!
Stalk us on Facebook @facebook.com/outlishmagazine