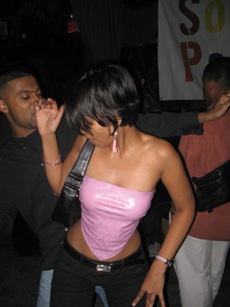 Fete Lovers: Too Stush to take Advantage
|
Iza Trini.
Bend over.
Wotless.
Advantage.
To some these are just words, but to Trinis it means that the Carnival season is in full swing, and partygoers have to watch their wallets and waistlines, as March 7th and 8th slowly approach.
As radio stations hype the hot tunes, people are secretly (and not so secretly) wining in their car seats on their way to work, wondering how to take time off to go to their desired parties. No matter how much you might not like a particular artiste, Trinis have favourite songs that they cannot wait to hear to 'get on bad' to at the next fete.
But where is all this 'get on bad' action I keep hearing about? All I see is a mere buzz that starts with the music and then extends its way to the "who's gonna see you" at what fete. Trinidadians are spending close to $2,000 (for the ladies: ticket – $800, outfit – $650, shoes – $600, and hair – $250) to attend a party to stand in a corner and look good, hoping to be seen and noticed by someone else who looks good. I won't waste time commenting on the other half of the attendees whose eyes and fingers are glued to their Blackberrys!
So if you attend a mere five fetes, that's approximately $10,000 invested in tickets, clothes, shoes and hair to stand in a corner, and sway, hoping to be captured by Triniscene.com to document all of your diligent efforts. If that's the case, why not just stay home and Facebook? It's cheaper.
Yet for $4,000, masqueraders can frolic in the sun on Carnival Monday and Tuesday, half-naked in bikinis, loosely adorned with shiny beads and other glittery things, while consuming enough alcohol to make Bacchus blush, and only then it seems you have full permission to "take advantage" and demonstrate any number of wining skills and related duplicitous behaviour on men, women, trucks, and even unsuspecting lampposts… because acting like a skettel on 'the road' is the norm.
I'm no mathematician here, but something doesn't quite add up.
Back in 1993, when parties at Power Station and Anchorage were $20TT, with free drinks ($30TT to go to Colours), all you needed was a good liming crew, a short pants and a top to hit a fete and have a good time. Ok so yes, you might have dressed a bit sexy back then too, but considering 20 days out of a month were spent in a stifling, starchy uniform, anything that might suggest a figure and physical demonstrations of puberty were welcome on the weekend.
Now that the cost of living has soared, along with the price of looking good and getting drunk, it seems that there is a new criterion for going to a fete in addition to the $600-$1,200 price of admission – being stush. There are several connotations surrounding this frosty term of socialites who think because they are seen at a certain fete, that usually costs at least ten percent of their monthly salary, it makes them part of the perceived Trini, elitist society. But wait. There is another element of getting to the fete in the expensive outfit, isn't there?
The most popular algorithm with the mind-boggling complexity of Sudoku is – where to get tickets.
Please, bear with my temporary amusement.
I live in New York City and during the Carnival season, I have people who live in Trinidad calling me in New York to ask me to help them get tickets. When did I knowingly become co-signer to the stush factor and a walking box office? I don't personally know Alicia Keys, but if I want tickets to see her in concert anywhere in the world, I go to ticketmaster.com, punch in my credit card number and voila – my tickets get mailed to my home!
In Trinidad, for Carnival, it seems that if you don't know the 'right' people, your chances of being an outwardly stush, but inwardly flamboyant skettel, are slim to none. I don't remember signing up for this display of entertainment delusion, but it does make a few things come to mind.
The Ministry of Tourism is often making attempts to bolster the tourism industry by encouraging foreigners to partake in our festivities, particularly during the Carnival season. However, gaining access to a fete can appear to be more difficult than entering Buckingham Palace! For those who don't know where to go and who to ask, they can never experience these fetes. Terrible.
I appreciate party promoters' general concept of wanting to keep the 'crowd' under control and the blah of limiting access for the perceived less-than-desirables. Nevertheless, it seems that once upon a time, class distinctions were made based on your school or education status; then it progressed to your employment position.
Now, it seems even during the most liberated time for Trinis, we are still forced to ally ourselves to class distinctions even to have a good time (something many of us have noticed with the ever-increasing prices). For the sake of the country, I hope that mentality changes because it will lead to a level of segregation that may be irreversible.
Unfortunately, I too, am guilty of attending the stush fetes, because that's where all my friends go. However, I don't find it necessary to stand in a corner and analyze other people's outfits or their men. I would much rather find my own "ting", take advantage, and get on wotless because indeed, iza Trini.
Who don't like it can go kick rocks.