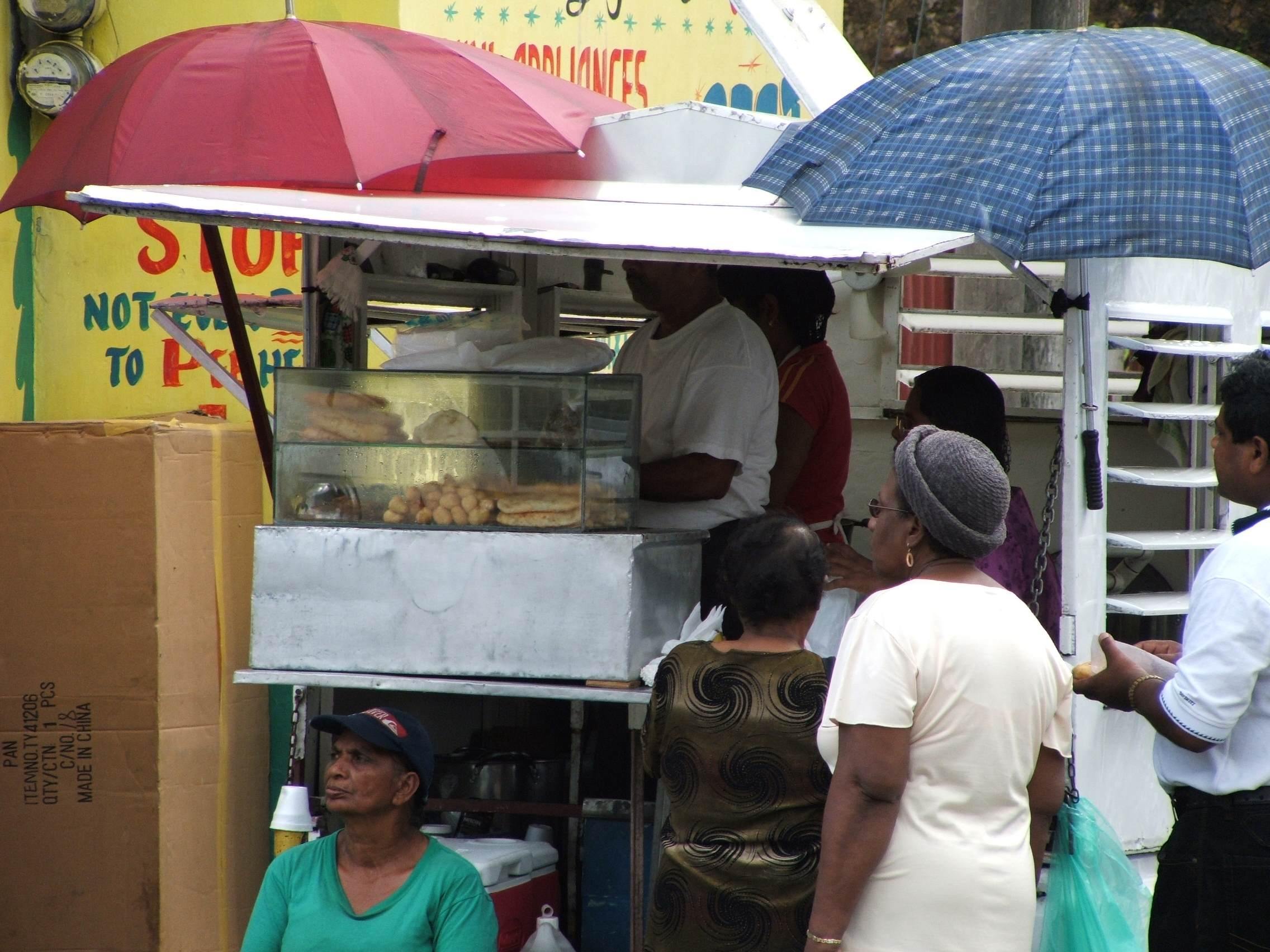 Fatty and Fried: Do Trinis eat too much?
|
On my last visit home in July of this year, I spent six months prior to that getting in shape. I came up with a dance routine workout and exercised every day. It was successful.
I got myself down to a 'respectable' size eight, although a lot of it had to do with the choices I made when my belly started grumbling. Life was about salad, fruits and vegetables, some meat here and there, and eventually I incorporated healthy portions of rice and pasta. I allowed myself a sweet indulgence twice a week, and those two days could never come fast enough.
However, once I hit Trini soil, my whole mindset did a 180 on me. Before the plane could land, I was already thinking about Richard's bake and shark, the mandatory run to Debe for Indian delicacies, and, of course, Mona's chicken roti, all of which were fully loaded with calories and then some. As if that wasn't enough, by the time I factored in KFC's spicy chicken, doubles down the road, and mayo packed chicken puffs fresh out of the bakery, I might as well have kissed my size eight jeans goodbye from my window seat. Which is exactly what I found myself doing three weeks later, and ten pounds heavier.
You know how we Trinis love our food, and having been starved of some of my favourite dishes, I happily got down to sampling everything on my 'to eat' list.
During my trip, I was fortunate enough to hook up with some old high school friends from back in the day, and let me just say, they looked damn good. I mean some were 'thickish', others were outright skinny, and it was very apparent that they had been taking care of themselves. We all ordered food, which included drinks and reasonably portioned, well-balanced meals, which was indicative of all of their ideas on personal health and nutrition. The conversation revolved around several things, one of which was diet. Clearly this group of women opted out of regularly eating fatty foods, snacking after 8 pm, and avoiding those sporadic sweet-tooth cravings.
As a former dietician, I found myself thinking about local, eating habits, while sitting in Piarco International Airport's food court at 9 a.m., while waiting for my flight, with a few pangs of guilt for my recent gluttony, and trying to decide what to get for breakfast. Most travellers eat at the fast food chains located in and around that area, so it was no surprise that all the outlets were jam-packed. Deciding what to eat for breakfast was a battle against healthy versus the deep-fried. The healthy choices were limited and the fried-chicken joints looked good, smelled good, and everyone around me was already loaded up with their two-piece chicken and fries. To be honest, it felt like the Trini thing to do, though I could be wrong. Like the travelling Trinbagonians all around me, I too loaded up my chicken meal with ketchup, mustard and pepper sauce, an act that would be unheard of in my usual environment.
All of this eating, and thinking about eating, made me wonder… How do Trinbagonians really feel about health? Does proper nutrition factor into how we eat? Whether or not we are conscious of health issues like diabetes, heart disease and high cholesterol to name a few, it's evident that we court these risks with our rich eating.
In doing some research, I found it quite difficult to locate updated reports and statistics on obesity rates in Trinidad and Tobago, even though it's becoming more of a growing concern. In 2007, there was a CARICOM Summit on "Chronic Non Communicable Disease" held in Port of Spain where the issue of obesity was a major target, though since that time the Ministry of Health has not published any updated statistics on this issue.
Mark Twain wrote, "The only way to keep your health, is to eat what you don't want, drink what you don't like and do what you'd rather not", but as far as I'm concerned, that's the mindset we need to erase when it comes to maintaining a healthy lifestyle. Eating well doesn't have to be miserable, just calculated.
Aside from the financial benefits, Trinis need to be aware of the many diseases that occur due to a lifetime of poor food choices. There is that little matter of 'shutting down' and setting our bodies up for failure, ten to twenty years down the road.
My personal philosophy revolves around balance, which involves limiting the amount of sugar and fats I consume, and increasing the amount of vegetables and fruits I eat in conjunction with the exercise I incorporate into my daily living.
Maintaining a system that is simple and doable is key. Instead of 7-14 soft drinks per week, opt out for water during weekdays, and leave soft drinks for liming on weekends. Instead of eating sweets or fatty foods seven days a week, limit it to three days a week, and increase your fruit and vegetable intake. Start to walk or run, or pull up a YouTube video and dance for half an hour (that's how I eventually got rid of those ten pounds). Exercise should be fun, if it's to remain sustainable, so try to find something you enjoy.
That old cliché about having 'one life to live' is so true, and all of us want to live to enjoy it for as long as we can. For the average Trinbagonian with easy and cheap access to a variety of fried, fatty or mayo-stuffed food, staying well isn't solely dependant on what we put into our bodies, so much so as it is about changing our 'two piece and fries' mentality to one of a healthy and disciplined mindset.
Author bio: Among other things, Bahia Amarsingh is passionate about all things ridiculous in life. She seeks them out, breathes them in, and then writes about them on her Facebook wall.